Dense fog disrupts train operations in the north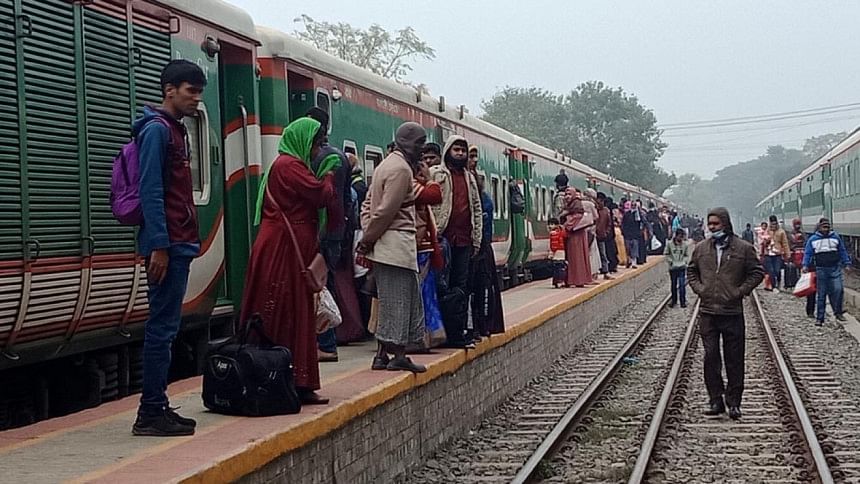 Train operation in the northern and southern districts under the railway's West Zone has been badly disrupted in the last three to four days due to dense fog.
Almost all the trains have been delayed by 2 to 3 hours due to slow movement amid poor visibility, causing immense sufferings to the passengers.
Nilsagar Express, a north Bengal-bound train, was scheduled to leave Dhaka's Kamalapur Railway Station at 6:40am and reach Bangabandhu Bridge west rail station at 9:00am.
And the train was supposed to leave the Bangabandhu station for north Bengal at 9:05am, Md Moniruzzaman, Bangabandhu rail station master.
But Nilsagar Express did not reach Bangabandhu station till writing of this report around 10:30am, reports our Pabna correspondent quoting the station master.
"Dhumketu is the day's first train to north starts from Kamalapur but it doesn't operate on Thursdays. That's why, Nilsagar was the first train to reach destination today, he said.
"We are not sure when the train will reach the station," Md Moniruzzaman added.
While checking the schedule of train movement at Bangabandhu bridge west zone rail station in Sirajganj and Chatmohar rail station in Pabna, the correspondent found that all trains running between Dhaka and northern and southern districts are running minimum two and a half hours to three hours' late.
"Three trains have weekly holiday on Thursday but we cannot maintain the schedule of the other trains due to inclement weather." the station master said.
Ariful Islam of Faridpur upazila in Pabna said he along with his family members waited for four hours for train at Chatmohar rail station amid cold weather.
Bulbul Islam, a resident of Shantaharin Bogura, said he and his wife waited at Chatmohor station for hours to catch north Bengal-bound train.
Due to the dense fog, the trains could not maintain schedule for the last few days, said Md Sajedul Islam, assistant transportation officer of Railway's Pakshey division.
"Due to the dense fog, most of the trains are moving slowly." Sajedul added.
Contacted, Md Anwar Hossain, Pakshey divisional transportation officer, said it is not possible to maintain the schedule until the weather returns to normal.