Eid journey with advance train tickets begins
Eid journey with advance train tickets began today as people are leaving Dhaka to celebrate Eid-ul-Fitr with their loved ones. 
Even on the last day of advance train ticket sales today, long queues were seen at each of the 16 counters of Dhaka's Kamalapur station. The queues extended all the way to the road.  Some of the ticket seekers stood in line after sehri and some, the night before.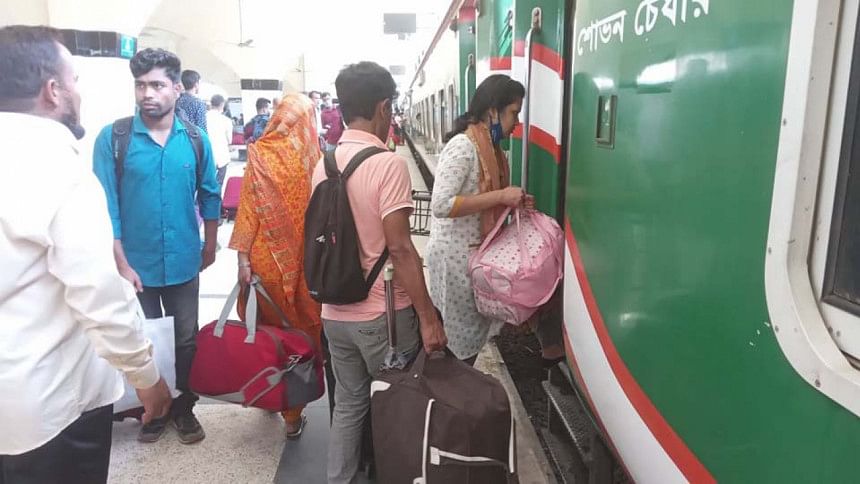 Anisur Rahman, The Daily Star's photojournalist who was at the station, said, "Thousands of people are waiting for tickets in front of the counters. Whenever any of the counters declare that tickets are sold out, people in queues are shouting. In comparison, there was less rush at the platform of the station on the first day of Eid journey."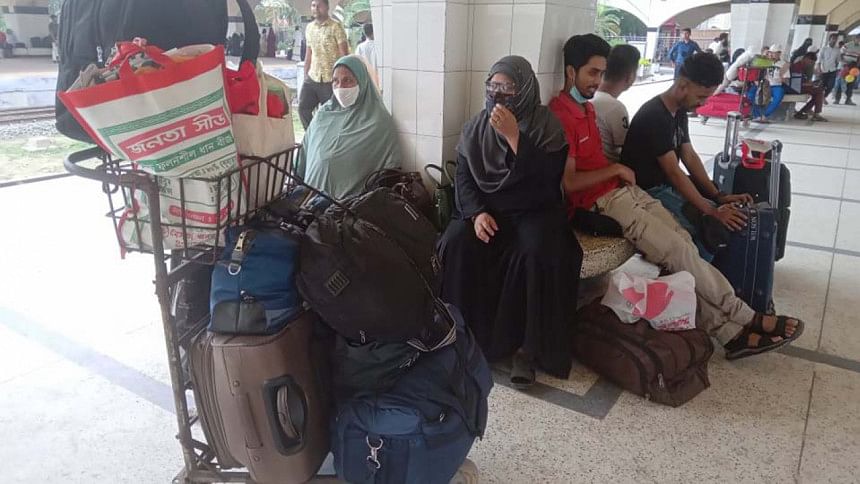 Sale of tickets for May 1 is going on today with the possible date of Eid on May 2.
According to Kamalapur station authorities, 53,000 passengers will leave Dhaka by train every day during this Eid-ul-Fitr.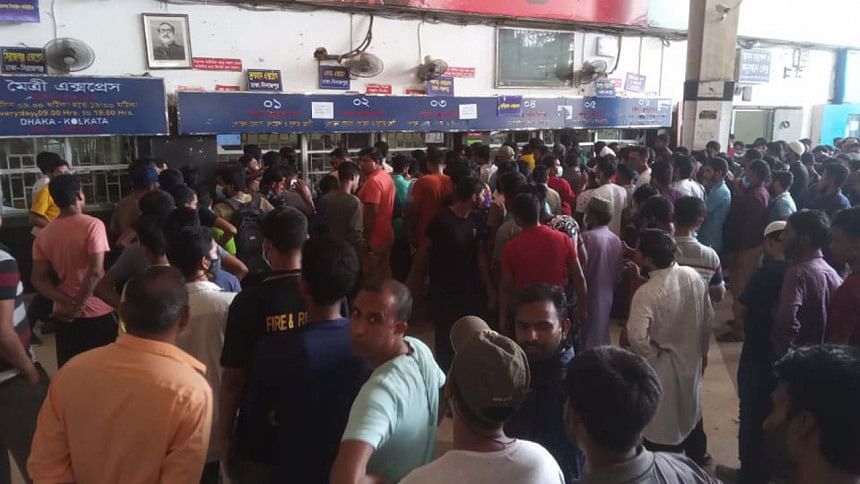 Six special trains will run along with intercity and local trains on the occasion of Eid, the railway authorities said. These include Chandpur Special 2 pairs, Dewanganj Special 1 pair, Sholakia Special 2 pairs and 1 pair of Khulna Special.
However, tickets for these trains will have to purchased directly from the counters.
The advance sale of train tickets began on Saturday (April 23, 2022). Tickets for today (April 27) were sold that day.
According to government instructions to prevent black marketing of tickets, passengers will have to show a photocopy of their National Identity Card (NID) or birth certificate at the station counter while buying tickets in advance.
After Eid, the return journey will start from May 5 – tickets for that date will be sold on May 1. Tickets can be purchased on May 2 for May 6,  May 3 for May 7, and May 4  for May 8 respectively.