Long tailbacks on highways for Eid rush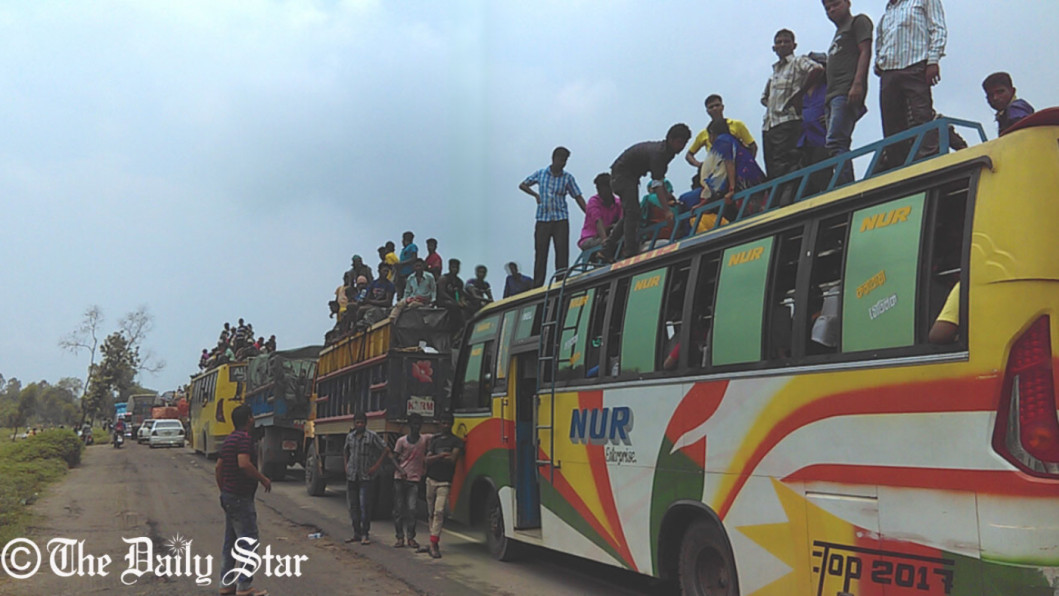 Eid holidaymakers from Dhaka faced long tailbacks at places on different highways outside the city today.
On Dhaka-Tangail highway, there were tailbacks for 18 kilometres at the west end and 20 kilometres at the east end of the Bangabandhu Multipurpose Bridge, reports our Tangail correspondent from the spot.
Police said the heavy pressure of vehicles on the highway and the dilapidated condition of roads caused the tailbacks that started around 11:30am.
READ MORE: Eid Rush for Home: Easy at exits, tough on highways
Vehicles, mostly North-Bengal bound trucks overladen with passengers, were moving slowly from West Zone of the bridge to Sirajganj road crossing, said Md Dawood, officer-in-charge (OC) of Bangabandhu Bridge West Zone Police Station.
On the other hand, at least 20 kilometres tailback for Dhaka-bound vehicles was seen from the east zone of the bridge to Radhna bypass area of Tangail sadar due to the dilapidated roads and heavy rush of vehicles, said Sub-Inspector Harun-or-Rashid of Bangabandhu Bridge East Zone Police Station.
Meanwhile, traffic on different parts of Gazipur are moving slowly due to heavy rush of transports on both Dhaka-Tangail and Dhaka-Mymensingh highways, reports UNB.
Long queues of vehicles were seen at different points of Chandra, Kaliakoir and Kharajora areas on Dhaka-Tangail highway since morning, causing tailbacks at Chandra and Kaliakoir points of the district.
Besides, vehicles on Dhaka-Mymensingh highway in Chandana intersection are moving at a snail's pace, the agency reports quoting Mohamamd Harun-or-Rashid, superintendent of Gazipur police.
On Dhaka-Chittagong highway, a 13 kilometres tailback from Meghna Bridge to Baushia area of Gozaria was created this morning, reports our Munshiganj correspondent.
Law enforcers were seen struggling to ease the congestions, said Hedayet Islam Bhuiyan, OC of Gozaria Police Station.
Meanwhile,
Meanwhile, home-bound passengers of south-western districts queued up creating a two to three-kilometre-long tailback at Paturia ferry ghat, reports our Manikganj correspondent.
Vehicles, including nearly one hundred buses and 800 private cars and minibus, were seen lining up in the area around 1:15pm.
Ajmal Hossain, deputy general manager of Bangladesh Inland Water Transport Corporation (BIWTC)'s Aricha office, said, "17 ferries have been operating on Paturia-Daulatdia route."