Eid Rush for Home: Easy at exits, tough on highways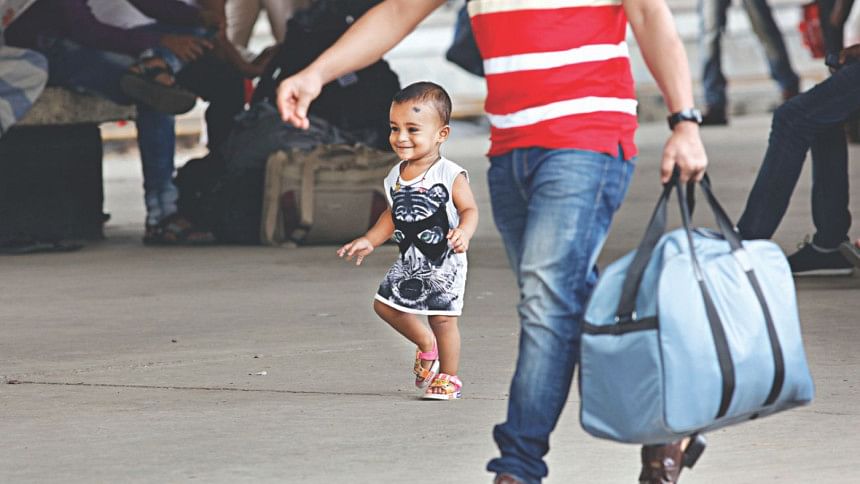 With a virtual five-day holiday beginning today, thousands of Eid holidaymakers left the capital yesterday without facing much trouble at the exit points, but they were caught in traffic snarls on different highways outside the city.
The exodus of Dhaka city dwellers started gaining momentum as bus and launch terminals and railway stations saw massive crowds of home goers.
The pressure of passengers increased in the afternoon as many government and non-government service holders left the city after the office hours yesterday. It was the last working day before the official Eid vacation beginning from Sunday following two-day weekend.
Almost all the buses left three major terminals on time but there were tailbacks at several points on Dhaka-Chittagong, Dhaka-Tangail and Dhaka-Aricha highways. The number of vehicles started increasing at Paturia ferry terminal in Manikganj.
Transport operators said the Eid rush began a few days back and they were expecting a huge flow of home goers in the next two days. The situation is almost the same for rail and river routes.
Three correspondents of this newspaper visited Gabtoli, Sayedabad and Mohakhali bus terminals and found the crowds swelling in the afternoon. The passengers who bought advanced tickets started thronging the terminals since morning and waited for their transports with family members as well as luggage.
Many people, who didn't buy advanced tickets, were seen striding the counters. Some of them got tickets but complained that bus operators charged additional fares.
Abdul Jalil, an elderly person at Gabtoli bus terminal, said he managed a ticket for an afternoon trip after offering additional Tk 170.
"I checked other counters but no tickets were available. I managed one at a higher price. I have nothing to do as I need to go home," said Jalil, who was on way to Jhikargachha in Jessore.
However, the holidaymakers who started from Sayedabad terminal had to suffer at Jatrabari intersection, thanks to the poor condition of the road. Many complained that it took about an hour to cross the intersection.
People started thronging Mohakhali bus terminal in the afternoon.
"We did not face any hassle to get tickets," said Jasmine, a housewife from Chankharpul. Many other passengers experienced the same. Jasmine bought tickets of Hazrat Shahjalal (R) Express bus to go to Netrakona.
Despite the setting up of a booth of vigilance team, commuters alleged that some bus operators, especially on Dhaka-Sherpur and Dhaka-Sirajganj routes, charged additional Tk 100 without mentioning the fare on tickets.
DHAKA-CHITTAGONG HIGHWAY
Severe traffic congestion was created on Dhaka-Chittagong highway yesterday morning. The tailback became 13km-long, stretching from Meghna bridge to Baushia.
Bhoberchar Highway Police Box Sub-Inspector Md Hasem Uddin said they were trying to control the situation.
Meanwhile, a six-kilometre tailback formed between Gouripur bus stand and Meghna-Gumti toll plaza.
Bus drivers said the vehicles had been moving too slowly since morning because of slow issuance of tickets from the toll plaza, reports our Comilla correspondent.
There was a 2km jam at Paduar Bazar crossing and the highway police blamed it on extra pressure of vehicles.
DHAKA-TANGAIL HIGHWAY
There were tailbacks at different spots on the seven-kilometre stretch on this highway from Rabna bypass in Tangail Sadar upazila to Elenga in Kalihati upazila yesterday noon because of the bad road condition.
Our Tangail correspondent saw law enforcers struggling to ease the congestions.
Sajedul Islam, a traffic inspector of Tangail police, said, "The seven-kilometre stretch is the narrowest portion on the highway. There remains no room for a small vehicle when two buses cross each other."
"Moreover, the condition of the road this year is bad with numerous potholes. We fear serious chaos in the next two days."
The workers of Roads and Highways Department (RHD) were found repairing some of the potholes at Elenga around noon.
Shamol Chandra Saha, driver of a Rajshahi-bound bus, said the last moment repairing by the RHD at this time was causing traffic chaos.
PATURIA
Pressure of passengers and vehicles increased at Paturia ferry terminal in Manikganj. More than 200 buses were seen in a long queue around 3:00pm yesterday.
However, the terminal authorities claimed the situation was normal.
There are 17 ferries in operation on Paturia-Daulatdia ferry route. Two more ferries will be added in two days, said Ajmal Hossain, deputy general manager of Bangladesh Inland Water Transport Corporation (BIWTC), Aricha regional office.
Mahfuzur Rahman, superintendent of police in Manikganj, said more than 800 members of Rab, Ansar, APBN and Community Police were deployed along with 600 policemen to ensure smooth communication at the ferry terminal.
DHAKA-SYLHET HIGHWAY
Although the pressure of vehicles on this highway increased in the second half of the day yesterday, there was no severe gridlock there, our Narayanganj correspondent reports quoting drivers, locals and police.
Thanks to the ongoing construction of a four-lane flyover, the stretch of the highway between Bhulta and Gawsia market has become narrow and it was apprehended that congestion will be created with the surge in vehicles.
Ramjan Ali, a driver of Sohag Paribahan, said around 1:00pm that although there was pressure of vehicles, he didn't have to stop his bus.  "However, I have to drive slowly as the road became narrow."
Local businessman Gobinda Saha said drivers usually parked their vehicles on road sides near the flyover construction site causing jam.
But yesterday police did not allow any such parking, so no such traffic jam was there, he added.
TRAIN
Most of the trains left the Kamalapur Railway Station timely till yesterday.
Thirty two trains left the station till 3:15pm timely, only two or three local trains didn't, station manager Sitangshu Chakraborty said.
Visiting the station for around five hours, one of the correspondents found the number of passengers increasing after 1:00pm. Many of them directly came to the station from office.
Comilla-bound Comilla Commuter was delayed by around two hours, Chapainawabganj-bound Rajshahi Express by 70 minutes and Khulna-bound Sundarbans Express by 20 minutes.
Sitangshu said a total of 68 trains, including two special ones, left Dhaka yesterday for different routes. These trains have some 50, 000 seats but some 75,000 people will leave Dhaka everyday during this vacation, he added.
Day labourer Rafiqul Islam came to the station around 2:00pm and got his ticket for Mymensingh. "I thought I would not get any ticket but it was less crowded today," he said.
LAUNCH
Around 25 launches left from Sadarghat Launch Terminal in the afternoon, said Rahat Mannan, a magistrate of Bangladesh Inland Water Transport Authority (BIWTA).
A comparatively lesser number of holidaymakers were seen at the terminal in the morning with many staff asking people to board their launches. Launch owners and port officials expect rush of passengers early today.
BIWTA's Joint Director Gulzar Ali told The Daily Star that they will strictly monitor overcrowding and force launch operators to leave port as soon as it takes people on board.