Holidaymakers hit highways
Mad rush begins today as 80 lakh people set to leave Dhaka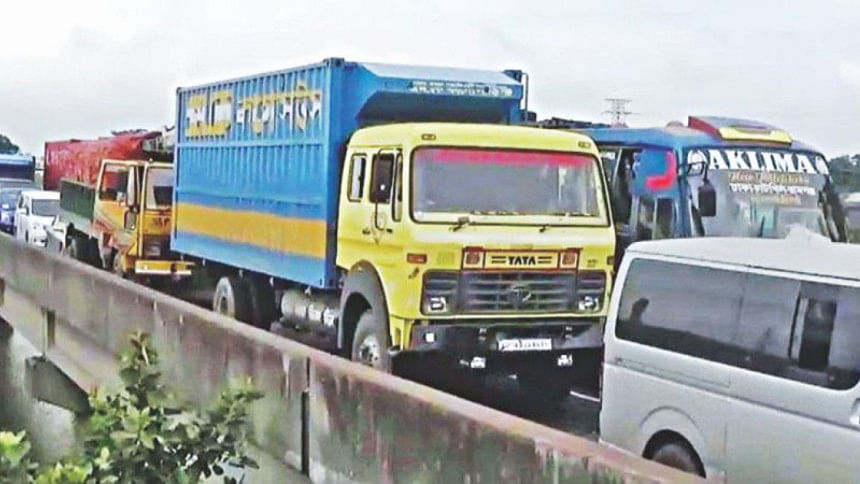 Amid growing concerns of tailbacks on highways, holidaymakers have started leaving the capital for homes to celebrate Eid with their loved ones, and the rush is expected to gain momentum today.
Today will be the last working day before the Eid vacation and thousands of people would hit the road after work in the afternoon. The rush is likely to continue for the next two days.
Although the authorities concerned have assured people of taking adequate measures to suffering, transport operators fear that the traffic will go haywire if it rains, which would not only slow down the vehicles but also damage the roads.
Some of the major highways have already been witnessing tailbacks, thanks to pothole-ridden roads, ongoing works to upgrade roads, and car crashes in the last few days, they added.
Only yesterday, people were caught in 10km tailbacks between Meghna Bridge and Bhaber Char Bazar for several hours, reports our Munshiganj correspondent.
A truck broke down on the Meghna Bridge around 7:00am causing the jam. Traffic flow remained affected long after the truck was moved from the spot.
Transport operators apprehend that things would turn unbearable for holidaymakers if authorities fail to control traffic flow at some key points of the highways when the pressure intensifies.
The number of people leaving Dhaka and its outskirts is likely to increase significantly when the garment factories close.
Adding to the concern, the Met office in Dhaka forecasts light to moderate rain and thunder showers accompanied by temporary gusty wind at most places over Rangpur, Mymensingh, Chittagong and Sylhet divisions and at a few places over Rajshahi, Dhaka, Khulna and Barisal divisions today.
An estimated 80 lakh holidaymakers would leave Dhaka for their home by three modes of transports -- bus, train and launch -- ahead of the holidays.
Road Transport and Highway Division, which surveyed 16,621km highway and road last year, found 79.6 percent of national highways in fair or good state while the rest were in poor, bad and very bad conditions.
The survey conducted between February and May also found 30.79 percent of regional highways in poor, bad or very bad states and 46 percent of the district roads in similar conditions.
Since the mad rush of homegoers was yet to begin yesterday most people could leave the city without much difficulty.
Selim, an official of a firm, who was on his way to Khulna, said his bus departed Sayedabad Bus Terminal on time.
"I took two days' additional leave ahead of the holiday just to avoid being stuck on the road. I suffered a lot last year," he said.
Passengers heading to the southern districts in buses said they were in dread of the Paturia and Daulatdia ferry terminals.
"Last year, we had a nightmare of a journey across the Padma. We were stuck for six hours. We don't know what will happen this year," said Abid, a student of a private university, who was going to Jessore.
Every year, holidaymakers suffer at the ferry terminals due to inadequate ferries and poor management of vehicles.
Abid added that he anticipated more sufferings after going across the Padma as the buses take a detour through Jhenidah due to the ongoing construction work of a bridge at Shimakhali Bazar of Magura on Jessore-Dhaka highway.
Mosharaf Hossain, manager of Hanif Paribahan at Gabtoli, said the Dhaka-Tangail highway which already had potholes, was made worse by the rains. Vehicles using the road are being delayed by two to three hours.
"When more buses hit the road in the next two days, people will suffer a lot, if the situation remains unchanged," he said.
An owner of a bus service, on condition of anonymity, said the five major highways had already been experiencing traffic congestions at places for the last few days.
"We are afraid this will take a turn for the worse in the coming days," he said.
Some homebound passengers started leaving the capital yesterday also by train also. On June 12, Bangladesh Railway sold around 22,000 tickets for yesterday for 31 trains that left Kamalapur Railway Station.
Although most trains left the station on time in the morning, some departures were delayed by around an hour in the afternoon.
Some 70,000 to 80,000 passengers leave Dhaka every day through Kamalapur Railway Station during Eid vacation.
The waterways are yet to see the rush of homegoers.
"We expect the rush of homegoers to start from tomorrow [today] afternoon," said Badiuzzaman Badal, senior vice chairman of Bangladesh Inland Waterways (passenger carriers) Association.
He, however, added that a large number of garment workers would use the river ways to go home.
He said light rains would not create much of a trouble for launches.
Usually, 70-75 launches operate on 41 routes, mostly to the country's southern regions from Dhaka's Sadarghat. An additional 130 will join the fleet to carry 8-10 lakh people during the Eid vacation, according to transport operators.
The road transport and bridges ministry has already requested garment factory owners to close and open their factories on different dates to ease the pressure on road transport.
Around 4.4 million people work in garment factories with around 80 percent of them employed in factories based in Dhaka, Gazipur and Narayanganj. Most of the workers are outsiders, say industry people.
Siddiqur Rahman, president of Bangladesh Garment Manufacturers and Exporters Association, said garment factories would close between today and Saturday.