All for a blissful Eid
Holidaymakers journey on despite hassles on the way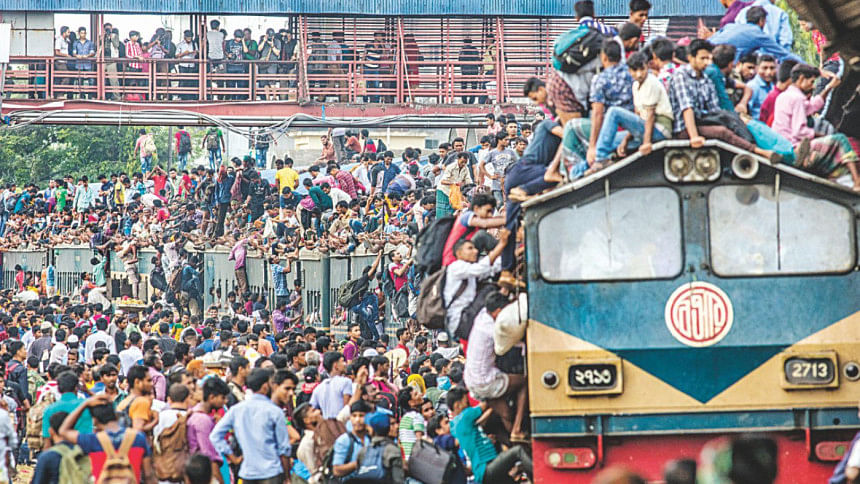 Little Raihan looked restless.
While waiting at Gabtoli Bus Terminal for around three hours, the five-year-old was asking his father the same question over and over again.
"When will our bus arrive, Baba?"
His father Mosharraf Hossain was assuring him that the bus would be at the terminal soon. It was scheduled to depart for Rangpur at 9:00am.
Mosharraf, a private service holder, came to Gabtoli with his family members from Azimpur around 8:00am. But the bus, which was making a round trip, was not there even at 11:00am.
"It's extremely distressing to wait for such a long time with family members at the terminal," he said.
"Every year we go through this. But we just have to grin and bear it only to celebrate Eid together. My other family members are waiting for us, and when I see their smiling faces, all the pains go away."
Not just at the terminals, holidaymakers put up with troubles on road, rail and waterways but they seem to ignore it all just to be with their family members during Eid.
Eid-ul-Fitr will be celebrated across the country tomorrow if Shawal moon is sighted today. Otherwise, the festival will be held on Tuesday, ending the month-long fasting in Ramadan.
As tens of thousands of people left the capital yesterday, most of the trains and launches started on time but buses were behind schedule, thanks to tailbacks on roads and at ferry terminals.
People were seen taking risky rooftop journey on buses, trains and launches as they were desperate to go home to celebrate their festival with family members in homes. 
HIGHWAYS
Like the previous couple of days, Dhaka-Tangail highway, the gateway to 16 northern districts, saw a huge pressure of vehicles causing congestions at several points.
Faruk Hossain, an RMG employee, said he along with his wife and son started at 11:00pm Friday from Gazipur to Pabna. Around 1:00pm, he could only cross Bangabandhu bridge.
The 22km stretch from Bangabandhu bridge's west end to Hatikumrul point in Sirajganj was filled with thousands of vehicles. It took a vehicle four to five hours to cross the area since Friday noon, reports our Pabna correspondent.
Talking to this newspaper yesterday noon, Mohammed Daud, officer-in-charge of Bangabandhu Bridge West Zone Police Station, said pressure of vehicles intensified in the last 24 hours.
Mahbub Alam, superintendent of police in Tangail, said they have taken sufficient measures to make the journey of people smooth on the highway.
Police and home-goers alleged that reckless driving and overtaking were the reasons behind traffic jams.
On Dhaka-Aricha highway, it took additional two to three hours for buses to reach Paturia ferry terminal from Dhaka amid heavy traffic.
About 100 small vehicles and 70/80 buses were waiting at Paturia terminal to cross the river around noon. The number rose to nearly 500 around 8:00pm, reports our Manikganj correspondent.
Mokhlesur Rahman, counter manager of Satkhira Express at Gabtoli, said their buses were slowing down because of congestions near Paturia terminal, at Nabinagar of Savar and Aminbazar on the outskirts of the capital.
Around 4:00pm, at least 550 vehicles were waiting at Shimulia ferry terminal in Munshiganj.
Launches and speed boats were seen crossing the river carrying additional passengers, reports our Munshiganj correspondent.
Abdul Alim, manager of BIWTC's Shimulia terminal, said an increased number of vehicles started to gather since dawn.
Visiting the Dhaka-Aricha highway at Savar's Hemayetpur bus stand area yesterday, Road, Transport and Bridges Minister Obaidul Quader told reporters that sufferings of home-goers were very little this time compared to what happened last year.
Visiting Dhaka-Chittagong highway in Munshiganj, Inspector General of Police AKM Shahidul Hoque said although vehicular movement was slow, there was no gridlock on the highway.
TRAINS
Hundreds of holidaymakers, including women and children, yesterday travelled on train roofs risking their lives and ignoring authorities' directives while the rail stations of the capital saw a massive crowd.
Most of the trains yesterday left Kamalapur Railway Station on time. However, intercity Rangpur Express were delayed by five hours, Station Manager Shitangshu Chakrabarty told The Daily Star.
Hundreds of passengers of the Rangpur Express had to wait at the platform for hours. 
Shahjul Haque, an honours student, said he collected a ticket on June 15 staying at the station for the whole night. He came to the station at 6:30am yesterday all the way from Keraniganj.
"I wanted to make a journey free of hassles but now I have to wait for almost six hours," he said.
Another family of five, heading for Gaibandha, waited at the platform for hours. "My three-and-a-half-year-old niece is already tired and the wait is becoming more and more agonising," said Julekha Begum, who along with her family members came to the station from Meradia.
Shitangshu said the train was two-hour late on Friday while leaving Dhaka due to technical glitch and later there were some other technical problems causing yesterday's delay.
Besides, Mymensingh-bound Isakhan Express, Chapainawabganj-bound Rajshahi Express, Comilla-bound Comilla Commuter, Rajshahi-bound Silk City were delayed by half to around two hours.
Md Faruk and Nurunnahar Begum, garments workers, came to Kamalapur Railway Station around 1:30pm as they found it impossible to get on the train from Cantonment Station because of heavy pressure of passengers.
They bought "standing tickets" but did not find any seats inside the compartments. So, they along with their three minor children got on the roof of Rajshahi Express. "They are lucky enough to get a seat on the rooftop," Md Raj, a colleague of Faruk, said.
Although policemen were seen asking people not to get on the roof as it is illegal and risky, but nobody pay heed to them.
"There is a huge pressure of passengers and it is not possible to get them down. We are just doing our job," a policeman said.
LAUNCHES
People were boarding on already jam-packed Muladi-bound Ovijan-5 launch from boats at mid-Buriganga.
Since Eid vacation at garment factories began yesterday noon, many from the sector rushed to the Sadarghat terminal to catch launches.
"I was worried whether I will be able to board my launch on time, but now I'm happy as I didn't miss it," said Shafiqul Islam, accounts officer of an RMG company.
Shafiqul boarded on a Monpura-bound launch MV Farhan.
Many were travelling on the rooftop.
Rajib Ahmed, who is going to Barisal with his mother and sister, said, "The deck is too crowded and it's too hot there. That's why we got on the roof for fresh air."
Wishing not to be named, a coast guard officer said travelling on roof can cause imbalance and launch may capsize at the deep river where wave is high. Small launches are more prone to such accidents, he added.