Tourist Destinations: Air tickets difficult to come by
Holidaymakers eye on New Year, Christmas, extended public holiday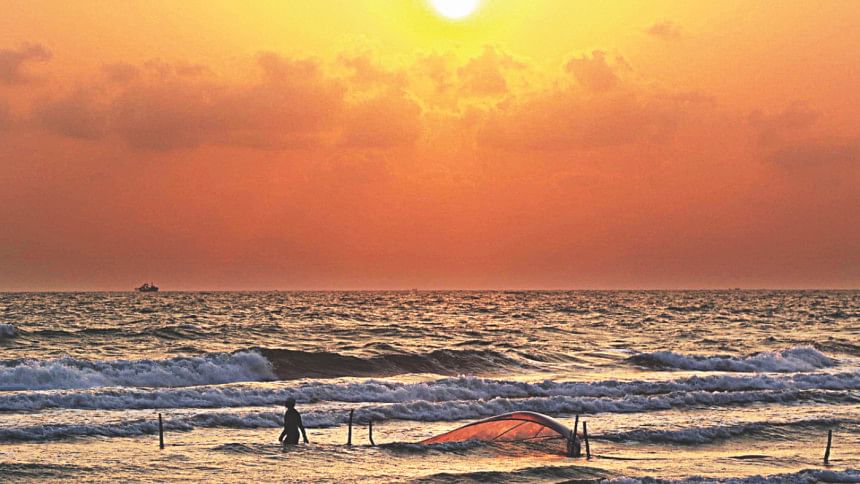 Air tickets for domestic and international tourist destinations have become scarce since the middle of this month, due to the ongoing rush of holidaymakers.
The New Year, Christmas and school vacation coupled with extended government holidays in patches have prompted people to take aerial routes to holiday in tourist destinations with their near and dear ones.
Different airlines are happily counting the windfall profit claiming that holidaymakers nowadays prefer travelling by air to road to avoid hassle and save time.
The state-run Biman Bangladesh Airlines and three private carriers -- US-Bangla Airlines, Novo Air and Regent Airways -- said 90 percent tickets to Cox's Bazar, Sylhet, Chattogram and Barishal routes till the second week of January 2019 have already been booked or sold out.
 Tickets to popular international destinations -- Thailand, Malaysia, India, Singapore and London -- have also been booked or sold out till the middle of January, they claimed.
The airlines officials also said ticket price on those routes for the next 25 days has almost doubled due to the high demand.
"Going on vacation at different tourist spots during holidays with family members has become a trend. Many people no longer spend their holidays at home. They like to travel to different tourist destinations depending on their financial condition," said Shakil Meraj, general manager of Biman's public relations wing.
He added that improvement in people's financial condition as well as competitive and reasonable prices of air tickets has considerably boosted international and, in particular, domestic air traffic.
Monirul Hasan, a banker living in the capital's Azimpur, said he would go to Cox's Bazar late this month as his children's school would remain closed at that time.
He said he would travel by air as travelling by road takes a long time and is tiring.
For tourism, December to January is considered the peak time, a global phenomenon when the demand for air tickets reaches its zenith due to Christmas and New Year celebrations. This is also time for school vacation.
Domestic air traffic has increased significantly in the last few years. According to Kazi Wahidul Alam, an aviation expert, the number of domestic air passengers has increased by about 64.73 percent in the country in the last five years.
In 2013, the number of domestic air passengers was 648,019, which has increased to 1067,537 in 2017, he added.
Among the popular domestic tourist destinations, Cox's Bazar tops the list.
The four airliners jointly operate 10 flights daily to the beach city. Novo Air operates five flights, Biman and US-Bangla two each and Regent one. But both Biman and US-Bangla operate Boeing 737 that can accommodate 162 passengers against Novo Air's 68-seater ATR 72-500.
Two years ago, Novo Air operated three fights a day, Biman two and US-Bangla one with a smaller 74-seater Dash-8.
All four operators have increased their fights on other domestic routes as well due to increased demand.
Biman, US-Bangla and Novo Air operate on all seven domestic routes -- Cox's Bazar, Chattogram, Sylhet, Saidpur, Jashore, Rajshahi and Barishal. Regent Airways operates only on Cox's Bazar and Chattogram routes.
Biman operates 32 flights (to and from Dhaka) every day in seven destinations with three 74-seater Dash-8 and one 162-seater Boeing 737-800 aircraft, Shakil said.
US-Bangla operates 24 flights (to and from Dhaka) on seven routes with four 164-seater Boeing 737-800 aircraft and three 74-seater Dash-8 aircraft, Kamrul Islam, spokesperson for the airlines, said.
Novo Air, on the other side, operates 44 flights (to and from Dhaka) in five destinations with five ATR 72-500 having 68 seats, Mahfuzul Alam, senior manager, marketing, informed.
Regent Airways operates 30 flights (to and from Dhaka) with Boeing aircraft with a capacity to accommodate between 126 and 183 passengers, an official said.
Wahidul Alam said the number of international passengers have also increased by about 22.1 percent in the last five years.
In 2013, 5231,580 passengers travelled to different international destinations and the number increased to 6388,050 in 2017, he informed.