Long wait to get buses
Buses reach destinations even 8-12 hours late; huge pressure of vehicles on highways, ferry terminals see tailbacks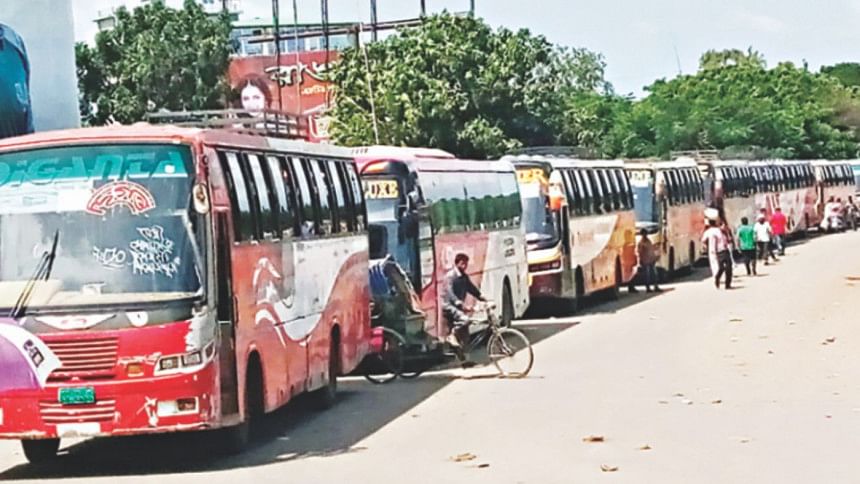 The morning sun brought some relief for Shariful Islam as a little rain, he feared, would put his journey back home in jeopardy.
Yet with some trepidation, he left his Mirpur residence along with his wife, two children and his niece, to catch a bus that was scheduled to set off at 8:00am from Kallyanpur counter.
But as he reached the bus counter braving the gruelling traffic congestion of the morning, he became absolutely flabbergasted. The air-conditioned bus, which was supposed to carry them to his Satkhira home, was still stranded across the Padma river on its way back from a round trip.
"I was totally astounded. Even after starting off well before the main Eid rush, there is no respite from the sufferings," said a frustrated Shariful, a private job holder.
He came back to his residence again, as per the directive of bus operators, and kept calling them after short intervals. The bus finally reached at 10:15pm, almost fourteen hours later. 
"Given the terrible situation in the ferry ghat, I don't know when we will reach home," he said.
With Eid-ul-Azha still five days away, holidaymakers like Shariful travelling to 19 south-western districts using Paturia and Daulatdia ferry terminals have been suffering immensely for hours yesterday due to huge pressure of vehicles, strong current of the Padma river and a shortage of ferries.
For the passenger buses, it is taking 10 to 12 hours to cross the river at both ends while it takes three to four days for the capital-bound cattle-laden trucks entering through Daulatdia ghat in Rajbari's Goalunda upazila.
Although the Eid rush is yet to reach its peak, many people started heading for their homes a few days ahead of the festival to avoid the crowds.
Usually, around 1.29 crore people of Dhaka, Narayanganj and Gazipur, leave the cities to celebrate Eid at their homes, according to the National Committee to Protect Shipping, Roads and Railways (NCPSRR).
Of them, 55 percent will go by road, 25 percent by waterways and 20 percent will use trains, NCPSRR estimated.
Several major highways have started witnessing traffic congestion due to increased number of vehicles and potholes created following excessive rains.
But the situation is worse at Paturia and Daulatdia ferry ghats where around 800 vehicles get trapped in traffic snarl-ups for hours on both sides of the river.
Around 450 vehicles, including 350 trucks, were seen lined up at Daulatdia ferry terminal as of 6:00pm. At the same time, 100 trucks and 60 buses were queued up at Paturia ferry terminal, our Manikganj correspondent reported.
Abul Kashem, a passenger of a bus, said he started from Kushtia around 10:00pm on Sunday and reached Daulatdia ferry ghat at 1:00am. But he had to wait there for 11 hours.
"It is becoming unbearable," he said.
The bus drivers held the cattle-laden trucks responsible for the jam. But the cattle traders said their vehicles got stuck at the terminal for two to three days and it was tough for them to feed the cattle on the truck.
Officials of Bangladesh Inland Water Transport Corporation said the ferries are taking more time than usual to cross the river due to strong currents.
This has reduced the number of ferry trips. The numbers of vehicles waiting for the crossing have increased in turn, said Shafiqul Islam, manager (commerce) of BIWTC's Daulatdia office.
Earlier, it took 35 to 40 minutes to reach Daulatdia from Paturia but now it is taking 80 to 90 minutes, he added.
Out of 18 ferries, 17 are currently in operation on this route.
Meanwhile, 350 trucks, mainly laden with cattle, are being lined up at Shimulia ferry terminal at Munshiganj. As the passenger buses were given priority to cross the Padma river, the number of trucks was getting longer, reported our Munshiganj correspondent, quoting BIWTC officials.
Sixteen ferries are currently plying on this route.
TRAIN JOURNEY ALMOST NORMAL
Most of the trains left Kamalapur Railway Station yesterday on time.
A total of 29 trains departed from the station till 2:30pm. Of them, six were late by up to two and a half hours.
The trains that were delayed include Nil Shagor Express, Chattala Express, Rajshahi Express and Sundarban Express, as those arrived at the station late, said Kamalapur Railway Station Manager Sitangshu Chakraborty.