Eid Holidaymakers' Journey: Some start early to skip mad rush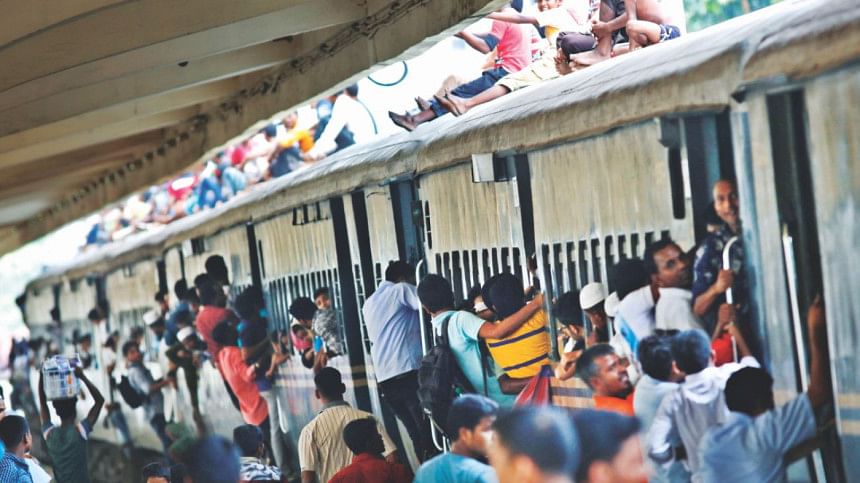 With the Eid-ul-Fitr only days away, holidaymakers started leaving the capital yesterday without much trouble to celebrate the festival with their dear ones.
To avoid possible hassles on highways due to their poor conditions and tailbacks, many have already sent their families to village homes much ahead of the Eid vacation beginning on Friday.
Bus and launch terminals as well as Kamalapur Railway Station saw a fairly large number of passengers yesterday. But the Eid rush is likely to gain momentum in the next two days.
Those who left the capital by train yesterday didn't face any problems as most of the trains departed the station on time.
Every year, around 80 lakh people leave the city to celebrate the Eid at their village homes. But their journey turns bitter largely due to traffic jam, overpricing of tickets and delays in bus and train schedules.
Though the authorities concerned claim that adequate measures have been taken to ensure hassle-free Eid journey this time, transport operators fear that the traffic may go haywire if it is not controlled properly.
Besides, if it rains on the days of the Eid rush, this would not only slow down movement of vehicles but also damage the roads further.
TRAIN JOURNEY
Many people who bought advance train tickets left the city yesterday.
"It's good to see that this train is leaving on time. I am sending my family members a bit earlier to avoid possible sufferings," Siddiqur Rahman, an employee at a private firm, told this newspaper at Kamalapur Railway Station.
Siddiqur had bought advance tickets that the railway authorities sold on June 1 for yesterday.
Mohammad Sumon, a senior executive at a private bank, sent his wife and two children to his village home in Khulna by train about a week ago to avoid last-minute hassles.
"The situation on the highways worsens right before the Eid due to congestion at some points. Traffic snarl-ups at Paturia ferry terminal also add to the sufferings of the home-goers. It sometimes takes up to 20 hours to reach home.
"That's why I sent them home early. I chose train to avoid hassles," he said.
Talking to this newspaper, Kamalapur Railway Station Manager Shitangshu Chakrabarty said of the 32 trains, 30 left the station on time till 2:00pm.
The Khulna-bound Sundarban Express was late by 30 minutes and the Chapainawabganj-bound Rajshahi Express by one and a half hours, he added.
Asked about travel on train roofs, he said they were requesting people not to take such risky rides.
During the Eid rush, some 70,000 to 80,000 people leave the city through the station every day.
BUS JOURNEY
Bus operators said the number of passengers already went up in the last couple of days, and that the Eid rush will reach its peak on Wednesday.
Mosharref Hossain, general manager of Hanif Paribahan, said people began leaving the capital from June 7, and the flow of passengers is increasing.
"We will start running extra trips from June 12," he said, adding that many are sending their families to village homes to avoid possible sufferings on roads during the peak of Eid rush.
Suvenker Ghosh Rakesh, managing director of Shyamoli NR Travels, gave almost a similar view.
He said the authorities have to control traffic movement properly to keep highways free from tailbacks.
Meanwhile, Road Transport and Bridges Minister Obaidul Quader said the authorities will open the under-construction parts of the four-lane Dhaka-Tangail Highway today to keep the important highway free from congestion.
He said this while visiting several points of the highway in Gazipur yesterday.
Work has been completed in some parts of the highway, but upgradation is still going on in key areas such as Elenga, Rasulpur, Karatia, and Pakulla in Tangail.
The minister said he directed the officials concerned to suspend all types of construction and repair on the highway. 
LAUNCH JOURNEY
Mahbub Uddin Ahmed Bir Bikram, chairman of Bangladesh Inland Waterways (passenger carrier's) Association, said the rush of home-goers will reach its peak a couple of days before the Eid when the garment factories close.
He mentioned that special trips will be run two or three days later.
Usually, 65-70 launches operate on 41 routes, mostly to the country's southern regions from Sadarghat. An additional 130 launches will join the fleet to carry around 15 lakh people during the Eid vacation, added Mahbub.