Hundreds of thousands Eid holidaymakers still returning via Paturia ferry ghat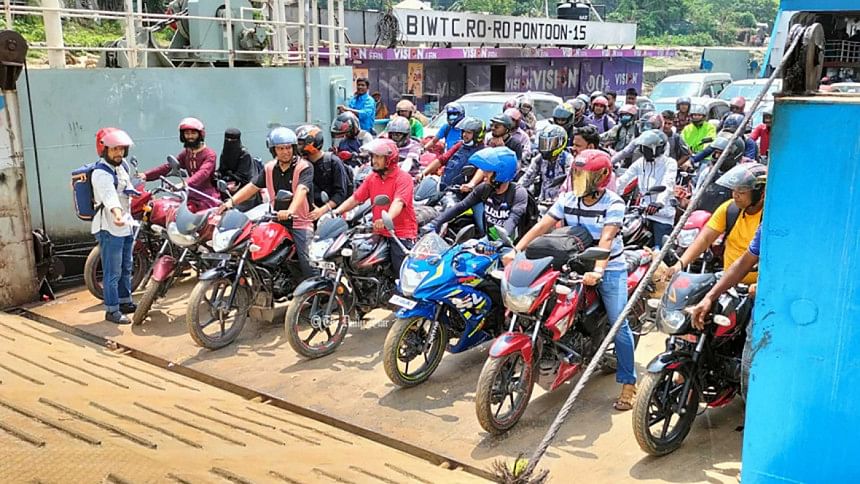 After celebrating Eid with their relatives, people from 21 districts of the southern and western parts of the country are returning to work via the Paturia-Daulatdia waterway.
Before Eid, people from those districts crossed the river and went home using highways, on motorcycles, private cars, microbuses, and buses as well as ferries. Similarly, now they are returning to their workplaces in the capital Dhaka, Narayanganj, Gazipur, and surrounding areas.
This morning (May 7, 2022), while visiting Paturia ghat in Manikganj, The Daily Star found the truck terminal empty. There were no vehicles waiting in queue for small cars or buses and emergency cargo vehicles.
However, after a few minutes, hundreds of passengers were seen rushing to Paturia Ghat with motorcycles and small cars all the way from Daulatdia ferry ghat in Rajbari.
Around 10:30 am, a large overcrowded ferry was spotted at Pontoon No 4 of the Paturia ferry ghat. Hundreds of motorcycles, 30 private cars and hundreds of passengers were seen getting off the ferry.
Two minutes later, another pocket of the same pontoon was seen crowded with a medium-sized ferry. More than 50 motorcycles, 15 small cars and 60-70 passengers were taken off the ferry.
Abul Hossain of Kushtia said, "I went home riding my motorcycle to celebrate Eid. I am returning to Dhaka the same way. My office starts tomorrow. This time there were no complications anywhere on the way."
Kanika Saha of Rajbari said, "I got down at Paturia ghat on the ferry. Now I will take a bus to Dhaka. That's what we want in the coming years."
Bangladesh Inland Water Transport Corporation (BIWTC) Deputy General Manager (Commerce) of Aricha Regional Office Shah Md Khaled Newaz said, "All the 21 ferries are operational. The pressure of cars is more at the Dautidia ghat in Rajbari. Due to good management on roads, highways and waterways, passengers and vehicles can easily return to work."
"A total of 46,000 vehicles crossed and went to Daulatdia in the four days leading to Eid. Millions of passengers passed the river on the ferry. And after Eid, in the last three days, 36,000 vehicles have returned to Dhaka via Paturia from Daulatdia. Among these cars, the number of motorcycles and small cars is more. In addition to cars, more than 75,000 people have returned."
On the other hand, at 11am, the Paturia launch ghat saw an overflowing crowd of people going back to their workplaces.
Within half an hour, four launches were seen docking on the ghat. From each launch, 150-200 people were seen deboarding.
"There was no problem for people to cross the river from Daulatdia in Rajbari to Paturia Ghat in Manikganj, as all the launches were operational at Paturia-Daulatdia waterway," said Panna Lal Nandi, supervisor of Paturia launch ghat.