Flights delayed, ferries stuck
Fog disrupts communication; several vehicles crash on Bangabandhu bridge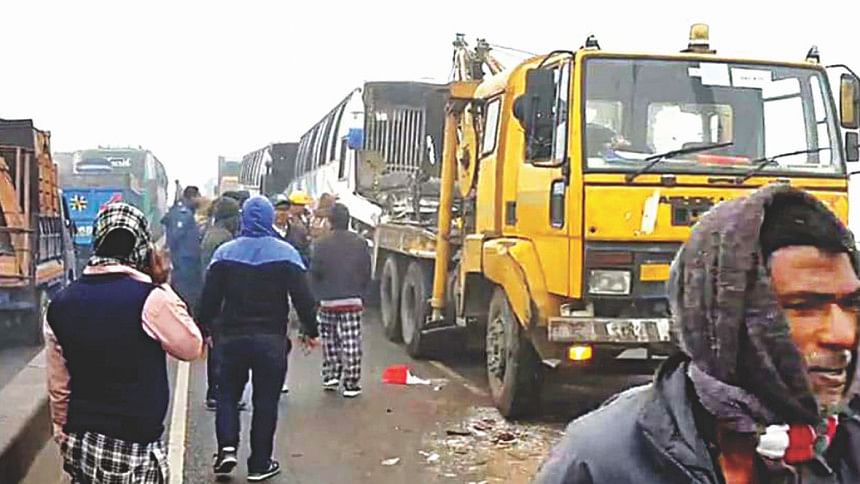 Dense fog brought misery to thousands of travellers, causing major disruption to flights, ferry services and road transport across the country yesterday.
Flight operations were suspended in the capital's Hazrat Shahjalal International Airport from 1:00am to 9:30am, delaying at least 23 international and domestic flights, said airport officials.
Yesterday was the 11th consecutive day of flight traffic disruption at the country's main airport due to foggy weather.
Of the 23 flights, eight were bound for Dhaka from abroad and 14 bound for different districts. Besides, a Dhaka-bound cargo flight from abroad was also delayed, Rezaul Karim, spokesman of Civil Aviation Authority of Bangladesh, told The Daily Star.
Meanwhile, ferry services on Paturia-Daulatdia and Shimulia-Kathalbari routes were also disrupted for hours, said BIWTC officials.
Seven vehicles were involved in a pile-up on the Dhaka-bound north lane of the Bangabandhu Bridge around 6:00am after visibility fell to just a few feet. The accident left seven people injured. 
Rezaul said all the inbound flights, scheduled to touch down at the Dhaka airport between 1:30am to 4:30am, were redirected to different airports in India and Myanmar.
A Saudi Arabian Airlines flight, which was scheduled to arrive in Dhaka at 1:00am, was diverted to Hyderabad airport. Its arrival was delayed by 14 hours, Joynal Abedin, an information assistant at the HSIA, told this newspaper.
Another aircraft of Gulf Air, which was scheduled to arrive in Dhaka at 4:00am, was diverted to Bangkok, he added.
A Malaysian aircraft, which was diverted to Yangon, landed at Dhaka airport at 10:51am, around seven hours behind its schedule.
Besides, two international flights of US-Bangla Airlines were diverted to Chittagong.
Domestic flights of Biman Bangladesh airlines, Novo Air, US-Bangla Airlines and Regent Airways were also delayed, according to airport sources.
The domestic and international flight operations resumed at 9:30am and 10:15am respectively.
In Tangail, road traffic was suspended on the Dhaka-bound north lane of the Bangabandhu Bridge for around three hours from 6:00am due to the pile-up, sources at Bangladesh Bridge Authorities (BBA) said.
Asabur Rahman, officer-in-charge of Bangabandhu Bridge East Police Station, said seven buses, trucks and cars were involved in the pile-up. He blamed dense fog and reckless driving for the accident.
The suspension of traffic created a long tailback on the west end of the bridge. Traffic resumed on the lane around 9:00am after the seven damaged vehicles were towed away by police, he added.
The seven injured people were rushed to Tangail General Hospital.
In Manikganj, ferry service on the Paturia-Daulatdia route remained suspended for around 11 hours from 11:15pm on Thursday due to poor visibility.
Eleven ferries carrying passengers and vehicles were stuck in the middle of the Padma while five were stranded at Paturia and Daulatdia ferry terminals.
Nasir Mohammad Chowdhury, manager (Aricha sector) of Bangladesh Inland Water Transport Corporation (BIWTC), said a thick blanket of fog covered the entire ferry route since 11:15pm on Thursday.
Due to the disruption to ferry services, over 1,000 vehicles got stranded on either side of the Padma around 2:30pm yesterday.
Such disruption to ferry services have been occurring here for the last two weeks.
In Munshiganj, ferry services on Shimulia-Kathalbari route remained suspended for over 10 hours from 11:30pm on Thursday.
Four ferries were stranded in the middle of the Padma throughout the night.
Shah Newaz Khalid, assistant general manager of BIWTC, said around 400 vehicles were stuck in queues in Shimulia at 10:45am yesterday.
Our correspondents in Tangail, Manikganj and Munshiganj contributed to this report.