Crazy driving in dense fog costs six lives
50 injured in series of bizarre accidents on Bangabandhu bridge; land minister's son injured, later dies of cardiac arrest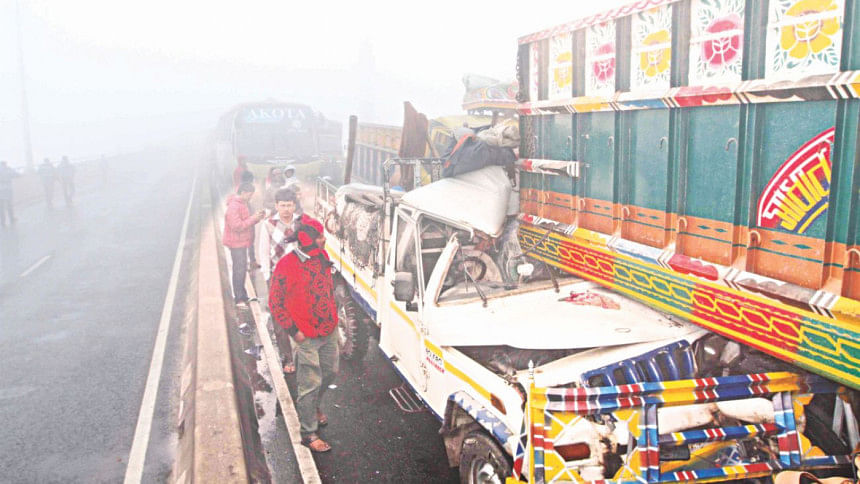 In the dense fog, two pile-ups and four accidents on and around Bangabandhu Bridge left six people dead and 50 others injured within the span of a few hours yesterday morning.
Reckless driving in the fog resulted in two pile-ups, involving 16 vehicles, which forced the authorities to temporarily close the bridge.
A policeman, two fire fighters, and four journalists, all rushing to the scene, were also injured in accidents on the same stretch of the road.
Around 6:30am, a bus heading for Dhaka rear ended a cattle-laden truck in the thick morning fog on the bridge. Six more vehicles, five trucks and a microbus, then ploughed into the wreckages, reports our correspondent in Tangail. 
At least four passengers of the bus were killed on the spot and 30 others were injured, said Sub-Inspector Abdur Razzak of Bangabandhu Bridge East Police Station.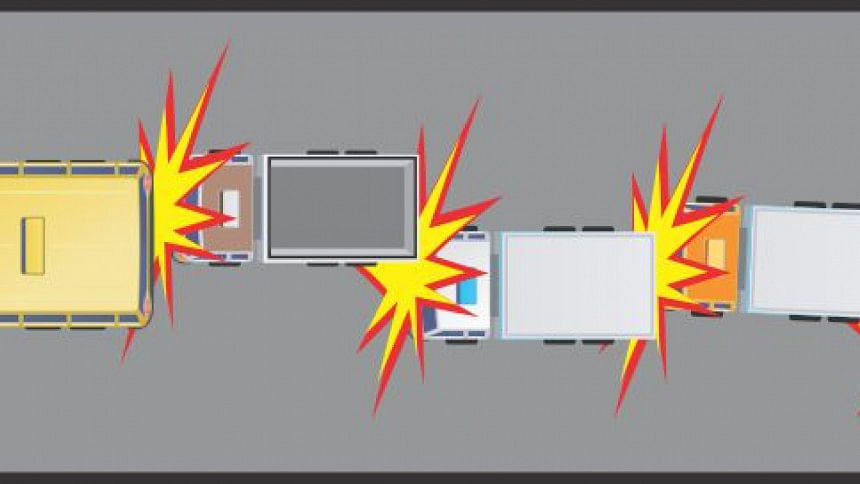 The dead were identified as Tofazzal Hossain, 35, Noor Alim, 42, Sohel Rana, 35, and Ruhul Amin, 26.
Land Minister Shamsur Rahman Sherif's son Sharif Rana, 41, was in the microbus. He was suffering from a heart disease and was going to Dhaka for treatment.
Slightly injured Rana was taken to Tangail Medical College Hospital around 11:30am but doctors declared him dead on arrival. He reportedly died of cardiac arrest.
After the first pile-up, the two north lanes of the bridge were closed and a contraflow (lane reversal) was set up on the south lanes to keep operational the bridge that connects Dhaka to the north.
An ambulance heading towards Sirajganj had then rear ended a truck on the bridge.
The second pile-up happened around 9:45am just a few yards away from the first pile-up. A bus heading for Dhaka slammed into a timber-laden truck ahead of it at speed and then several more vehicles piled on to them.
A bus passenger, aged around 40, died on the spot and 10 others were injured.
On information, rescuers from Bangladesh Bridge Authorities, Bangabandhu Cantonment, Fire Service and Civil Defence from Sirajganj and police from Bangabandhu Bridge East Police Station went to the spots, rescued the injured people, and took them to Tangail Medical College Hospital and Sirajganj Sadar Hospital.
Monira Sultana, additional deputy commissioner of Tangail, who supervised the rescue operations on the bridge yesterday, told The Daily Star that dense fog was the main reason behind the series of accidents.
"Reckless driving and lack of fog lamps on several vehicles were also to blame," she said.
A huge tailback formed on both sides of the bridge after the two pile-ups as the bridge had to be closed.
Police and army men removed the wreckages and cleared the bridge for vehicular movements around 11:30am.
Meanwhile, a pickup truck of Bangabandhu Bridge West Police Station, which was going to the accident spots with rescuers, collided with a pickup truck of the fire brigade, also carrying rescuers, on the west end approach road of the bridge around 9:30am, reports our correspondent in Pabna.
At least six people, including a policeman and two fire fighters, were injured, police said.
Four reporters travelling on two motorbikes from the west end were injured when they were going to the accident spots. They had lost control of their bikes and rammed a stationary truck on the bridge, said Sirajganj-based journalist Shukanta Sen.
The inured were Rifat Rahman, 35, reporter of Masranga TV channel, Rinku Kundu, reporter of Somoy Television, and their camerapersons Nazmul and Ashraf.
They were admitted to Sirajganj General Hospital.
A few kilometres east of the bridge at Boilla near Tangail town, motorbike rider Anwar Hossain, 35, was run over by an earth laden truck around 11:00am.
MINISTER'S SON
Hirok Hasanur Rahman Sharif Rana, 41, was the fourth son of the land minister. He was going to a private hospital in Dhaka with his wife Naznin Akter Shima.
Mohammad Akhtaruzzaman, officer-in-charge of Bangabandhu Bridge East Police Station, said in the first pile-up, in which Rana's vehicle was involved, Rana received minor injuries. He had gotten out of the vehicle and had looked around for a bit standing on the bridge, the OC claimed.
He then went to the nearby Elenga Resort and rested there for sometime but he started feeling sick.
Rana was rushed to the Tangail Medical College Hospital where doctors declared him dead on arrival, the OC added.
His body was taken to his home in Ishwardi in the afternoon.
Sharif Russel, elder brother of Rana, said Rana had lost his only daughter a few months ago.
Land Minister Shamsur Rahman Sherif said, "I am so unlucky that I have to carry the body of my son … "