Assaulting Trucker After Failed Extortion
SI suspended as road blocked in protest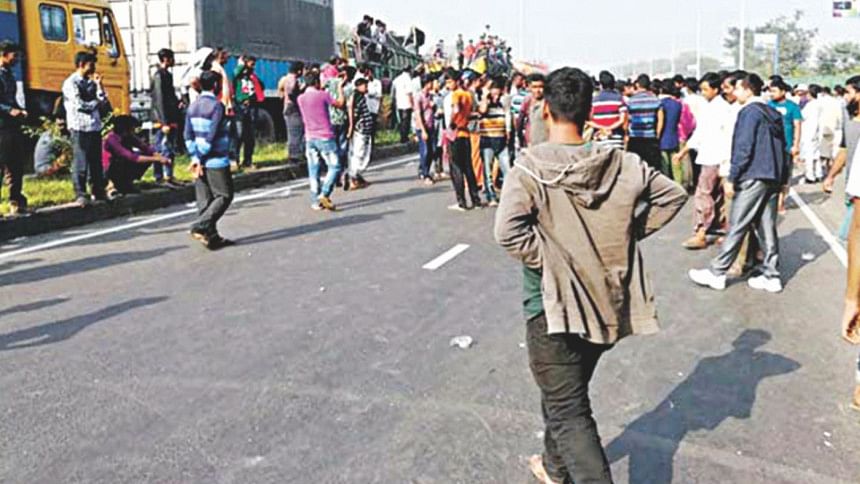 A sub-inspector (SI) of Bangabandhu Bridge East Police Station was suspended after transport workers blocked the road on the eastern side of Bangabandhu Bridge for three hours yesterday, alleging that the SI assaulted a truck driver for refusing to give him extortion money.
The temporarily suspended policeman is Noor Alam, said Additional Superintendent of Police (ASP) (North) Shariful Haque.
As per demand of the transport workers, police will also have to bear the treatment cost of the injured truck driver, the ASP said after holding a meeting with the agitating transport workers.
President of the district unit of Truck Drivers' Association Bala Miah alleged that the SI beat up Bakul Miah, the driver of a Bogra-bound truck, in Golchokkor area at the eastern end of the Bangabandhu Bridge at around 6:00am as the driver refused to give him extortion money.
The driver suffered injury in one eye, he said.
Protesting the assault, the transport workers brought out a procession and later blocked the road, demanding punishment of the police officer, he said.
The blockade caused tailbacks for miles as hundreds of vehicles on both sides of the bridge got stuck in Tangail and Sirajganj, according to Traffic Control Room of the bridge.
"Our bus was stuck in the tailback at the western end of the bridge at 7:00am and was stranded for three and a half hours," said Mahbubur Rahman, a passenger of a Dhaka-bound bus from Sirajganj.   
Traffic returned to normal at around 9:30am when the transport workers withdrew the blockade following the immediate action against the SI.