All behind schedule
None of 35 ongoing railway projects is to meet deadline; cost rises by Tk 32,008 crore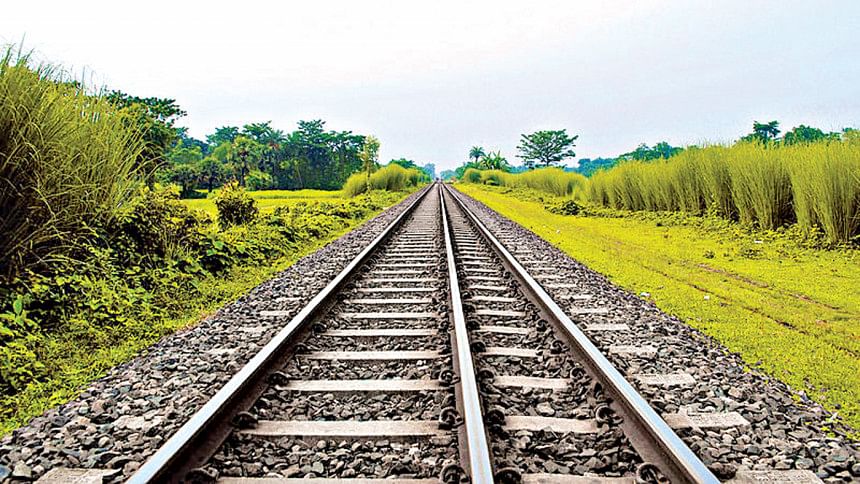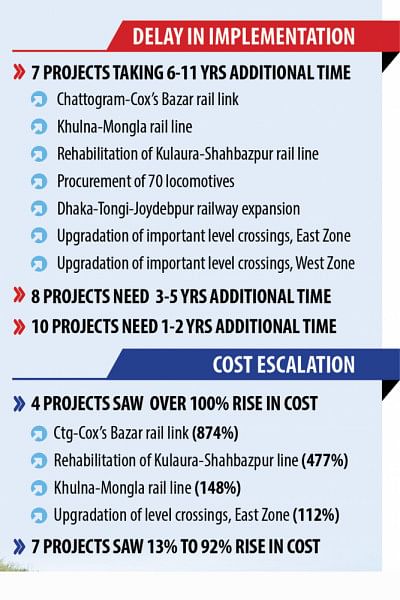 Bangladesh Railway is implementing 35 projects to expand its services, but none of them would be completed on time, raising questions about its capability in executing such a large number of development schemes concurrently.
Deadlines of 25 projects have already been extended -- from one year to 11 years. Eleven of them saw cost escalations and even expenditure of a project rose by 873.76 percent.
The original cost of the 35 projects was Tk 1,08,020 crore. But it went up to Tk 1,40,028 crore after revisions, meaning BR has to spend Tk 32,008 crore more, which is more than the Padma Bridge project cost.
The cost of Padma Bridge project is Tk 30,193 crore so far.
Although deadlines of 10 other projects have not expired yet, construction or procurement process did not start in any of them. So, their deadlines have to be stretched.
There is also a possibility that costs of many of the projects would go up as delays usually increase costs.
Long delay in project implementation costs more public money. Most of the amount being spent on the projects came from foreign loan. On the other hand, people's wait for an improved railway service is getting longer.
More importantly, the government's plan to revive railway, which had been neglected for decades, stumbled although Tk 71,113 crore has been injected into the sector for its development since the Awami League assumed the office in 2009.
The Daily Star found a grim picture after analysing the progress reports of the projects for last six years and talking to around a dozen of BR officials.
Of the 35 ongoing projects, 18are for constructing or expanding or rehabilitating rail tracks, bridges and the signalling system.
Once completed, six new districts will come under rail network and the existing tracks and services in important and busy business districts will be upgraded. Even connections with neighbouring India would also improve.
Six other projects have been undertaken to procure locomotives, carriages and wagons, as around 67 percent of locomotives and 47 percent of carriages have crossed economic life, which is ultimately hampering BR services seriously.
The remaining 11 projects are for carrying out feasibility studies and securing technical assistance for new or ongoing projects.
Eighteen of the projects are either being or supposed to be implemented with loans, mostly from Asian Development Bank, China, Japan and India.
Time extension and cost escalation are nothing new for BR projects.
A report of the Implementation Monitoring and Evaluation Division (IMED) on 13 projects, completed in fiscal 2016-17, shows that all of them required time extension and costs went up in four projects.
Delay in material supply from abroad, frequent changes in project designs, changes in work scope, complications over appointing consultants and frequent changes of project directors are the key reasons for the delay and rise in costs, according to the report published in June this year.
Between 2008-09 and 2022-23 fiscal year, the government allocated Tk 107,645 crore to BR under the annual development programme (ADP).
But BR could spend Tk 71,113 crore -- only 66.06 percent of total allocation -- till October this year, show BR documents.
25 Projects
Twenty-five projects have been progressing beyond their deadlines. At least four of them were taken up over a decade ago.
One of the projects was taken in 2010 to lay a metre-gauge rail track to link Chattogram with Cox's Bazar at a cost of Tk 1,852.35 crore. The project was supposed to be finished within June 2013.
But a decision was made in 2014 to go for a dual-gauge track for better connectivity, raising the cost tenfold to Tk 18,034.47 crore (873.76 percent rise).
But the construction of rail track from Dohazari of Chattogram to Ramu in Cox's Bazar started in March 2018.
The last deadline of the project is June 2024, with one year defect liability period. It witnessed 76 percent progress till September this year.
Railways Minister Nurul Islam Sujan recently directed contractors to complete the work "anyhow" by June next year, sources said.
BR undertook a project in November 2012 to construct third and fourth dual-gauge railway lines on the Dhaka-Tongi route and a second dual-gauge line on the Tongi-Joydebpur route.
The 848.60-crore project, taken without any feasibility study, was supposed to be finished by June 2015.
Its current deadline is June 2023 and the revised cost is Tk 1,106.80 crore. And recently, the project authorities sought time until June 2027 and Tk 2,158.96 crore more to complete the project.
10 OTHER PROJECTS
The remaining 10 projects are also running behind schedule, show documents.
One of the projects was taken in November 2018 to turn the 174km Joydebpur-Ishwardi part into dual-gauge double lines. The deadline for the Tk 14,250.61-crore project is December 2024.
But implementation of the project became uncertain after China pulled out of the project last year, citing a "lack of in-depth preliminary work and insufficient feasibility study".
Currently, Japan is reviewing the study to decide whether to fund the project. Even if Japan agrees to finance the project, its construction work may not begin before 2025, said officials.
In 2018, BR took up two projects involving Tk 5,187 crore to boost internal and inter-country rail communications. The projects would be executed with an Indian line of credit.
The two projects -- conversion of metre-gauge lines to dual-gauge ones from Parbatipur to Kaunia and the construction of a double-line from Khulna to Darshana -- were supposed to be done by December this year.
But BR could only appoint consultants for the two projects in August this year, just four months before the expiry of the project deadlines.
Now BR would need about five years to finish the projects, officials said.
Like the three projects, the construction of seven others is yet to start.
WHAT BR OFFICIALS SAY
A BR official blamed delay in land acquisition, relocation of utility services and tendering process and revision of projects; absence or poor feasibility studies and a lack of skilled manpower for poor implementation of projects.
Another official said in many cases, projects on constructing rail tracks have to be implemented on the existing linesor along the lines. In such case, carrying out work without disrupting rail operation often delays the projects.
An official said sometimes contractors and consultants, having good links with high-ups, force the authorities to change decisions for their own interest, ultimately causing delay in project completion and escalating costs.
BR did not get major funding for decades, so the rail sector needs an overhauling, which naturally take times and money, said another official.
Contacted, BR Director General Dhirendra Nath Mazumder said each project is different, so the reasons are different for delays in implementation.
Citing Chattogram-Cox's Bazar Rail Link Project, he said one of the two contractors of the project is facing financial crisis, while the other could not continue the work smoothly due to land-related issues.
"We face many issues while implementing projects at sites, which often leads to a delay," he told The Daily Star on November 11.
Asked about the BR capability, he admitted that there was a shortage of necessary manpower. "We are regularly holding meetings to solve problems and speed up project implementation."
He, however, denied the allegation that the authorities change decisions under pressure from contractors and consultants.