Is Bangladesh Railway beyond hope?
Why are all of railway projects running behind schedule?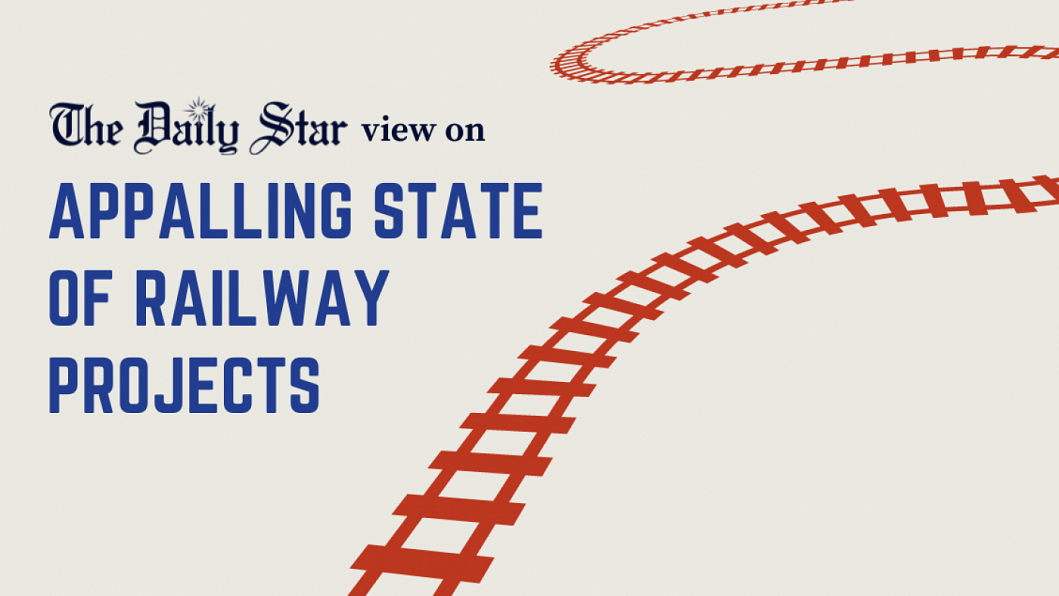 We have no words to express our frustration about the continued poor performance of Bangladesh Railway (BR). The state-run organisation has not only failed to complete a majority of its projects on time, but is also running on losses year after year. According to our latest report, all of the 35 ongoing projects undertaken by the BR to expand its services are running behind schedule. This has, once again, exposed its inefficiency in implementing projects, and raised questions about its capability of executing such a large number of projects simultaneously.
Among the 35 projects, the deadlines for 25 have already been extended from one year to 11 years, while 11 of them saw cost escalations. The cost of one such project has even risen by a whopping 873.76 percent! Now, after several revisions, the combined costs of all these projects have risen by Tk 32,008 crore, meaning that while the initial cost of the 35 projects was Tk 1,08,020 crore, it went up to Tk 1,40,028 crore after revisions now. It's hard to justify such a huge cost increase. Had the BR done its job efficiently, without allowing corruption and irregularities to frequently get in its way, the money thus saved could be a great source of comfort at this time of economic turmoil.
Over the past few years, The Daily Star published a number of reports about the BR's lacklustre performance in project implementation, identifying a number of reasons contributing to that. Reportedly, corruption and irregularities of the project implementing authorities, poor feasibility studies and problems over land acquisition are some of the major reasons. Earlier this year, a report by the Implementation Monitoring and Evaluation Division (IMED) also found delays in material supply from abroad, frequent changes in project designs, changes in work scope, complications over appointing consultants and frequent changes of project directors as the key reasons for the time and cost overruns. But, unfortunately, no amount of reporting or revelation about its inefficiency and weaknesses could wake the institution up from its deep slumber, and take measures to rectify its mistakes and enhance its efficiency.
The result is, the railways ministry is the lowest performer in terms of project implementation among the five ministries that received the highest development fund allocations in the past decade from the government. According to an IMED report, the ministry could not even achieve the average ADP implementation rate twice in the last six fiscal years. Furthermore, it has incurred Tk 13,492.70 crore in losses between FY 2008-09 and FY 2019-20.
This situation is totally unacceptable. We urge the government to hold the BR accountable for its chronic incompetence and inefficiency as well as repeated failures in improving its services. It must prevent the wastage of valuable public money in the name of implementing development projects. The transport agency needs a complete overhaul to stop it from becoming a burden on the government and taxpaying citizens.