YABA, CHARITY hand in glove?
Bodi spends over Tk 1.5cr a month among the poor in Teknaf to keep his empire 'peaceful'
The other side of Abdur Rahman Bodi, widely known as a yaba godfather, is quite intriguing.  
The former Awami League lawmaker has been spending roughly Tk 19 crore per annum for the last three years on distributing rice among 56,000 poor people in Teknaf every month.
He also donates sugar, milk, oil, onion, lentils and chickpeas for the needy in the month of Ramadan. Many families have got financial support from him, said locals.
Two years before he started his "philanthropic" activities, his annual income was around Tk 15.46 crore as shown in his 2014 polls affidavit.
So where does the extra crores for his charity work come from? How does he maintain the annual balance sheet? Has his income just swelled over the years or he got the magic lamp? 
RISE OF A 'PHILANTHROPIST'
In 2016, two years after Bodi was elected MP from Cox's Bazar-4 for the second time, he made a list of needy people with the help of representatives of Teknaf municipality and union parishads, according to local political leaders.
"Every person on the list was issued a card and a cardholder gets 10kg white [atap] rice every month. Bodi has been doing this over the last three years," Mohammad Alam Bahadur, general secretary of Teknaf municipality AL, told The Daily Star.
Bahadur, also a coordinator of the rice distribution, said there are 7,000 cardholders in Teknaf sadar union, 13,000 in Whykong, 11,000 in Hnila, 9,000 in Baharchhara, 11,000 in Sabrang and 5,000 more in Shah Porir Island.
The card, on one side, bears the area name and the slogan "Take Salam from Bodi Bhai, Vote for Boat", and his photo on the other.
Zafar Alam Chowdhury, adviser of Cox's Bazar AL, confirmed to this newspaper that about 56,000 people have been getting rice every month over the last three years.
HK Anwar, chairman of Hnila Union Parishad, said they make an announcement a day before the rice distribution. The cardholders gather at the union parishad office accordingly.
Same is the practice in other unions.
Rehana Akter, 52, an inhabitant of Pankhali village, said she goes to the union parishad office following the announcement and collects rice showing her card.
Rahima Khatun, 42, of Sabrang union, has been receiving rice for the last three years. "For this favour, the MP never asked us to do anything for him," she said.
Talking to this newspaper, several recipients of rice said this is very good quality atap. In the local market, it is priced between Tk 28 and 30 per kg.
According to an estimate, Bodi distributes 5,60,000kg rice every month and the cost would be at least Tk 1.56 crore. That means he spends around Tk 19 crore every year only on rice distribution.
Besides, whenever he goes to a local market or attends any public programme, he distributes Tk 100 to Tk 1,000 notes among people, said locals.
To many in his locality, he is now more of a generous benefactor than a former lawmaker or politician.
"Leave the place. You have no right to comment on Bodi Bhai. No one has ever done anything in the last 50 years like what he did for us."
This was how a 55-year-old woman responded when this correspondent was making some queries about Bodi on January 25. She was having tea at a stall near Shamlapur High School in Teknaf.
Five to six others came up with almost the same reaction.
No one goes back empty handed from Bodi's door, according to rickshaw puller Md Shamsul.
"Bhai is helping us by providing rice every month and he never asks for any return," said Nurul Amin, who was taking tea sitting beside Shamsul.
Bodi has established a college, a high school and a madrasa in Teknaf, according to the biography book of the Jatiya Sangsad, which mentions charity as his hobby.  
His father Mohammad Ezahar Mia Company was also popular in the locality. A supporter of any party that came to power, he established Teknaf Ezahar Girls' High School, now a government institution.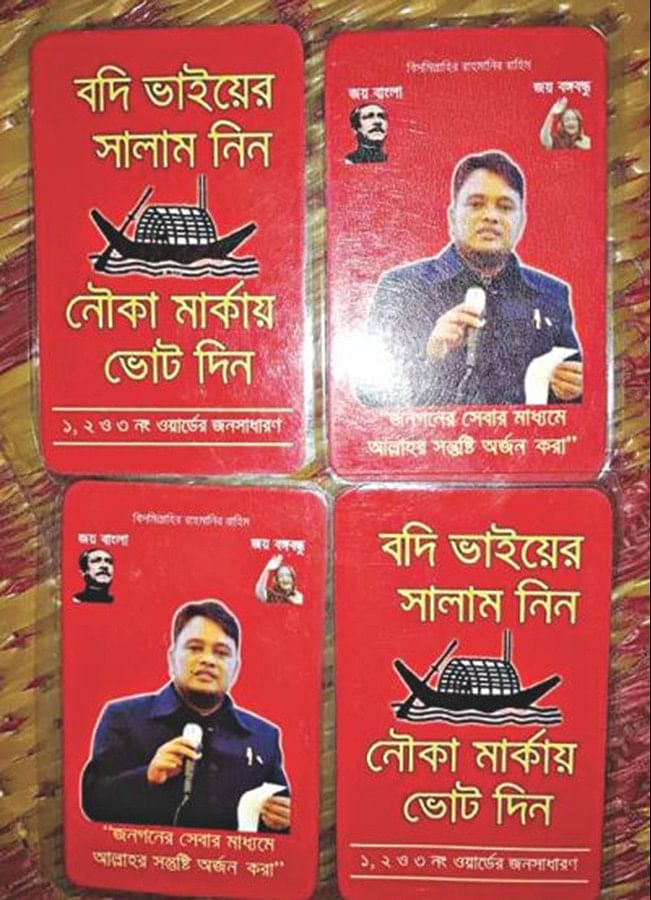 HIS 'INCOME'
"All credit goes to my people for whom I am here today. So I donate 70 percent of my business income to the people of my locality," Bodi said last month when asked about the rice distribution.
He, however, won't give any idea about his business or its volume and the donations he makes.
Through an independent probe, The Daily Star learnt that Bodi has been controlling the entire cost and freight (C&F) business in Teknaf since he was first elected lawmaker in 2008.
He has four agencies for export and import. M/S A Rahman Agency is registered in his name; M/S Samia Enterprise in his daughter's name, M/S Shawon Enterprise in his son's and M/S Shaheen and Sons in his wife's name.
During a visit, this correspondent found that a small tin-shed office in Chowdhurypara area of Teknaf houses all the four agencies. On the signboard, the proprietor's name is Abdur Rahman Bodi.
Sources said Bodi imports fish, pickle, wood, ginger, and exports dry fish -- to and from Myanmar -- through these agencies. His family has ages-old relation with Myanmar as his grandfather Sultan Ahmed was its resident.
He is the "biggest importer" of Burma teak from Myanmar and earns crores from this business, at least three local traders claimed. This is one of his major sources of income, they added.   
The former MP also has a number of shops in different markets and a residential hotel in Teknaf.
The four-storey Naf Hotel was turned into living quarters for families a couple of years back. Its two or three rooms are rented out together at Tk 4,000 to Tk 5,000 per month.
Sources in Cox's Bazar Registration Office said there is land in the names of Bodi, his wife, sisters and brothers in Teknaf, Ukhia, Inani, Baharchhara and St Martin's Island.
He has been the highest taxpayer in Cox's Bazar for the last couple of years, according to district tax office sources.
But what sources of income he has beyond all this? Is there any at all?
THE MAGIC LAMP
Sources claim that a big portion of his income comes from yaba smuggling from Myanmar. He hogged the headlines in this connection numerous times in the recent past.
The former MP has been named as a yaba godfather in reports of the Department of Narcotics Control (DNC) alongside several intelligence and law enforcement agencies.
A DNC report mentions him as a patron of yaba trade in Ukhia-Teknaf, the gateway of smuggling the crazy drug from Myanmar.
"It would not be an over statement that other top yaba traders would not dare continue the trade going against his will. And local yaba traders or extortionists would not be able to establish supremacy."
According to the report, his willingness can play a vital role in bringing an end to yaba smuggling from Myanmar, which has border with Teknaf.
It also names his brothers Mujibur Rahman and Abdul Shukkur and cousin Mong Mong Sen as yaba godfathers.
Besides, according to an intelligence agency report, there are 120 listed drug traders in Cox's Bazar, and Bodi tops that list as well.
Sources in law enforcement agencies say yaba consumption per year in Bangladesh is guestimated to be 46 crore pills worth around Tk 11,531 crore. The average price of a pill is Tk 250.
Last year, police, Rab, DNC, BGB and other agencies seized around 3.69 crore pills, according to the Police Headquarters.
Several officials of DNC said law enforcers are only able to recover eight to ten percent of the total yaba pills smuggled into the country.
The home minister and police, however, claimed on several occasions that they did not find "any proof of Bodi's direct involvement" in yaba smuggling.
In the last one week, officials of four law enforcement agencies told this newspaper that they could not go after Bodi for lack of evidence against him. 
Denying his involvement in narcotics trade or smuggling, the former lawmaker says, "It's all a conspiracy against me."
'BALANCE SHEET'
Bodi, currently an executive committee member of Cox's Bazar AL, sought nomination from the BNP to contest the JS elections in 1996 but was denied the party ticket "due to his misdeeds".
He won the 2008 election as an AL candidate. 
The affidavit he submitted to the Election Commission before the polls says every year he earns Tk 1.76 lakh from renting house, apartment and shop, Tk 91,098 from savings and shares and Tk 33,600 from salt field.
That means his annual income was around Tk 3 lakh back then. The affidavit also mentioned his dependants' annual income as Tk 2.25 lakh.
His affidavit for the 2014 election reads that he earns Tk 4,650 from agriculture, Tk 2.08 crore from renting house and apartment, Tk 5.32 crore from business, Tk 8.05 crore from shares and savings and Tk 91,000 from salt field every year.
This time his annual income stood at around Tk 15.46 crore and dependants' at Tk 3.48 lakh.
The AL leader did not participate in the 2018 election. His wife Shahin Akter contested the polls and her affidavit shows that she earns Tk 18,255 from agriculture, Tk 56,980 from renting house and shop, Tk 3.50 lakh from business and Tk 46,600 from salt field annually.
She didn't mention the income of dependants though it's mandatory.
On November 2, 2016, a Dhaka court sentenced Bodi to three years in prison for "concealing" and "deliberately" providing false wealth statement to the Anti-Corruption Commission in March 2014. He was also fined Tk 10 lakh, in default of which he will have to spend three more months in jail.
The court said Bodi on June 30, 2013 submitted his income tax return to the National Board of Revenue for fiscal 2013-2014, saying his net wealth was Tk 9.19 crore.
In his wealth statement to the Election Commission on December 2, 2013, before the 10th national polls, Bodi declared that he had wealth of Tk 10.98 crore.
On March 20, 2014, he submitted a wealth statement to the ACC, mentioning that he had moveable and immovable assets worth Tk 5.35 crore.  
In this way, Bodi concealed his wealth of Tk 5.63 crore and thus the charge of submitting a false wealth statement was found true, said the court. 
He landed in jail but came out securing bail from the High Court.
ACC lawyer Khurshid Alam Khan told The Daily Star that hearings on two appeals -- one filed by the ACC against the order of acquittal and the other by Bodi against his conviction -- were pending with the court.
They will move the court for the hearings in April.
HIS NEW ROLE
After the 11th parliamentary election on December 30, Bodi started working as one of the major players behind the surrender process of yaba godfathers and dealers, sources said.
The surrender is expected to take place later this month.
Around 63 alleged yaba godfathers and dealers already surrendered to police and they are now in the safe custody of Cox's Bazar Police Lines, sources say.
Bodi's three brothers -- Abdul Amin, Md Shafiq and Faisal Rahman -- also surrendered to police in mid-January and they are now in the safe custody. Sources said they recently returned from Dubai to surrender.
Talking to The Daily Star on January 25, Bodi said he has been requesting all the drug peddlers, including those in his family, to surrender. "The smugglers surrendered to police after I inspired them to do so."
In fact, nobody in the area ever goes beyond his will.
His name surfaced in the media also for allegedly beating up 24 prominent personalities, including government officials, teachers and lawyers. He metes out "punishment" with his own hand if anyone opposes him.
So, nobody really dares disturb the "peace" in his empire.