Ministers making conflicting remarks on Khaleda to divert focus: Fakhrul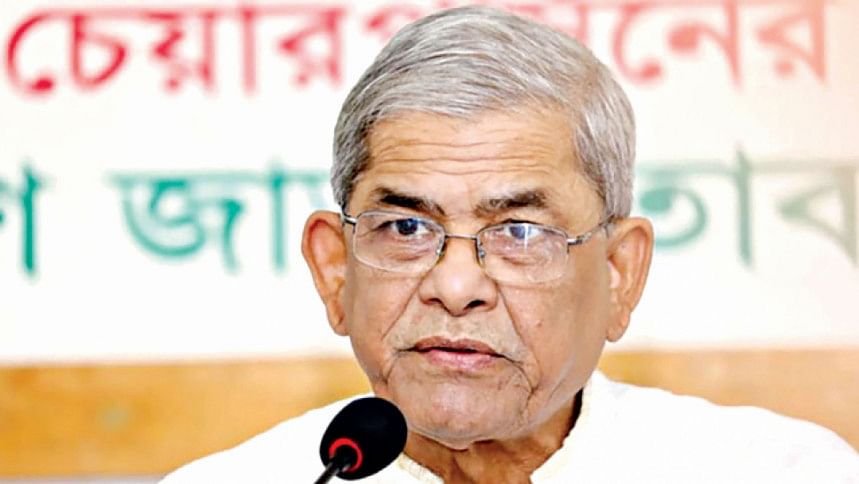 The main purpose of various ministers' conflicting statements about whether BNP chairperson Khaleda Zia could engage in politics was to divert attention from BNP's ongoing movement, the party's Secretary General Mirza Fakhrul Islam Alamgir said today.
Speaking to The Daily Star, Fakhrul said despite this attempt to "create confusion", the party's focus remains on its 10-point demand.
"Begum Zia is ill. Even today [Monday] she will go to the hospital for a health checkup. These [ministers' statements] are being said to create confusion between our party and the people. Besides, a section of the government wants to show the people that they are allowing Khaleda Zia to do politics. Another part says she can't do politics…"
Between February 19 and 23, four ministers -- Law Minister Anisul Huq, Road Transport and Bridges Minister and Awami League General Secretary Obaidul Quader, Agriculture Minister Abdur Razzaque and Information Minister Hasan Mahmud -- came out with conflicting statements on Khaleda's participation in politics.
After the law minister said there was no legal bar on Khaleda from engaging in politics, Quader and Mahmud said she could not engage in politics as she was convicted in a corruption case. Razzaque, meanwhile, echoed the law minister and said she could engage in politics.
All four, however, maintained that the former prime minister could not contest elections, as she was convicted.
"Our main issue is the 10-point demand, including a non-party caretaker government," Fakhrul told The Daily Star today. "They are creating this confusion to divert the discussion from this issue. If this confusion can be created, the government will benefit.
"They should talk about how to form a caretaker government, how to form a neutral government, how to hold a neutral election.""The character of Awami League that existed before the Liberation War is no longer there. Even the democratic position that the party had before 2007 is not there. It has completely become a dictatorship. They are in power and are trying to use that power to wipe out and eliminate opposition."
Placing emphasis on the party's 10-point demand, Mirza Fakhrul said, "We want a meaningful and fair election with the participation of all, which is not possible under the Awami League government. Therefore, elections should be held under a neutral government."
Asked what BNP would do if there is no caretaker government, as AL leaders including Quader have asserted, Fakhrul said, "We will fulfil the demand through agitation. No movement has seen success overnight. We have come a long way."
About BNP's ongoing movement, he said, "Our [road] march is very successful. Obstacles are coming FROM everywhere, but the movement is getting stronger with the spontaneous participation of the people. We are conducting all our movements peacefully and will continue do so.
"Despite their provocations, we ourselves have not broken the peace anywhere. We have not carried out any programme where there was a possibility of breach of peace."
"The Awami League have been conducting counter-programmes and creating conflict. The police are firing at our movement … Awami league, Chhatra League are attacking. So far, 17 BNP leaders and activists have been killed. And the biggest weapon they have always used is filing numerous false cases.
"But people can't be stopped. In every part of the country, people are coming out of their homes to join the movement," he added.
About Awami League's allegation that BNP engages in terrorism, Fakhrul said, "It is a lie. No point of making allegations; you have to prove it. None of the allegations against us in 2013-14 are true. In 2018, they used the state, carried out terrorism, false cases and conducted one-sided elections. Our intellectuals, media are not able to catch them. I know why it can't. There are various pressures, pressure is being put on the media, self-censorship has come among them.