Still no replacement for risky rail bridge
Construction of new one over Teesta in Lalmonirhat in limbo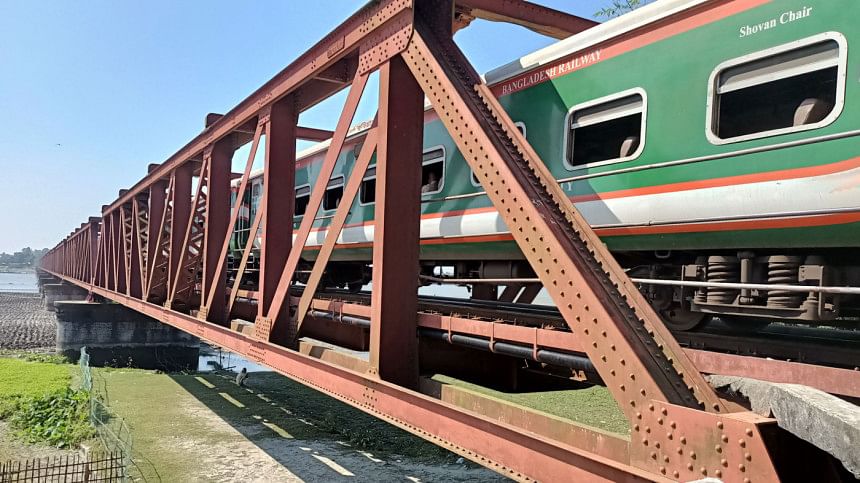 It has been two decades since the longevity of Teesta Railway Bridge in Lalmonirhat's Sadar upazila expired. But till this day, hundreds of people cross the bridge daily, risking their lives.
Known as the gateway to Lalmonirhat and Kurigram from Rangpur, the structure was constructed as a 2,100-foot-long railway bridge  over the river in 1901, with an expected lifespan of 100 years, according to officials of Lalmonirhat Railway Division, adding that at least 10 trains use the bridge every day.
Earlier,  heavy vehicles like buses used to ply the wooden docks installed on the bridge. But a separate bridge was constructed beside the railway bridge in 2012 for vehicles, as the latter was in a vulnerable state.
Five years ago, the railway ministry said that a project was finalised to construct a new railway bridge over Teesta river considering the risks attached with the present dilapidated bridge.
Confirming the development, in 2019, then railways minister Nurul Islam Sujan visited the expired bridge and assured everyone that a new bridge with broad-gauge track would be constructed soon. The current bridge was built with metre-gauge track.
Design of the broad-gauge railway is being prepared, railway sources confirmed. But even after five years, the construction is yet to begin.
The spans of Teesta Railway Bridge have become vulnerable. The bridge vibrates while the trains move. Conductors fear a terrible tragedy may occur any time.
Locomotive master Manik Islam said they have to slow trains down due to this situation. "Truly, we cross the bridge amid risk as the condition of the age-old bridge is so vulnerable that it may just collapse."
Lalmonirhat Divisional Railway Manager (DRM) of Western Railway Abdus Salam said, "The Executive Committee of the National Economic Council has yet not approved the project. So funds have not been allocated yet, hence the delay."
He, however, hoped that they will get necessary funds to implement the project soon, as the bridge is very important because it acts as a connecting point of two districts -- Lalmonirhat and Kurigram.