Rail projects derailed: 14 likely to miss deadline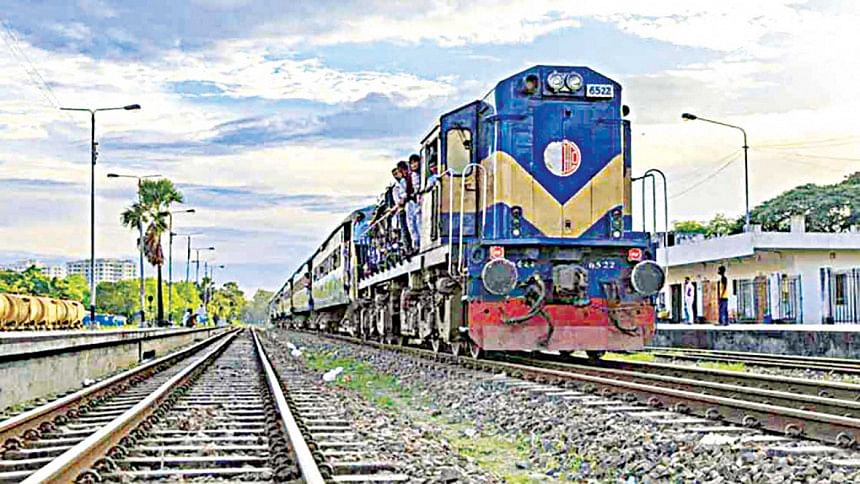 The Bangladesh Railway will likely miss completion deadlines for 14 of the 20 projects scheduled to end this fiscal year.
Of the 14, deadlines for 13 have seen at least one revision already, and the authorities are seeking another extension from one to three years for each.
When completed, some of these projects would connect several economically important districts through rail lines and upgrade the existing tracks and services in equally important and busy business districts.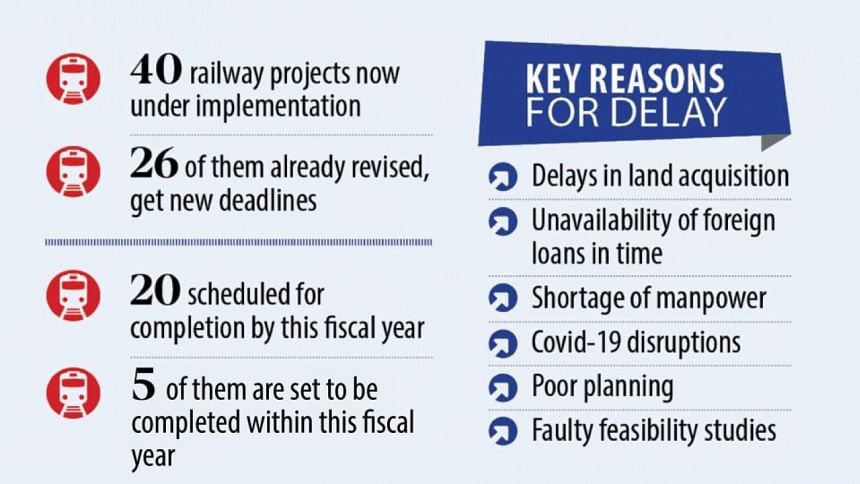 New rail tracks under construction include those from Akhaura to Agartala, Faridpur to Magura and Nilphamari's Chilahati to Chilahati border.
BR officials attributed the slow progress to delays in land acquisition, unavailability of foreign loans in time, shortage of manpower, and Covid-19 disruptions.
Poor planning, faulty feasibility studies and political influence to undertake premature projects are also to blame, transport sector experts said.
One of the 20 projects that were set for completion this fiscal year has been cancelled halfway. The five projects due to complete by June have also been revised, and their deadlines pushed several times.
The state-run transport agency is currently implementing 40 projects involving Tk 1,42,407 crore, with joint funding from the Bangladesh government, Asian Development Bank, India, and China, BR documents show.
Twenty-six of the projects had to be revised -- 19 of them last year -- mainly due to problems over land acquisition, unavailability of funds, shortage of required manpower and poorly done feasibility studies.
Thirteen other projects completed earlier in 2017-2018 also saw time extensions from five to seven years, according to a report by the Implementation Monitoring and Evaluation Division (IMED) of BR.
Each revision saw a hefty increase in the project cost except for eight projects, whose initial estimated cost substantially came down during subsequent extensions -- not a common phenomenon.
Usually, project costs go up in case of extensions, mainly due to price hikes of raw materials, addition of new components, and changes in the original design.
In the last one decade, the railway ministry saw a significant budget increase, becoming one of the five ministries or divisions that received highest development fund allocations.
But in terms of project implementation, the ministry is among the low performers. It could not achieve even the average ADP implementation rate twice in the last six fiscal years, shows the IMED report.
BR Director General Dhirendra Nath Mazumder was on a foreign tour and was not available for comments when this correspondent tried to contact him during the last week of April.
Quamrul Ahsan, additional director general (infrastructure) of BR, who was performing the regular duties of the DG, declined to comment.
DELAYED PROJECTS
Taken up in 2010, the construction of a rail track from Chattogram's Dohazari to Cox's Bazar is one of the long-awaited projects.
The initial cost for the 128km metre-gauge track was set at Tk 1,852 crore. Four years later in 2014, the project was converted into a dual-gauge track -- a complete change of plan -- for "better connectivity". The revised cost rose by 10 folds to Tk 18,034 crore.
More changes followed. The first phase, aimed at building the track from Cox's Bazar's Ramu to Gundum near the Myanmar border, was shelved.
In 2016, the project's deadline was set for June 2022, which could not be met. Visiting the project site in September last year, Railways Minister Nurul Islam Sujan said the route would open for public in December 2022.
Late last year, the project authorities sought another extension up to June 2024, citing various problems including delay in land acquisition and work disruption due to the pandemic.
With 69 percent of the work done, project authorities now hope the construction will complete by June next year.
Other projects involving procurements for rail engines, coaches, and wagons as well as feasibility studies for new tracks are also behind schedule.
One project was taken up in March 2018 to carry out a feasibility study for building a rail line to connect the under-construction Bay Terminal in Chattogram's Patenga with the railway network.
The deadline for the Tk 4.53-crore project was initially set for March 2019, and later extended till June this year. The project authorities are now seeking another year to complete the study.
Other projects seeking time extensions for one to three years include: constructions of three new tracks from Faridpur to Magura, Chilahati to Chilahati Border and Akhaura to Agartala; upgradation of level crossing gates of East Zone and West Zone; procurement of 20 locomotives and 150 carriages; feasibly studies for rail lines from Darshana to Meherpur and Sunamganj as well as for a workshop at Rajbari; and technical assistance for Dhaka-Chattogram-Cox's Bazar rail project's preparatory facility.
Transport expert Prof Hadiuzzaman said the BR lacks the capacity to deal with so many big projects. He also blamed poor feasibility studies and a lack of accountability of contractors and project officials for repeated delays and cost escalations.
"In most cases, feasibility studies are dictated by implementing agencies. As a result, many important aspects are ignored at the planning level, which creates problems during project implementation," said Prof Hadiuzzaman, also director of Buet's Accident Research Institute.
In a letter to the planning ministry early this year, the BR said it expected to complete two feasibility studies this fiscal year, including one for building of a track from Bhanga of Faridpur to Payra.
BR sources said three other projects are also likely to compete by June this year. They involve procurements of 250 passenger coaches, 10 locomotives, four relief cranes and one locomotive simulator; and construction of a rail line from Ishwardi to Rooppur Atomic Centre.