A rare treat: Locals of Jashore village buying beef in instalments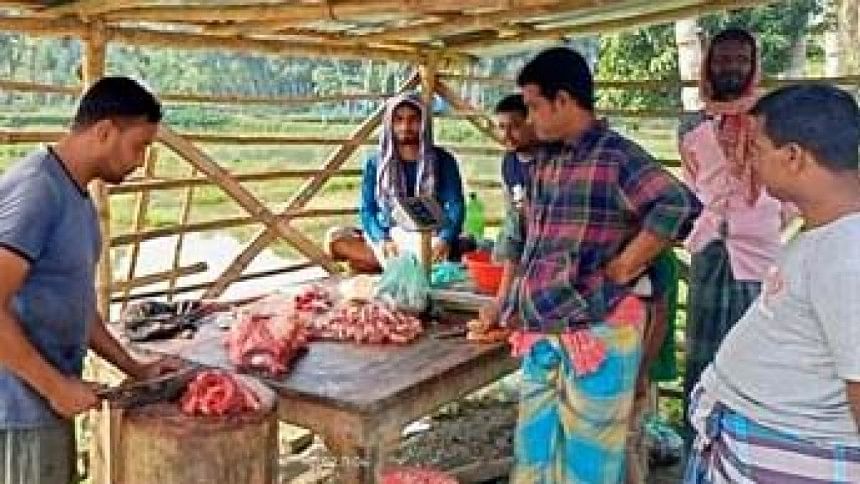 Low-income families at a village in Jashore can now buy beef -- a luxury often beyond their means -- by paying in instalments, thanks to the initiative of four friends.
Every Friday, Nahid Hasan, Lalon Hasan, Zahid Hasan and Abu Syed sell the beef in front of Kazipur school of Sadar upazila's Kazipur village.
Lalon Hasan told The Daily Star that there are many people at their village who can only afford to eat beef during Eid-ul-Azha, and then have to wait for the next Eid to taste it again.
"They are happy with our initiative," he said.
"We arranged this instalment system due to the increase in the price of daily commodities. The villagers, mostly day labourers or farmers, are struggling to bear the expenses of their families. It is difficult for them to collect money to buy one kg of beef from the market," Lalon said.
So, they wait for Eid-ul-Azha so that they get donations of beef from those who are able to sacrifice cattle, he said.
"A few years ago, the plan to sell meat in instalments came to our mind. Then we finalised the plan after discussing the matter with our mentors and social leaders of the area," he added.
"According to the decision, we slaughter cows every Friday mornings and sell them to the local poor people in instalments at market price. Everyone buys meat according to their ability and needs," Lalon said
Most of them pay the money in two to three instalments. "Sometimes it takes months to pay the price although we ask them to clear within two weeks."
"Still, at the end of the day, we are satisfied that we could at least do something for the local people," he added.
Zahid Hasan and Abu Syed said though their initiative was on a small scale, it felt significant as they were making a difference in the lives of underprivileged villagers.
Alfaz Hossain, who came to buy meat in front of the school last Friday, said, "I work as a guard in town. With my salary, it's not possible for me to buy beef for my family.
"So, I come here to buy beef as I can pay in instalments. I pay in two to or three instalments," he added.
"Now, my family can have beef at least once a month. I can't express how happy I am."
Another buyer, Tariqul Islam, said, "There is a function at my house. I bought four kgs of meat and paid Tk 800. I will pay the rest in three weeks."