STAR BUSINESS DIGITAL SPECIAL
Blacksmiths pinning hopes on Eid-ul-Azha sales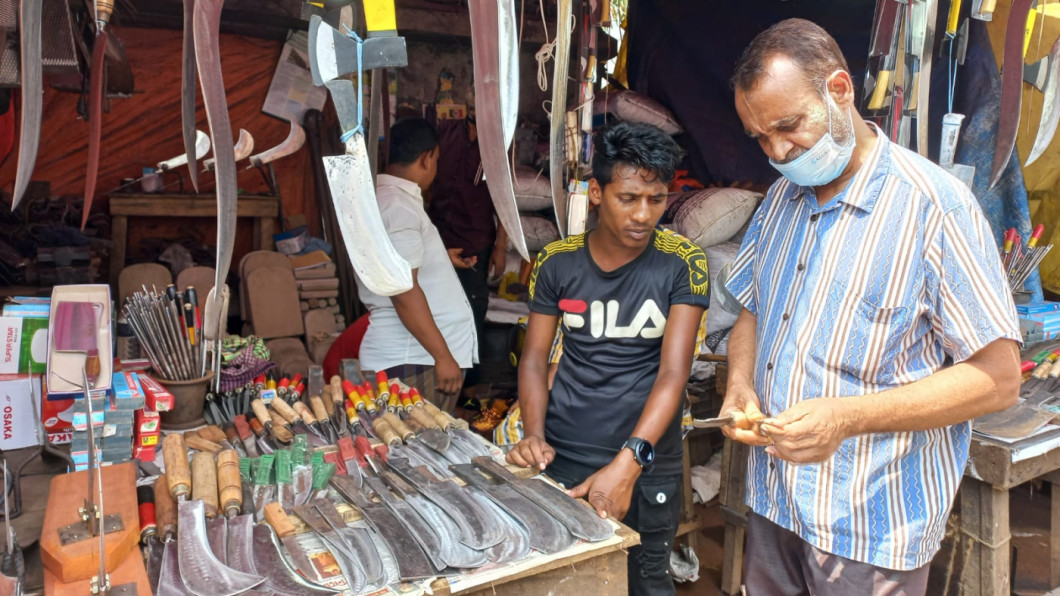 Eid-ul-Azha is knocking at the doors as Muslims are all set to celebrate the holy festival on July 10.
Besides purchasing cattle, there is an increasing rush among people now to buy machetes, choppers, knives and other iron-made tools to process the animals which will be sacrificed on the day.
Butchery equipment traders said their sales are increasing every day and they hope this year sales will be better than last year.
Blacksmiths are also currently passing busy times in sharpening the tools that are used in animal slaughtering and meat processing.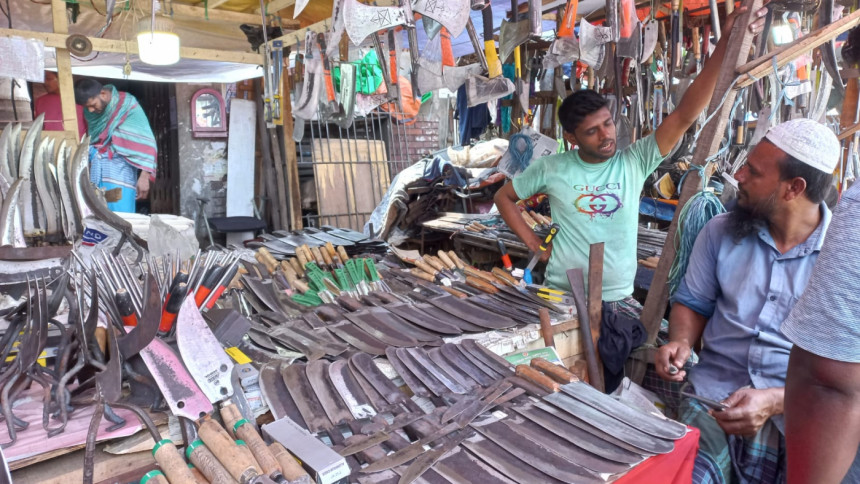 Rafiqul Islam, owner of Rafiq Enterprises that sells butchery tools in the capital's Karwan Bazar, said: "Buyers started placing orders for the tools nearly 15 days before the Eid. Sales are increasing and I hope the business will be good this Eid."
Depending on size and quality of iron used, machetes are priced between Tk 400 and Tk 800, butcher knives Tk 50 to Tk 300, small knives Tk 100 to Tk 300 and cleavers Tk 400 to Tk 700.
Sudarshan Karmakar, a blacksmith of Asokola village in Bogura Sadar, said this year he is charging higher than last year every day to make tools, but the profit margin has declined because of a rise in raw material prices.
"Last year, I took Tk 2,000 a day, which is Tk 3,000 this time. But, in the meantime, iron prices rose by 50 per cent year-on-year to Tk 120 a kilogramme that are used to make butchery tools."
Khorshed Alam, another blacksmith of Garudaha in Sirajganj district, said he has already stopped taking new orders.
He believes he will be able to make 10 per cent higher profit this year compared to last year.
Some 1.21 crore sacrificial animals are available this year, which is enough to meet the country's Eid demand, according to the fisheries and livestock ministry.
Last year, 1.19 crore cattle were available and 90.93 lakh were sacrificed, according to the ministry data.
Md Shakawat Ullah, general secretary of Bangladesh Tanners Association, said they target to collect one crore animal rawhides in the upcoming Eid-ul-Azha.