How are inmates celebrating Eid this year?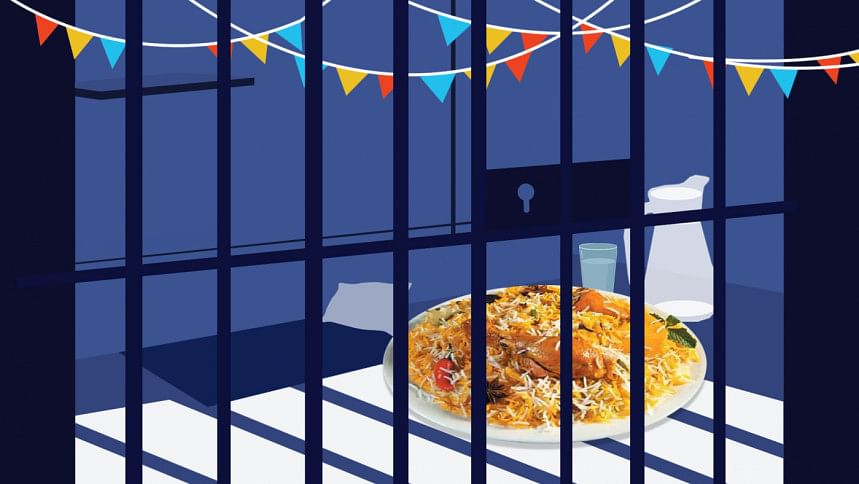 All central prisons across Bangladesh will hold Eid jamaat (congregations) on a large scale this year. Large congregations were prohibited in prisons for two years due to the Covid-19 pandemic, according to prison sources.
Over the last two years amid the Covid-19 pandemic, Eid jamaat were held on small scale at the central jails.
As always, on Eid day inmates will be provided three special meals.
However, it was yet to be decided whether the inmates will be allowed to have food prepared and brought over by their family members. Prisoners were allowed to have home-cooked food before the Covid-19 pandemic.
Meanwhile, near and dear ones have been sending new clothes for the inmates at the prisons.
"Due to the Covid-19 pandemic, Eid jamaats were held on limited scale at the central prisons. Since the Covid-19 situation is under control this year, preparations are being taken to hold Eid prayers on a larger scale at the field on the prison grounds this time," said Subhas Chandra Ghosh, senior jail super at Dhaka Central Jail.
Around 10,000 inmates at Dhaka Central Jail will be provided special meals on Eid day tomorrow (May 3, 2022), including firni and puffed rice in the morning, polao rice and chicken roast at noon, and polao rice with meat at night, alongside salad, paan, and soft drinks, the prison official said.
Also, the inmates will be permitted to meet their dear ones at the prisons to exchange Eid greetings. No decision has yet been taken on whether they would be allowed to have home-cooked food, he added.
Giasuddin, senior jail super at Chattogram Central Jail, confirmed that similar preparations were being taken at the prison.
"Tk 150 has been allocated for each inmate for Eid-special meals," he said.
Authorities of Rangpur and Sylhet central jails, and of several other prisons across the country, also confirmed similar arrangements for inmates on Eid day. 
"Eid day is a special occasion for everyone, and inmates are no exception. On this day, the inmates can offer Eid prayers together at the jamaat. Those who receive new clothes from their families and relatives will wear them, embrace each other, and spend a joyous time together," said Mosharraf Hossain, a former inmate who was released after serving a long prison sentence.