State Minister to Eid holidaymakers: Avoid Shimulia ghat, use Patuaria route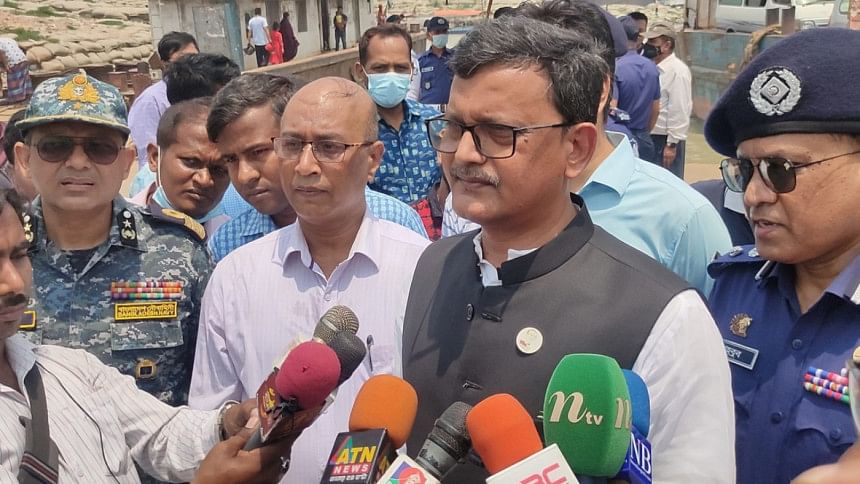 State Minister for Shipping Khalid Mahmud Chowdhury today urged Eid 2022 home goers to avoid Shimulia ferry ghat and use Patuaria ferry terminal instead.
The state minister came up with the request before the reporters around 12:30pm at 3 no. Ro Ro ghat at Shimulia ferry terminal in Munshiganj's Lauhajang upazila, our Munshiganj correspondent reports.
Before that, he visited Shimulia launch and speedboat terminal.
"Only two days are left for Eid. The garments will be closed as per the BGMEA's decision. The pressure of the passengers will start from this afternoon," he said.
"We have enough preparations at Paturia ferry ghat. Heavy vehicles are not being allowed to pass through this waterway. Only light vehicles are being allowed to cross the river," he said.
On the other hand, limited preparation has been taken at Shimulia ghat, he added.
He said, "The fittest ferries are plying on the Shimulia Banglabazar and Majhikandi waterways so that there can be no risk."
"A total of 21 ferries have been given to Paturia as an alternative. There are four ferries running at Kazirhat-Aricha ghat. A total of 25 ferries are operating on Manikganj waterway," he added.
"That's why ahead of the Eid 2022 journey, I am tellung the passengers to use Paturia ghat. Then, there will be less suffering," he said.
"We have to be patient," he urged the passengers.