Not improving anytime soon
Say experts; Nasrul Hamid hopeful things will change in two weeks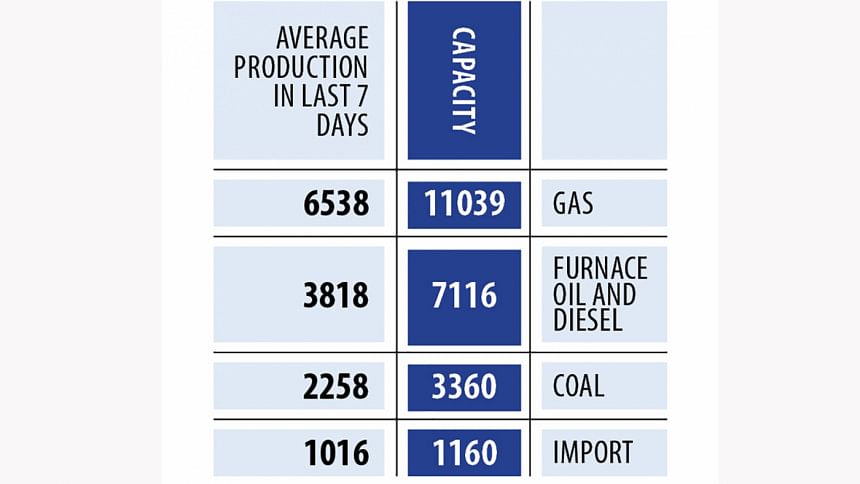 Nobody knows exactly when the power cuts will end.
Nasrul Hamid, state minister for power and energy, hopes the situation will improve within two weeks because the government is trying to get coal, gas, and other fuels to run power plants.
But officials and energy experts believe that only a drop in temperatures or rain will reduce the outages. Since only then the demand for power would fall, with fewer people turning their ACs on, to the level of current power generation.
However, with the weather being what it has been for two weeks, there is no hope that power consumption will fall to the level of power generation, said an official of Bangladesh Power Development Board (PDB), wishing anonymity.
The Met office predicts rain in Dhaka after June 9. But that will only bring a temporary respite to people who are currently spending hours in the heat with no power.
Yesterday's highest temperature in the country, 41 degree Celsius, was recorded in Rajshahi, while in Dhaka it was 37.1 degree Celsius.
The government yesterday ordered government primary schools to remain closed this week because of the scorching heat.
The civil surgeon of Nilphamari on Sunday said health facilities in the districts were seeing more patients arriving with diarrhoea and treatments were getting interrupted due to power cuts.
Meanwhile, business association leaders have started complaining that production at the factories all over the country is being interrupted.
To make matters worse, coal shortage will see the 1,320MW Payra power plant, the country's largest, completely shut down tonight for at least 25 days. This will widen the gap between supply and demand and effectively cause more power cuts.
Production at one of its two units had to be suspended on May 25. And power cuts have been more frequent since then.
In order to get its shipment of coal, the Payra authorities must open Letters of Credit (LC), which they have not been able to do yet.
"LCs will be opened by this week. But it will take at least 20-25 more days for the shipment to arrive," Shah Abdul Haseeb, superintendent engineer at the plant, told The Daily Star.
PDB officials say they have plans to operate several "unutilised" plants in Khulna and Barishal regions to increase production.
"A new coal-based power plant will start operation from this week, and we will import more electricity from India's Adani power," said PDB member SM Wazed Ali Sardar.
"We are taking measures to prevent the situation from deteriorating any further," he added.
Adani Power has recently been supplying more than its commissioned capacity of 750MW. It supplied over 1,000MW yesterday.
Besides, Chattogram's SS power plant, a subsidiary of SAlam Group, is going to supply to the national grid from this week, said the PDB member, adding that these would somewhat fill the gap created by the shut down of Payra plant.
However, energy expert Prof M Shamsul Alam said there was no logic behind the claim. "The government has power plants, but it doesn't analyse how much coal or fuel will be needed over a certain period. That's why they blame the dollar crisis one moment, and talk about another crisis the next.
"It is not acceptable that the new power plants will fill the gap left by another power plant. They will only increase generation capacity, which often remains unutilised.
The country has been producing and importing around 11,500MW during daytime peak hours and around 13,500MW during evening peak for the last couple of weeks.
The total generation capacity is 23,370MW. Over the last couple of months, around 2,500MW capacity remained offline for maintenance and around 4,500MW was unutilised for fuel crisis.
Yesterday, Dhaka's two power distribution companies, DPDC and Desco, were short of 570MW, which left the city dwellers with three to four hours of outages.
Nasrul Hamid yesterday said the ministry had been trying for the last two months to ensure uninterrupted supply of coal, gas and fuel to the power plants, but it failed because LCs were not opened on time.
Payra, Barapukuria and some other power plants are running at half their capacities because of shortages of coal, gas, and fuel, he said.
"It [outage] is temporary."