Barapukuria coalmine MD, 3 others barred from leaving country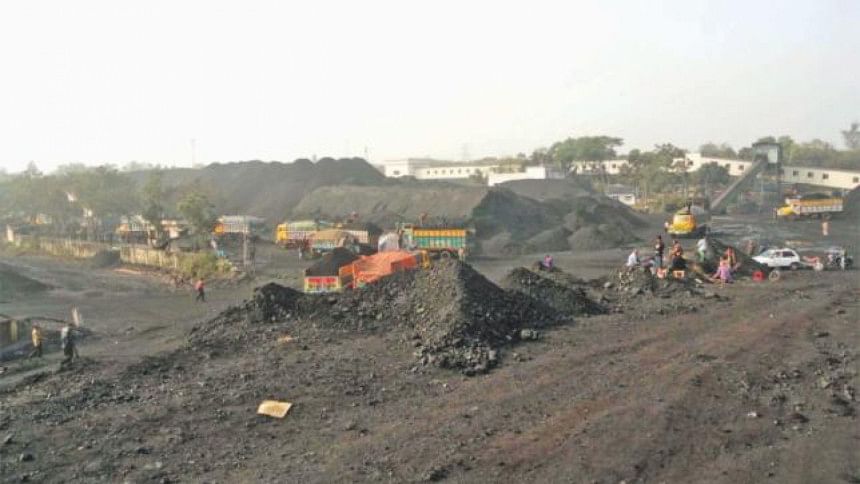 Managing Director of Barapukuria Coal Mining Company Ltd (BCMCL) Habib Uddin Ahmed and three other high-ups of the company have been barred from leaving the country, according to a letter sent by the Anti-Corruption Commission (ACC) to the emigration police today.
The letter, signed by ACC's Deputy Director Shamsul Alam, asked the emigration police to take necessary measures in this regard, ACC's Public Relations Officer Pranab Kumar Bhattacharya confirmed the matter to The Daily Star.
The three other officials are: Abul Kashem Prodhania, general manager and the company secretary, Abu Taher Md Nuruzzaman Chowdhury, general manager (Mine Operation) and Khaledul Islam, deputy managing director (Store).
Their names came up after the Barapukuria coal scam surfaced in the media. Around 1.42 lakh tonnes of coal, worth over Tk 227 crore, reportedly went missing from the BCMCL.
Petrobangla has already withdrawn Habib and Abul Kashem while Abu Taher and Khaledul have been suspended.
Also, an ACC team visited Bangladesh Power Development Board and Petrobangla, the parent organisation of the BCMCL, to collect information of the scam.
Meanwhile, a three-member team of Petrobangla visited the BCMCL in Parbatipur upazila of Dinajpur today to investigate the Barapukuria coal scam.
The team, led by Md Kamruzzaman, director (Mine Operation) of Petrobangla, talked to mine officials, checked necessary papers and visited the coal yard. They also met with the officials of power plants of Bangladesh Power Development Board (BPDB).
The probe body is supposed to submit their report within seven working days.
Besides, prime minister's Energy Adviser Tawfiq-e-Elahi Chowdhury today said that those who were involved in the Barapukuria coal scam will not be spared.
"Investigation is going on in this regard, and action will be taken against those who will be found involved in the Barapukuria coal-mine scam," he said after emerging from the Deputy Commissioners' Conference on power, energy and mineral resources.
The energy adviser also said that Prime Minister Sheikh Hasina has instructed to bring those involved in the scam to the book.
Pointing to the shutdown of Barapukuria Power Plant, he said different areas of the country's northern region will face power outage due to the sudden closure of the power plant, adding that the problem is likely to be addressed within a month.
BCMCL MD Habib Uddin Ahmed and others have been accused of selling 1,16,000 tonnes of coal and misappropriating around Tk 200 crore through fraud and by abusing their power.
The Barapukuria Power Plant was shut down on Sunday night for an indefinite period for a lack of fuel supply, direct fallout of some 1.45 lakh tonnes of coal "going missing" from the yard of Barapukuria coalmine.
Earlier on Monday, a 5-member ACC team of Dinajpur visited BCMCL after getting directives from its Dhaka office. They spent around two-and-half hours there and found a shortage of around 1.45 lakh tonnes of coal at the yard.
According to the BCMCL officials, the company produced around 1.0166 crore tonnes of coal since 2005 to June 29 this year. Of which, 66.87 lakh tonnes of coal were supplied to BPDB while 33.19 lakh tonnes of coal were sold to different companies and brick-field operators.
According to the document, around 1.48 lakh tonnes of coal should be at the yard. But, the ACC team, Petrobangla officials and visiting members of BPDB found only around 3,000 tonnes of coal there.
Power generation of Barapukuria Power Plant was suspended for indefinite period on Sunday night due to the coal crisis, said Md Adul Hakim Sarkar, chief engineer of the power plant.
The plant had a capacity to generate 525 megawatts of power, but its recent highest production hovered around 380MW.
The plant had three units, all of which got their fuel from the Barapukuria coalmine. One of them was taken offline earlier this month and another on July 18 due to coal crisis.
The last unit, which added 250MW of power to the national grid, was turned off on Sunday night.
The development has caused quite a stir within the Barapukuria coalmine, the Power Development Board (PDB) and the coalmine's parent company Petrobangla.