Further blow to consumers
Prices of essentials rise by up to 14pc in a week after govt hiked fuel prices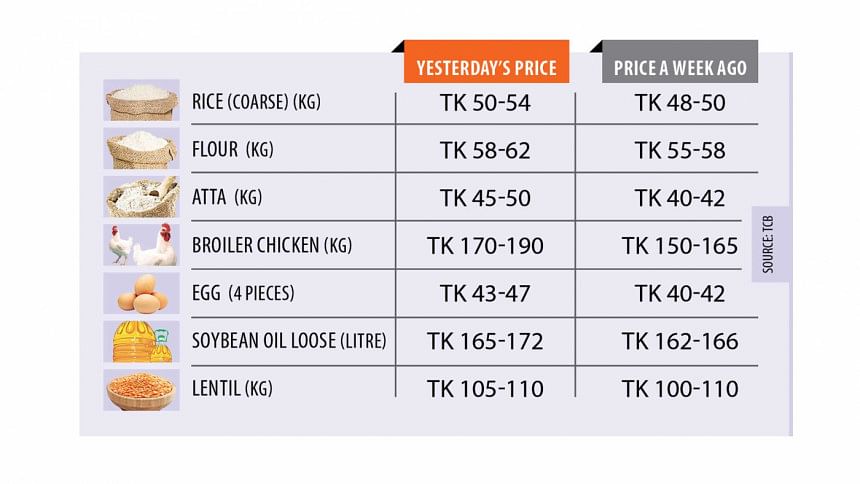 People struggling to keep up with rising prices of essentials have to spend even more on food since the government hiked fuel prices a week ago. 
The fallouts from the Covid-19 pandemic and the Russia-Ukraine war had forced consumers, especially those with fixed incomes, into curbing expenditure to make ends meet over the last few months.
From August 6, the government raised fuel prices by up to 51.7 percent, the highest in the country's history. The price of diesel, the fuel mostly used to power vehicles transporting goods, shot up by 42.5 percent from Tk 80 per litre to Tk 114.
A day after the record hike, prices of rice, lentil, onions, eggs, edible oil and chicken shot up between 4.38 percent and 14.29 percent, according to the Trading Corporation of Bangladesh (TCB).
Traders are blaming the hike in transport fare and the fall of the value of the taka against the dollar as the main reasons behind the escalation.
"No matter how much I curtail my expenses, I can't cope with the skyrocketing prices," said Alamgir Hossain, a waiter of Marlin restaurant in the capital's Motijheel.
"I used to have beef at home every Friday. In the last few months, I replaced it with chicken … but the price of chicken also surged. A 2-kg broiler chicken costs Tk 400 now," said Alamgir, while buying 250 grams of non-bottled soybean oil at Tk 196 per kg from a shop in Jatrabari.
Over the last week, the price of loose soybean oil shot up to Tk 196 from Tk 160 per kg while the price of eggs shot up by Tk 39 per dozen, these correspondents found after visiting different kitchen markets in the capital yesterday.
According to the TCB, prices of all varieties of rice shot up by between 4.38 percent and 6.12 percent on Thursday.
A week ago, the retail price of fine rice was Tk 75 per kg. It is now Tk 78 kg. The coarse rice shot up by Tk 4 to Tk 54.
Kamal Hossain, owner of Mokbul Rice Agency in the capital's Mirpur-11, blamed the rice mill owners. "They are cashing in on the fuel price hike."
He said the cost of imported coarse rice had increased due to tax and high dollar price, but the mill owners increased prices of local varieties as well.
"We bought miniket rice from a wholesaler at Tk 3,250 per 50 kg a week ago. Yesterday [Thursday] we bought it at Tk 3,500," said Shahadat, a shopkeeper in Jatrabari, adding that they are now selling each 50-kg sack for Tk 3,600.
"The price of almost every product delivered to us in the last few days has increased. Those who did not increase the price, had reduced quantity," said Shahadat.
Showing a pack of biscuit that cost Tk 10, he said suppliers did not increase its price but reduced the number of biscuits in the packet.
The continuously escalating price of essential items, has caused RMG worker Sabana Khatun to adjust her expenditure to survive.
The combined income of Sabana and her husband is about Tk 27,000. After rent and other expenses, they used to be able to send Tk 5,000 to her ageing father-in-law in Bogura.
"From this month I'm sending Tk 3,000 to my father-in-law. We have no other option…"
Even those with higher incomes are feeling the pinch. Nayeem Ahmed earns Tk 80,000 per month at a private firm. He spends Tk 25,000 for house rent, pays Tk 19,000 for tuition of his two daughters, Tk 5,000 for utility bills, Tk 11,000 bank loan and Tk 10,000 for his own expenditures and medicine.
"The rest of the money is not enough to cover the food cost. I cannot send my family to the village because the children are studying at a reputed school. So, it left me with one option -- lowering my living standards," he said.