Food crisis again in the spotlight
FAO warning sums up a troubling time marked by a rise in food insecurity, poverty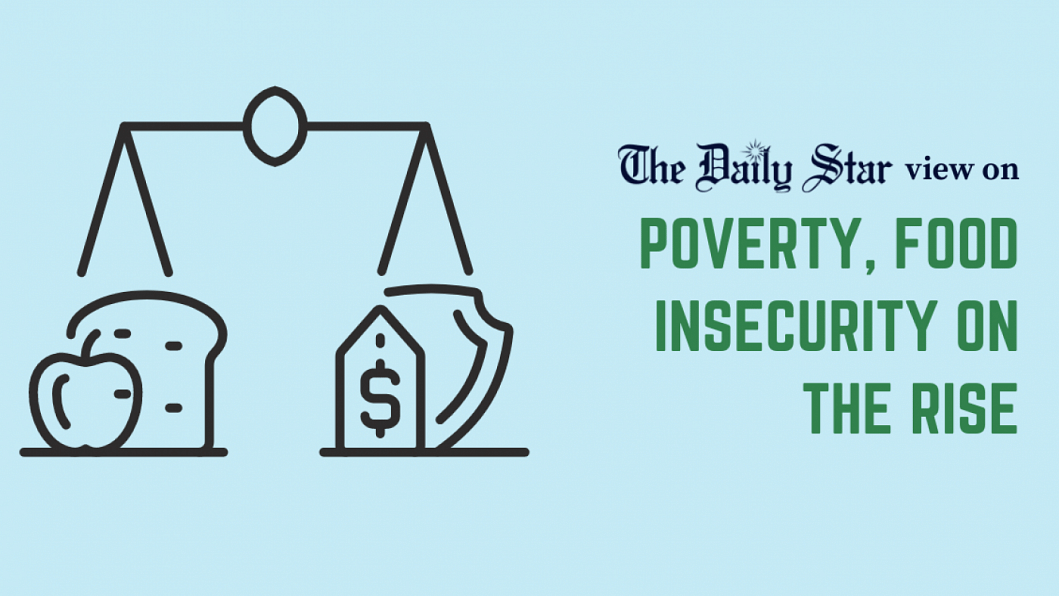 In its latest report, the UN's Food and Agriculture Organization (FAO) has warned that Bangladesh is suffering from "severe localised food insecurity" owing to a number of factors including economic constraints, floods, high prices of major food items, etc. Poverty has risen too, it said, meaning that people's ability to buy food, even if it's available, has taken a severe hit. Having lived through such sobering assessments and forecasts for the better part of a year, we are hardly surprised by the FAO report. There is nothing remarkable except perhaps the recurring nature of these problems, and their seemly inexhaustible capacity to exacerbate one another. One thing is evident, though: Unless we change how we are approaching these problems, their effects will continue to be felt long after any end to the Russia-Ukraine war, despite what state officials tell us.
A food crisis is, of course, the most pressing concern right now. It's important to expand the definition of food crisis to include factors other than nonavailability of food – such as an artificial crisis caused by exorbitant prices, and people's inability to buy. Bangladesh, from that perspective, is already having a crisis, with the poor hit particularly hard, as various studies suggest. It will be easy, and justified to some extent, to blame the government for all these, but it will be unfair to think the blame lies with it only. Perhaps a more accurate portrayal is one in which the government is both an architect and a victim of the present crisis, as it is allowing pre-existing governance issues or "legacy issues", as some experts called it, to mar its response to external challenges like the impacts of climate change and the war.
In case of the food crisis, one may ask: Why are we still paying "wartime prices" when global prices are falling? That was the subject of a recent report that showed that consumers in Bangladesh are having to pay as before despite steadily declining global prices, as imports of some major food commodities, including wheat and sugar, have slowed over the last few months. According to the FAO's price index, global food prices eased further in November. But because of falling imports and lack of efforts to adjust domestic prices, citizens continue to suffer. The government can blame the prevailing dollar and gas crises, as well as harvest setbacks caused by flooding, but it must look inward to know what made us so vulnerable to external shocks in the first place. Why is there still no functional monitoring system to check market manipulations? Where's the urgency to minimise people's sufferings?
To address the lingering food insecurity, the government must remove barriers to maximising food production, normalise food imports, prevent wastage in domestic food supply chains, punish greedy intermediaries and orchestrators of crisis, and most importantly, take steps to improve people's purchasing ability. It must address poor governance in the economic sector, which made us vulnerable in the first place.