DU admission test begins with 'Ga' unit
No untoward incident reported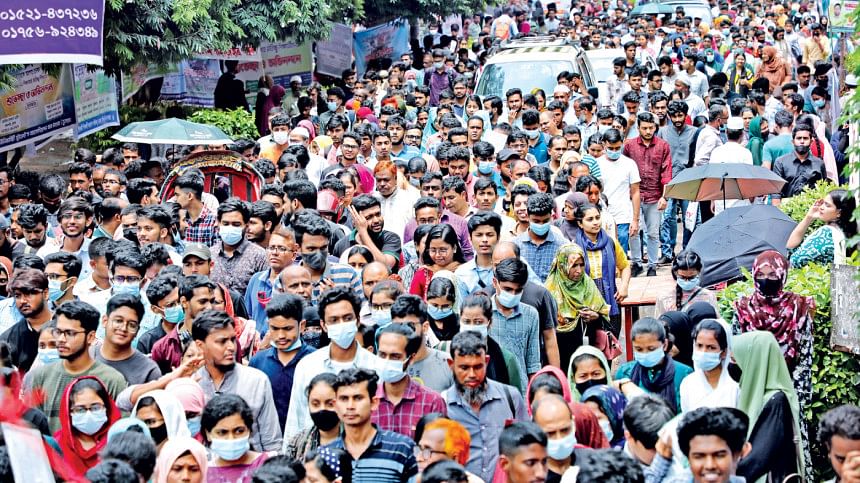 The admission test of Dhaka University (DU) for 2021-2022 academic session began with "Ga" (C) unit, under business studies faculty, across the country yesterday.
The exam started at 11:00am and continued till 12:30pm at eight universities in divisional cities, said a press release issued by DU public relations office.
A total of 30,719 students applied for 930 seats.
The venues were Dhaka University, Rajshahi University, Chittagong University, Khulna University, Barishal University, Begum Rokeya University, Bangladesh Agricultural University, and Shahjalal University of Science and Technology in Sylhet.
DU Vice Chancellor Prof Md Akhtaruzzaman, Pro-VC (Administration) Prof Muhammad Samad and Pro-VC (Academic) Prof ASM Maksud Kamal, among others, visited the exam centre at the faculty building.
The VC expressed satisfaction, as the exam was held in a fair and peaceful atmosphere.
The admission test for "B" unit, under arts faculty, will be held today and "A" unit under science faculty, on Friday.
The "D" unit test under, social science faculty, will take place on June 11, and "Cha" unit exam, under fine arts faculty (general knowledge) on June 17.
Meanwhile, Jatiyatabadi Chhatra Dal (JDC) held a peaceful programme on the DU campus during yesterday's entry test, without any hindrance by Bangladesh Chhatra League.
They welcomed admission-seekers with flowers and pens in front of Central Shaheed Minar around noon for half an hour.
Nasir Uddin Nasir, joint-convener of DU-1 unit of JCD, said they took permission from the university proctor to do so.
Chhatra League also greeted the admission-seekers and their parents with flowers, water, and pens.
No untoward incident was reported during the events of JCD and BCL.
On May 24, BCL activists attacked supporters of JCD near DU, injuring 30 of its members. On May 26, a clash occurred between the two groups.  On Wednesday,  Prime Minister Sheikh Hasina instructed them to carry out peaceful programmes.