DU regular master's now open for all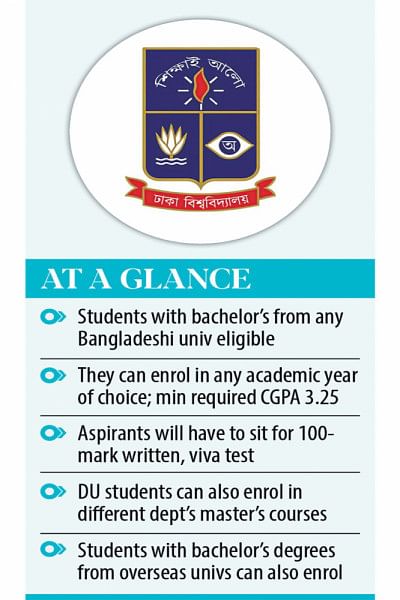 From now on, students who have completed their bachelor's from Bangladeshi universities will be able to enrol into the regular master's programmes of Dhaka University.
The students will be able to enrol in any academic year of their choice, regardless of when they completed their bachelor's.
But only students who have passed bachelor's with a CGPA of 3.25 will be able to apply for the DU master's programmes, said a recent syndicate-approved admission guideline.
Students will also need to meet the minimum requirements for SSC and HSC results set for the DU admission test for undergraduate degrees.
And these aspirants will have to sit for a 100-mark written and viva test for empty seats available following the admission process DU students face.
Talking to The Daily Star, DU Vice Chancellor Prof Md Akhtaruzzaman said, "We are allowing students who have completed bachelor's from other public and UGC-approved universities to create lifelong learning opportunities for all and ensure inclusiveness."
Private universities are also approved by UGC, so students who have completed their undergraduate programmes will be eligible, he added. "Students will get the scope to study the subjects of their choice through this."
Currently, only students who have graduated from DU get the opportunity to pursue a master's, that too in only their respective departments.
Some seats in master's programmes remain vacant since all regular students do not enrol after graduation. The fees for master's would remain the same for both outsiders and former DU students, said Prof Sitesh Chandra Bachar, dean of DU's pharmacy faculty.
There are 6,270 master's seats at DU's 83 departments and 13 institutes. A large number of seats remain vacant, as many drop out to go abroad or join jobs.
Besides, he said DU students will now be allowed to enrol into the master's programmes of departments other than the ones they did their bachelor's in.
Departments and institutes will hold admission tests separately and will enrol students from a merit list. Students who have undergraduate degrees from universities overseas will also be allowed to enrol.
These students will not get residential facilities. But this provision can be relaxed for the foreign students.
"The number of seats available for fresh enrolment in masters courses can be increased or decreased considering the capacity of the departments concerned as well as national and global demand. In that case, the authorities will have to take prior approval of the academic council following due procedure," added the guideline.
Departments will be able to enrol students outside Dhaka University in the master's programmes from the academic year 2022-23, said DU pro-VC Prof ASM Maksud Kamal.
Normally, master's admission goes on between February and March.