Draft OTT regulations: They'll be threat to free speech, says speakers at webinar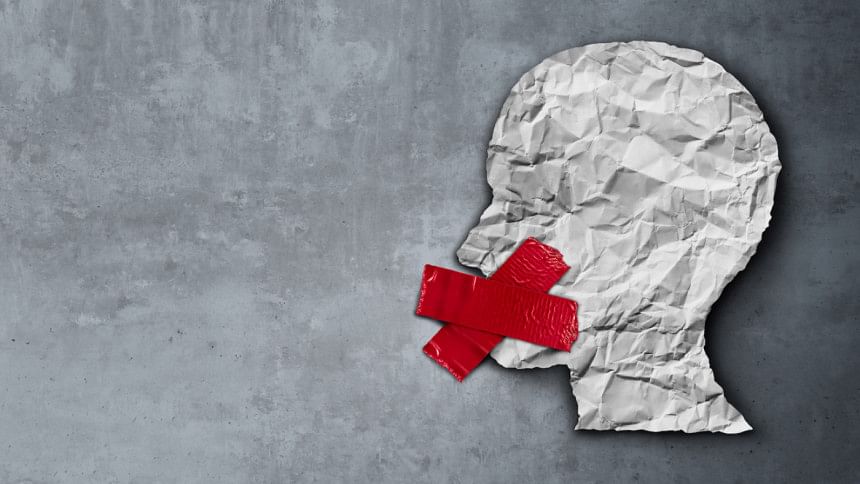 The government's draft regulation for digital, social media and OTT platforms will be a threat to freedom of speech and people's basic rights, experts said yesterday.
Addressing a webinar organised by Moulik Odhikar Surokkha Committee, they said the draft regulation contradicts the country's constitution and the government's vision of a Digital Bangladesh. They stressed on redrafting it.
The event was held to share the committee's "primary observation" on the draft of "Bangladesh Telecommunication Regulatory Commission (BTRC) Regulation for Digital, Social Media and OTT Platforms-2021".
The government published the first draft of the regulations in February for comments from different stakeholders.
Eminent jurist Shahdeen Malik said concerns remain that the new regulation will be a tool to curb people's rights at a time when the government is in denial regarding the incidents of enforced disappearances and extra-judicial killings.
There is an attempt to create fear among people in everything regarding the hurting of religious sentiments, he said, adding there is room for further concerns over whether the new regulations will be applied for this.
"Nowadays, laws are being formulated and applied to harm people instead of ensuring their wellbeings."
He said different provisions of the Digital Security Act that curb freedom of speech or create fear have been used to file hundreds of cases while the proposed anti-discrimination law remains "hollow".
Although the government has said that laws are formulated with the best intentions, with time, it is seen that most of the laws are not helping democracy flourish but are rather preventing it, he added.
Quazi Mahfujul Hoque Supan, a teacher at Dhaka University's law department, said the second and third chapters of the draft BTRC regulation have been drafted on a "whim" to "control the freedom of speech".
Under chapter two, the intermediaries providing OTT (over-the-top) services will be made to remove the data encryption applied to protect user's privacy, he said, adding that it will be done so that the state can easily know "who is telling what".
"This will be a violation of the globally recognised internet policy."
Chapter three comprises summaries of various "authoritarian" laws already in place like the DSA, he further said.
Supreme Court lawyer Sara Hossain said, if implemented, both the regulations prepared by the ICT division will widen the scope for curbing people's rights.
She said the draft policy and regulation were placed for public consultation for a little over a month, which is not much time, adding that most people are not even aware of it.
She suggested submitting a proposal to the authorities concerned to take opinions and recommendations from public stakeholders on the proposed draft policy and regulation and ask them whether the two legal instruments should be redrafted.
Nuran Choudhury, a teacher of law department at Independent University, Bangladesh, and Zakir Hossain, chief executive of Nagorik Uddyog, also spoke at the event.