Rangpur city corporation elections underway
Voting in Rangpur City Corporation elections began this morning using electronic voting machines (EVMs).
The voting started at 229 polling centres at 8:30am, which is scheduled to continue till 4:30pm.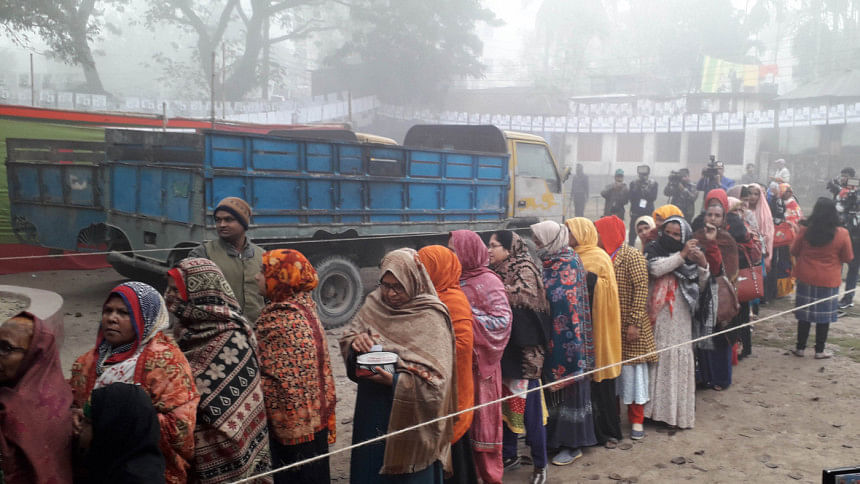 This is the third election since the city corporation was formed in 2012.
Due to cold weather and fog, the voter turnout at the Mahiganj upazila's polling centres were low in the beginning.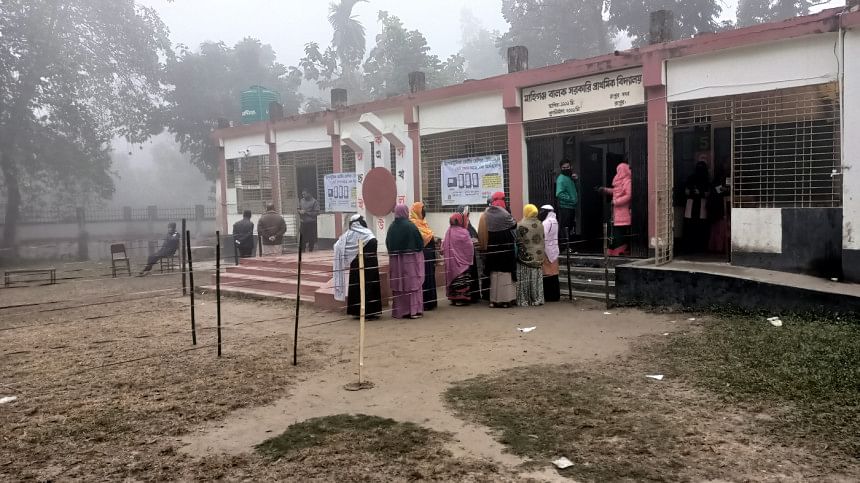 As the day progressed, the presence of voters outside the Mahiganj Government Primary School and Mahiganj College centres of ward-29 started to increase.
Mofazzal Hossain, 70, a voter at Mahiganj College, told The Daily Star that there was no problem in casting his vote using the EVM machine.
Salma Begum, 44, a voter at Mahiganj Government Primary School, said she cast her vote early in the day. "It was a bit challenging for me to come to the polling station because of cold and fog," she added.
She also said she didn't face any problem while casting her vote using EVM machine.
The Awami League nominee for mayor is Hosne Ara Lutfa Dalia while the JP nominee is Mostafizar Rahman, who was also elected mayor in 2017.
The total number of voters in Rangpur City Corporation is 4,26,470.
Rangpur is known as a JP stronghold and the Rangpur JP General Secretary SM Yasir is one of the key campaigners for Mostafizar.
The Election Commission on Sunday said there were concerns over violence at 86 of the 229 polling centres. Additional law enforcers have been deployed at those centres, said Election Commissioner Begum Rashida Sultana earlier.
Members of police, Bangladesh Border Guard, Rab and Armed Police Battalion (APBn) have been deployed to maintain law and order.
Besides, 33 executive magistrates and 16 judicial magistrates have been deployed to take legal action against rule violators.
Apart from AL and JP nominees, seven others are running for mayor. AL leader Latifur Rahman is running as an independent candidate.
The BNP boycotted the election.