Rangpur City Helm: AL, JP battling it out today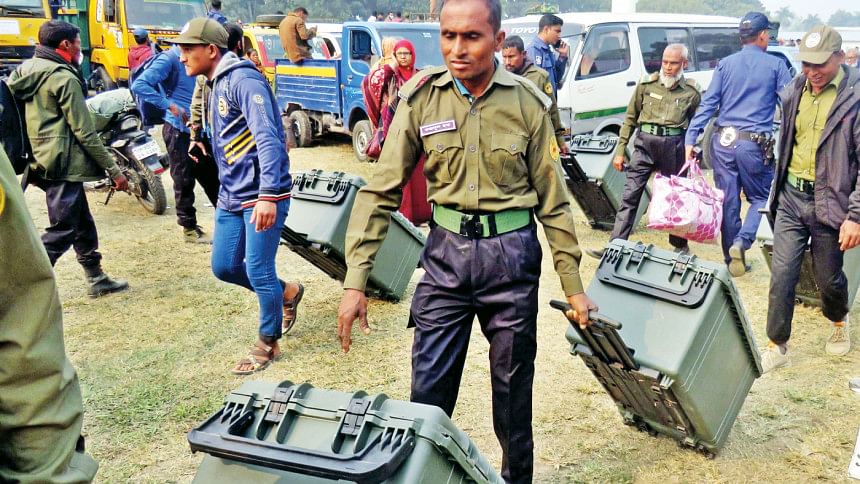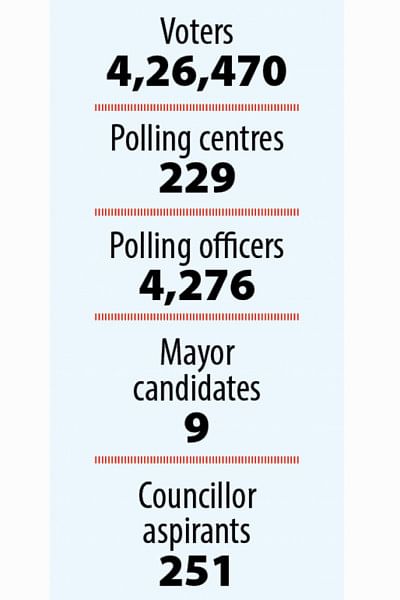 Both the ruling Awami League and opposition Jatiya Party said they would win the Rangpur City Corporation election today.
This is the third election since the city corporation was formed in 2012.
As leaders of both parties warned of building strong resistance against irregularities, some expressed concerns over violence during polls. An election commission official on Sunday said violence was likely in one-third of the 229 polling centres.
The AL nominee for mayor is Hosne Ara Lutfa Dalia while the JP nominee is Mostafizar Rahman, who was also elected mayor in 2017.
Rangpur is known as a JP stronghold and the Rangpur JP General Secretary SM Yasir is one of the key campaigners for Mostafizar.
"We are ahead in the electoral race. Everything is still in favour of our nominee. We have got assurance from different government agencies that they will act impartially on the day of polling," he told The Daily Star yesterday.
"Large numbers of our partymen will be present near the polling centres. They will resist all sorts of irregularities. No one will be allowed to use muscle power," he added.
On the other hand, Rangpur AL General Secretary Tushar Kanti Mandol, said, "We hope that people will vote for us to continue the government's development programmes.
"We want favour from neither the law enforcers nor from any other government agencies. Our nominee will win, if the election is fair.
"But, we, the Awami League men, will resist chaos and irregularities with iron hands."
The Election Commission on Sunday said there were concerns over violence at 86 of the 229 polling centres.
Additional law enforcers will be deployed at those centres, said Election Commissioner Begum Rashida Sultana.
"We will closely monitor all the centres through CCTV cameras. Voting will be suspended, if any irregularity takes pace. We want fair elections," she told journalists at her office in the capital yesterday.
Members of police, Bangladesh Border Guard, Rab and Armed Police Battalion (APBn) will be deployed to maintain law and order, said EC officials.
Besides, 33 executive magistrates and 16 judicial magistrates will be deployed to take legal actions against rule violators.
The returning officer yesterday directed the election officers to perform their duties with honesty and efficiency.
"Stern action will be taken against those involved in irregularities," said Returning Officer Abdul Baten who will oversee the election.
Rangpur Metropolitan Police Commissioner Nurealam Mina directed police to take measures against violence and irregularities.
The authorities distributed election materials to the officials at Rangpur Police Lines yesterday morning.
Voting will be held using electronic voting machines. The polling centres will be covered by CCTV cameras from 8:30am to 4:30pm.
On Sunday, JP nominee Mostafizar said many voters were not familiar with EVMs.
Apart from AL and JP nominees, seven others are running for mayor. AL leader Latifur Rahman is running as an independent.
The BNP boycotted the election.
No major incident of violence or violation of the code of conduct was reported during the 17-day electioneering that ended on Sunday.