Will continue to promote democracy, PM tells UNGA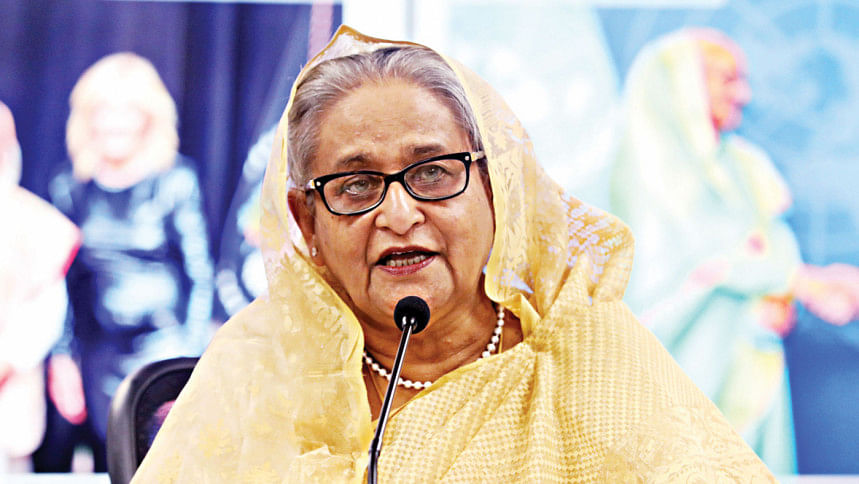 Prime Minister Sheikh Hasina in her speech at the UN General Assembly on Friday reiterated that Bangladesh will continue to promote democracy and rule of law as per its constitution.
"In this session today, I would like to unequivocally reiterate that Bangladesh will continue to promote democracy, rule of law and freedom of expression in line with Bangladesh's constitution," she said.
The premier said this while addressing the general debate of the 78th session of the United Nations General Assembly at the UN headquarters.
The premier delivered her speech for the 17th time at the UN general session. Like previous years, she delivered her address in Bangla following the footsteps of the Father of the Nation Bangabandhu who had addressed the UNGA first in Bangla in 1974.
Hasina said it needs to be ensured that the human rights issues are not politicised to put pressure on developing countries.
Noting that this year marks the 75th anniversary of the adoption of the Universal Declaration of Human Rights, she said, "On this auspicious occasion, we must reinforce our commitment to our common humanity and take collective action to advance equality, justice, and freedom for all human beings. At the same time, it is to be ensured that human rights are not politicised to put pressure on developing countries."
She said Bangladesh's constitution guarantees fundamental human rights for all.
"Over the last decade, significant reforms have been made to our legal system to ensure equal legal protection and access to justice for everyone. As a responsible state, Bangladesh is fully committed to protecting and promoting the human rights," she added.
As an elected member of the Human Rights Council, Bangladesh is working with the fellow members states towards safeguarding all human rights of people around the world.