PM flies to NY today to join UNGA
To raise Rohingya issue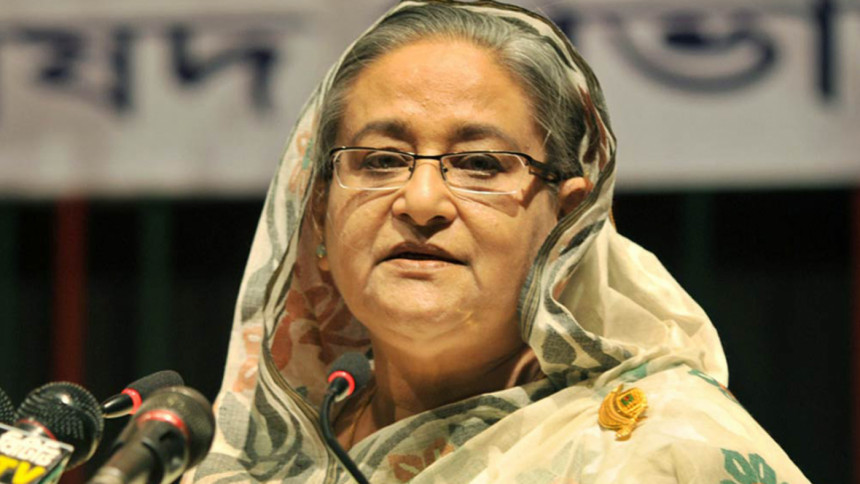 Prime Minister Sheikh Hasina leaves Dhaka today for New York to attend the 72nd session of the United Nations General Assembly (UNGA).
She will leave Dhaka for Abu Dhabi by a Biman flight at 2:00pm. She will depart from Abu Dhabi for New York tomorrow morning by an Etihad flight, according to the Prime Minister's Office.
Bangladesh Ambassador to the USA M Ziauddin and Permanent Representative of Bangladesh to UN Masud Bin Momen will receive the PM in New York on Sunday afternoon.
During her visit, the PM will stay at Hotel Grand Hyatt in New York.
Hasina will address the UNGA on September 21. She will have a bilateral meeting with UN Secretary-General Antonio Guterres on the same day.
On September 18, the PM will attend a high-level meeting on UN Reforms to be hosted by US President Donald Trump and a high-level meeting on Prevention of Sexual Exploitation and Abuse at the UN Headquarters (UNHQ).
The PM will join the OIC Contact Group meeting on Rohingya Minorities at the UNHQ on September 19.
In the evening, the PM will attend a reception for the Commonwealth heads of state/government to be hosted by British Prime Minister Theresa May.
Hasina will join a welcome reception of US President Donald Trump in the evening at Palace Hotel.
On September 20, the premier will attend the signing ceremony of the Treaty on Prohibition of Nuclear Weapons at UNHQ and sign the treaty.
On September 21, President of IBM Virginia Marie Rometty will make a call on the PM.
Later, the premier will join the 4th Meeting of the High-level Panel on Water at UNHQ. She will hold a bilateral meeting with her Nepalese counterpart Sher Bahadur Deuba.
The PM will brief the press on her UN visit in the evening on September 21. Hasina will leave New York for Virginia by road on September 22. After staying in Virginia for a week, she will leave for home on September 29.
The PM will return home on October 2.