Rohingya Repatriation: Global leaders must act swiftly
Bangladesh will take a tougher position over Rohingya issue and global leaders must resolve it quickly to ensure peace and stability in the region, Foreign Minister AK Abdul Momen said yesterday, reports UNB.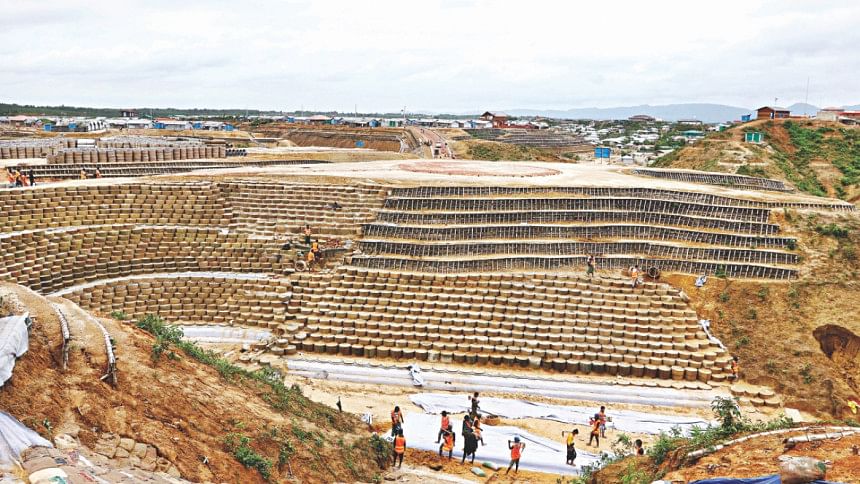 Bangladesh will take a tougher position over Rohingya issue and global leaders must resolve it quickly to ensure peace and stability in the region, Foreign Minister AK Abdul Momen said yesterday, reports UNB. 
"We tried our best, we worked as per your suggestions, but finally it [repatriation] didn't happen. We'll make our position stronger," he said.
The minister was talking to reporters after a discussion titled "15 August and Its Impact on Bangladesh" at Bangabandhu Memorial Trust auditorium organised by Awami League's international affairs sub-committee.
Bangladesh gave Rohingyas shelter on humanitarian grounds. But they are not Bangladesh's headache; rather it is the headache of the whole world, Momen said.
He said Myanmar "must be accommodative" and it must "convince" their nationals to go back to their place of origin in Rakhine State. "We did whatever we can from our part."
Meanwhile, Myanmar has blamed Rohingya repatriation failure on Bangladesh, reports AFP.
Bangladesh is now hosting over 1.1 million Rohingyas and most of them entered the country since August 25, 2017.
Despite all the preparations, no Rohingya turned up on Thursday to avail of the "voluntary" repatriation offer given to them to go back to Rakhine, prompting the authorities to suspend the repatriation process for the day.
"The world should be more concerned about it [Rohingya crisis]," Momen said, urging global leaders to find out a solution to the crisis that began on August 25, 2017.
The minister added that Asean countries have a responsibility to convince Myanmar to act and take back their nationals as quickly as possible.
He urged the UN agencies to focus more on Myanmar, instead of Bangladesh, to create conducive conditions there for the safe return of Rohingyas and remove the trust-deficit among them. "With our limited resources, we kept them well."
Momen said China, Russia, India, Japan and other countries are on Bangladesh's side on the Rohingya repatriation issue.
He said the UN could not avoid the responsibility.
The minister said Bangladesh is always ready to facilitate the return of Rohingyas and mentioned that they are still hopeful.
Momen said the process is still on, but maintained that Myanmar could not create confidence among the Rohingyas.
On Thursday, he said Bangladesh does not want to do anything by force and laid emphasis on removing the trust-deficit among the Rohingyas who refused to return to their homeland.
Momen reiterated Bangladesh's call to take 100 "majhis" or Rohingya leaders to Rakhine, and show them what measures and arrangements have been taken to welcome Rohingyas to their own homes as they fear about their safety and security.
The minister earlier said he was thinking about forming a commission with people from various countries to go and see the development in Rakhine and inspect whether peace and stability are prevailing there.
"Myanmar should prove that development is there and peace is prevailing," he said, adding that Myanmar could also take journalists there to observe the situation on the ground.
Momen said Myanmar should come forward if they are honest and should give access to Rakhine to see the situation there.
He indicated about slower fund flow -- both from local and international sources -- which might create problems for the Rohingyas though they are living a comfortable life now. "For their own better future, they should go back."
The minister said their efforts would continue for voluntary and the safe return of Rohingyas.
The two countries signed a repatriation deal on November 23, 2017, but there has been little progress.
On July 29, Bangladesh handed a fresh list of 25,000 Rohingyas from around 6,000 families to Myanmar for verification before their repatriation to Rakhine.
With the latest list, Bangladesh has so far handed the names of around 55,000 Rohingyas to the Myanmar authorities and around 8,000 of them have been verified. Myanmar only cleared 3,450 Rohingyas for beginning the repatriation.
On January 16, 2018, Bangladesh and Myanmar inked a document on "Physical Arrangement", which was supposed to facilitate the return of Rohingyas to their homeland.
The "Physical Arrangement" stipulates that the repatriation will be completed preferably within two years from the start.
The first batch of Rohingyas was scheduled to return on November 15 last year, but it was halted amid the unwillingness of Rohingyas to go back for lack of a congenial environment in Rakhine.
AFP adds: Myanmar yesterday pushed blame for its second failed attempt to repatriate the Rohingyas on Bangladesh.
The Myanmar military waged a brutal crackdown on the stateless Muslim minority in western Rakhine State, leading to an exodus of more than 740,000 Rohingyas to neighbouring Bangladesh.
The region remains riven by religious and ethnic conflict.
"Smooth repatriation for the displaced persons would require the adherence to the bilateral agreement," the state-run New Light of Myanmar said.
The Myanmar's foreign ministry put the onus on Bangladesh for failing to distribute the correct paperwork, so-called "verification forms" to potential returnees -- a controversial form of ID that falls short of granting Rohingya citizenship.
"This procedure was not adhered to," it said, adding Bangladesh had also "ignored" a request to expedite the return of more than 400 Hindu refugees.
The ministry confirmed China and Japan had facilitated repatriation, and it had been the Chinese government that informed them earlier this month of Bangladesh's intent to re-start the process.