Personally grateful to US for giving me job, home in mid 1990s: Momen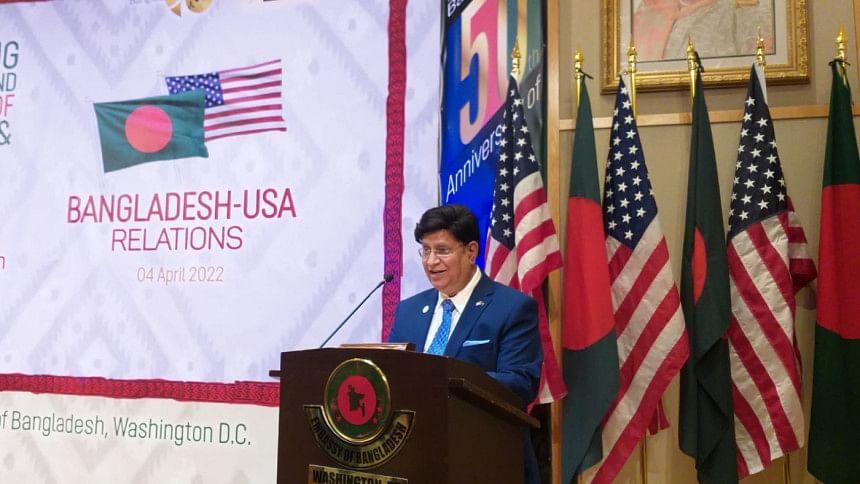 Foreign Minister AK Abdul Momen has expressed deep gratitude to the American politicians and eminent persons like Senator Edward Kennedy, singer George Harrison and Bangladeshi Americans who supported Bangladesh's Liberation War.
He also thanked the US government for standing by Bangladesh in its development journey over the last 50 years.
Momen also shared his personal experience of living and working in the US for more than three decades.
"In this historic moment, I personally express my gratitude to USA for supporting me, giving me job and a home when I became a jobless, a stateless person in mid 1990s and I would like to reaffirm that Bangladesh deeply values its partnership with the United States," he said.
Momen was delivering a speech at a reception at the Bangladesh embassy in Washington DC celebrating the 50-year anniversary of the bilateral relationship between Bangladesh and the US on Monday.
He said historically people of the two countries share similar values of upholding democracy and human dignity, aspiration for socio-economic development and adherence to global peace and security.
"The sizable number of Bangladesh Diaspora scattered all across the USA act as an essential bridge between our two nations," he said.
The foundation of this warm bilateral relationship was laid down by the Father of the Nation Bangabandhu Sheikh Mujibur Rahman when he visited the country in October 1974 and met the US president.
"Since then, we have converged in an expanding collaboration in the pursuit of our common foreign policy objectives, both bilaterally and globally."
He said he is pleased to share that Bangladesh became the largest recipient of US vaccines worldwide, with more than 61 million doses. He thanked the US government on behalf of the people of Bangladesh for supporting Bangladesh in the time of Covid-19 pandemic.
"I also thank the government of the USA for the persistent commitment and continued efforts towards a durable solution of the Rohingya crisis," he said.
The USA is the leading single contributor of humanitarian assistance in response to the Rohingya crisis, Momen said, adding: "However, we think the US can do a lot more for a sustainable solution of the Rohingya crisis."
He said Bangladesh economy is expected to grow by 6.4% in 2021-22, while 6.9% in 2022- 23. By some estimates, it is expected to become the 25th largest economy in 2034. Bangladesh is rigorously pursuing a vision on becoming a developed country by 2041. Bangladesh has consistently progressed in all social sector indicators.
"Despite multiple challenges, Bangladesh remains a pluralistic democracy and the key asset of Bangladesh is its people. Bangladesh government is constitutionally committed to upholding all kinds of civil and political rights of the people."
USAID Deputy Administrator Isobel Coleman was present as guest of honour on the occasion while Bangladesh Ambassador to the USA Shahidul Islam gave the welcome speech.
Awami League Joint General Secretary Mahbubl Alam Hanif MP, Naim Razzaq MP, Foreign Secretary Masud Bin Momen and Secretary (West) of the foreign ministry Shabbir Ahmad Chowdhury were present, among others.