Digital Security Act may have led to some excesses: Momen tells Washington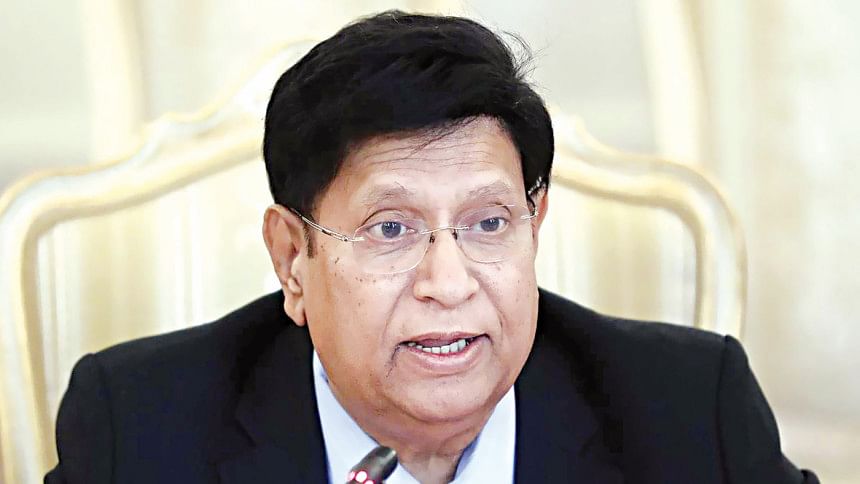 Foreign Minister AK Abdul Momen has said there might have been excesses while enforcing the Digital Security Act, "but the government is now very careful to make sure the law is not abused".
"You cannot put up anything that incites violence. Some individuals put false stories. But, there may be some excesses. There are concerns and we agree," Momen said.
He was speaking at a panel discussion organised by the Washington-based Centre for Strategic and International Studies yesterday (April 6, 2022), marking the 50 years of the US-Bangladesh diplomatic relationship.
"Our law ministry has taken a strong position so that there will not be any excess," the foreign minister said.
USAID Deputy Administrator for Policy and Programming Isobel Coleman was a co-panellist at the discussion.
Momen is now visiting the US where he held bilateral meetings with his US counterpart Antony Blinken, USAID Administrator Samantha Power, attended a reception at the Bangladesh Embassy and joined discussions organised by the Washington-based think tanks.
At the discussion, he said people in Bangladesh have been freely using social media, but sometimes they spread hatred and incite violence. That was the basis why the government framed the DSA so that one cannot spread hatred or attack other groups.
He claimed that the media in Bangladesh is free and that there are 34 independent private television channels and 555 dailies and a few thousand online media outlets and Youtube channels.
Momen also said Bangladesh has a thriving civil society. "In Bangladesh, there are so many NGOs that none is found anywhere in the world. However, there are surely scopes for taking corrective actions, if there are any issues."
USAID Deputy Administrator for Policy and Programming Isobel Coleman said civil society space for democracy is a critically important issue and USAID has shared the concerns over it.
She said underpinning strong partnership and commitment to democracy, the USAID has increased its programme in democracy portfolio to ensure freedom of media and civil society.
The private companies also have to have social compliance policies and so are very sensitive about these issues, she added.
"We want to make sure that Bangladesh remains on a strong trajectory," Coleman said, appreciating Bangladesh's progress over the last 50 years and saying that USAID is proud to be a partner in Bangladesh's development journey.