Macron due in town today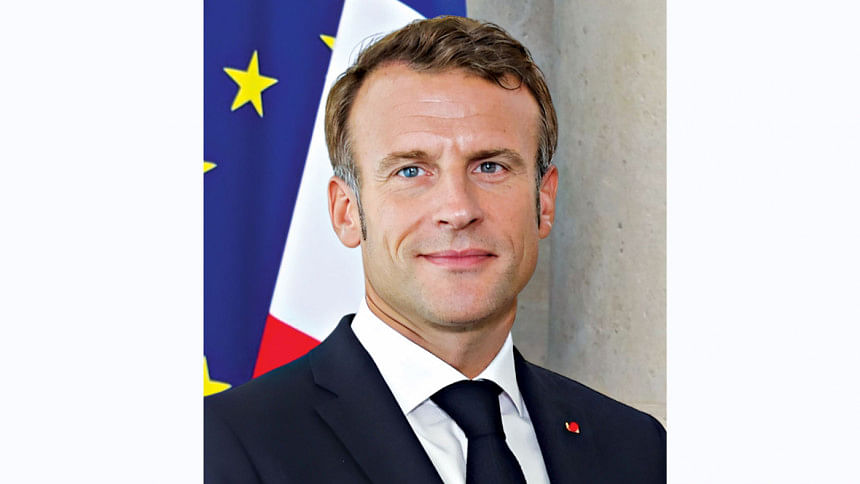 French President Emmanuel Macron is arriving in Dhaka today on a two-day visit, in a testament to the growing importance of Bangladesh both in economic and strategic terms to the European nation.
The visit is the first by a French president in 33 years.
Macron would be flying in the evening from New Delhi, where he is attending the G20 summit. Prime Minister Sheikh Hasina, who will be returning from New Delhi in the afternoon, will receive him at the Hazrat Shahjalal International Airport.
She will host an official dinner in honour of Macron at a city hotel tonight. Tomorrow morning, he will pay homage to the memory of Bangabandhu at Dhanmondi 32 and visit the Bangabandhu Memorial Museum.
The two premiers will then hold a bilateral meeting at the Prime Minister's Office.
Why is the visit important?
Over the last few years, the trade relations between France and Bangladesh have improved significantly.
Bangladesh's first-ever satellite, Bangabandhu-1, was made by the French company Thales. During Macron's visit, the two countries may sign a deal for the second satellite.
Thales manufactured the Bangabandhu-1 satellite, but it was launched into space by Elon Musk's SpaceX.
"However, this time, Thales will both manufacture and launch the satellite. So far this has been the discussion," a foreign ministry official told The Daily Star yesterday.
Foreign Minister AK Abdul Momen said Bangladesh agreed to buy 10 planes, including two cargoes, from Airbus, a European multinational in which France has a major stake.
Bangladesh also welcomes the French proposal of setting up a satellite manufacturing unit in Bangladesh.
"These are big deals," the foreign ministry official said, adding that France has also been working on some important projects including airport radar systems in Bangladesh.
According to the French embassy in Dhaka, bilateral trade has gone from Euro 210 million in 1990 to Euro 4.9 billion today.
France is Bangladesh's fifth-largest export destination. French companies are now involved in various sectors including engineering, energy, aerospace and water.
Until now, France has approved 1.57 billion Euros as loans to Bangladesh and 31 million Euros as grants to support a total of 15 projects in key sectors including water and sanitation, according to the French embassy.
"We are thrilled to see a growing interest from both sides to enhance business, in particular, to build on French technology and know-how to support the move from Digital Bangladesh to Smart Bangladesh. The upcoming visit of Emmanuel Macron will be the occasion to concretise some projects and boost further economic relations," it said.
Macron will continue to implement France's strategy in the Indo-Pacific region.
"It will also be an opportunity to deepen our bilateral relationship with a country that is undergoing rapid economic growth, with France's support and seeking to diversify its partnerships," the embassy said on its official Facebook page.
Momen said France has taken the Loss and Damage initiative to support the climate-affected countries.  Bangladesh, being at the forefront of climate victims, seeks the Loss and Damage initiative to be operationalised.
"We need a lot of funding for adaptation activities but the developed countries are yet to make functional the initiative. We would request the French president to take the initiative," Momen said.
France, a leader in the EU and a permanent member of the UN Security Council, has great weight in the international forums.
"We would seek their support for a sustainable solution to the Rohingya crisis," Momen told reporters last week.
A foreign policy analyst said despite France being a powerful country both at the UN and EU, it has an independent foreign policy, which is not lecturing or pressuring other countries.
"France has a moderate way of talking about human rights and democracy. This is something that Bangladesh would like at a time when the US is pressuring Bangladesh for these issues," he said, asking not to be named.