It's genocide
Macron says, calls on int'l community to act; British PM, Iran president for ending violence; Myanmar VP claims crisis easing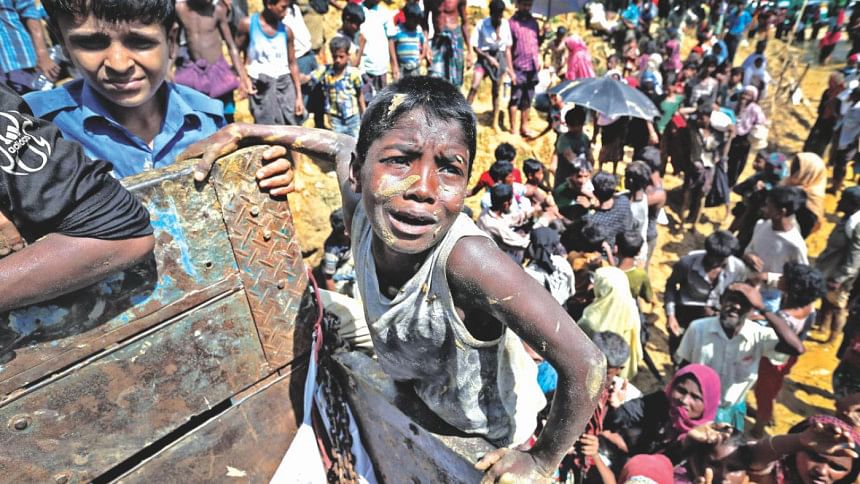 French President Emmanuel Macron has termed the attacks on Myanmar's Rohingya minority as genocide and called on the international community to act to stop it.
France will work with other members of the UN Security Council for a condemnation of "this genocide which is unfolding, this ethnic cleansing", he said in an interview with the French TV channel TMC on Wednesday.
Macron's use of the word "genocide" marks his strongest verbal attack yet on the military drive against the Rohingya, which the UN sees as a "textbook example of ethnic cleansing," reports AFP. 
"We must condemn the ethnic purification which is under way and act," he said.
Meanwhile, Myanmar second vice president claimed that the crisis in violence-torn Rakhine state was easing.
"I am happy to inform you that the situation has improved," said Henry Van Thio, while addressing the UN General Assembly on Wednesday.  
"Accordingly, we are concerned by reports that the numbers of Muslims crossing into Bangladesh remain unabated. We would need to find out the reason for this exodus," he said.
His remarks are even less likely than Suu Kyi's to mollify global concerns as he questioned, like Suu Kyi the day before, the reasons for the flight of some 4,22,000 Rohingyas to Bangladesh since late last month in the face of an army campaign that includes shooting innocent civilians, burning of villages and rape.
Van Thio also said there had been no clashes since September 5, a claim that has already been debunked by Western reporters on the grounds.
Smoke could be seen rising from at least two places in Myanmar as late as on Wednesday, a Reuters reporter in Bangladesh said. It was not known what was burning but rights groups say almost half of Rohingya villages in the region have been torched.
Like Suu Kyi, Van Thio did not use the term Rohingya, referring to them simply as Muslims. The Rohingya are widely reviled in the Buddhist-majority country. 
Suu Kyi's stance has disheartened human rights groups who had campaigned for her freedom during the Nobel Peace Prize winner's 15 years under house arrest by a military junta.
The violence and the exodus of refugees has brought International condemnation and raised questions about the commitment of government leader Aung San Suu Kyi to human rights, and prospects for Myanmar's political and economic transition.
Meanwhile, Iran's President Hassan Rouhani told a news conference in New York on Wednesday that "the government [Myanmar] should be pressured to end this ethnic cleansing."
In her speech to the UN General Assembly the same day, British Prime Minister Theresa May urged the Myanmar authorities to end the violence and allow full humanitarian aid access.
Britain sent back five Myanmar army officers from a training session this week, "on account of the current situation in Rakhine", Myanmar's army said on Facebook late on Wednesday.
The move comes amid a mounting diplomatic spat between the two countries, with Britain saying on Wednesday it had suspended all educational training courses for the Myanmar military over concerns of rights abuses in Rakhine state.
Meanwhile, UK All Party Parliamentary Groups Chair Anne Main, who is visiting Bangladesh, yesterday said Myanmar was committing "ethnic cleansing" in Rakhine, reports our staff correspondent.
"I have no doubt that this is ethnic cleansing," she told journalists at state guesthouse Padma in the capital.
The ruling Conservative Party lawmaker led a UK parliamentary delegation in a two-day visit to Rohingya camps in Cox's Bazar in the last two days.
"We have seen and heard horrific things from people in camp," she said.
Paul Scully, also a ruling Conservative Party lawmaker, said the ongoing crisis in Myanmar needed to be stopped immediately through international efforts.
CHANCES OF ACTION SLIM
Early on Wednesday, US President Donald Trump called on the UN Security Council to take "strong and swift action" to end the violence.
It was the strongest US government response yet to the violence.
Even so, the chances of forceful action by the world body appear scant.
Diplomats say the Security Council could consider adopting a formal statement if the situation does not improve, but China and Russia are unlikely to agree to stronger action that would require the adoption of a resolution they could veto.
A UN Security Council resolution would need nine votes in favour and no vetoes by Russia, China, the US, Britain and France.
Myanmar said earlier this month it was negotiating with veto powers China and Russia to ensure their protection.
China, which has close economic and diplomatic ties with Myanmar and is a competitor to the US for influence in the strategically important country, has called for understanding of the government's efforts to protect stability.
US officials, for their part, have said that any return to sanctions imposed when Myanmar was under military rule is unlikely.
HUMANITARIAN CRISIS DEEPENS
An attack on an aid shipment in Rakhine state and a deadly Red Cross truck crash in Bangladesh yesterday hampered desperately needed relief efforts for Rohingya refugees fleeing persecution.
Tens of thousands of Rohingyas are feared trapped in hard-hit areas of Rakhine state, while humanitarian agencies in Bangladesh are strained by the massive refugee influx.
An International Committee of the Red Cross (ICRC) ship carrying 50 tonnes of aid was halted by a 300-strong Buddhist mob in the state capital Sittwe on Wednesday night.
The group forced the ICRC to unload the aid from the boat and prevented the vessel from leaving, state-backed Global New Light of Myanmar newspaper reported yesterday, quoting Myanmar's Information Committee.
The crowd hurled "stones and Molotov (cocktails)" at riot police on the scene, injuring several officers before order was restored.
The ICRC confirmed the incident and said its staff were not injured, vowing to continue to try to deliver aid.
"We will carry on, nothing has been put on hold," Graziella Leite Piccoli, ICRC spokeswoman for Asia, told AFP.
News of the clashes emerged as a truck hired by the Red Cross and ICRC crashed in Bangladesh, killing nine people and injuring 10 others.
"It was carrying the food to Rohingya refugees on the border, including those stranded in the no-man's land," said Yasir Arafat, deputy police chief of Bandarban border district.
FB BANS 'DANGEROUS' ROHINGYA MILITANT GROUP
Facebook said it has banned a Rohingya militant group from its site, designating it a "dangerous organisation" as information on the deepening crisis is muddied by claims, counter-claims and hate speech on social media.
The social network is a key tool in the information war taking place over violence in Myanmar's Rakhine state.
Rohingya activists have used the platform to post alleged scenes of brutality from the conflict zone, where humanitarian and media access is severely restricted, while the army and government deliver near-daily updates on the crisis.
A Facebook spokeswoman told AFP late on Wednesday it was not requested by the government to bar the Arakan Rohingya Salvation Army (ARSA), which remains active on Twitter.
The spokeswoman added that the move was in line with its policy of prohibiting violent groups from its site.
FEAR AMONG BANGLADESHI BUDDHISTS
Bangladesh's small Buddhist community fears the crisis could spark a violent backlash from their Muslim neighbours.
This fear is particularly acute in the southern district of Cox's Bazar near the border with Myanmar, where many people have close links with the Rohingya and share linguistic and cultural roots.
But the area is also home to a sizeable Buddhist minority that has suffered hate attacks in the past.
Authorities in Cox's Bazar have deployed 550 extra police members in Buddhist areas to prevent a repeat of religious unrest in 2012, when Muslim mobs attacked temples and Buddhist homes.
Buddhist monk Proggananda Bhikkhu vividly remembers the night a Muslim mob torched a 300-year-old temple he looks after.
Bhikkhu said the monks had not received any direct threats, but he had seen some on the internet.
"People on social media are trying to portray this as a religious conflict. But like the Muslims, we are citizens of Bangladesh, and we condemn these actions [in Myanmar]," he said.