Dhaka, Paris sign bilateral instruments on infrastructure, satellite system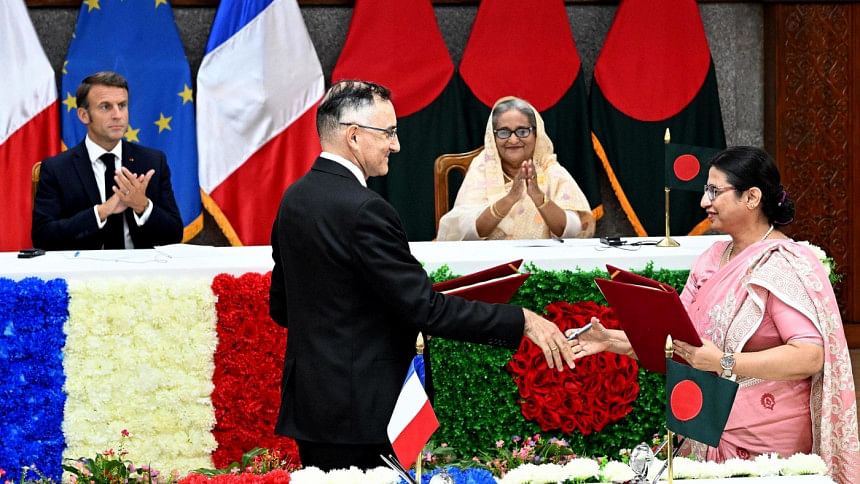 Dhaka and Paris today signed two bilateral instruments to enhance cooperation in different fields including infrastructure and satellite, officials said.
The documents were inked in presence of Prime Minister Sheikh Hasina and France President Emmanuel Macron at Karobi Hall of the Prime Minister's Office.
The agreements are:
A Credit Facility Agreement between Economic Relations Division (ERD), Bangladesh and the France Development Agency (AFD), France on "Improving Urban Governance and Infrastructure Program"
Letter of Intent (LOI) on Cooperation between Bangladesh Satellite Company Limited (BSCL) and Airbus Defence and Space SAS, France related to Bangabandhu-2 Earth Observation Satellite System.
Earlier in the day, Hasina and Macron held talks to explore new areas of cooperation between the two countries.
Macron, the first French president to visit Bangladesh in 33 years, arrived here in Dhaka on Sunday evening after attending the G20 summit in New Delhi. The French leader is scheduled to leave Dhaka at 2:00pm today.
Francois Mitterrand was the last French president to visit Bangladesh on 22-24 February, 1990.
Total trade between Bangladesh and France soared from 210M€ to 4.9 billion€ today with France being the 5th country for exports.
French companies are now involved in various sectors including engineering, energy, aerospace and water sectors.