Current global geopolitical situation favourable for closer Dhaka-Seoul relations: Envoy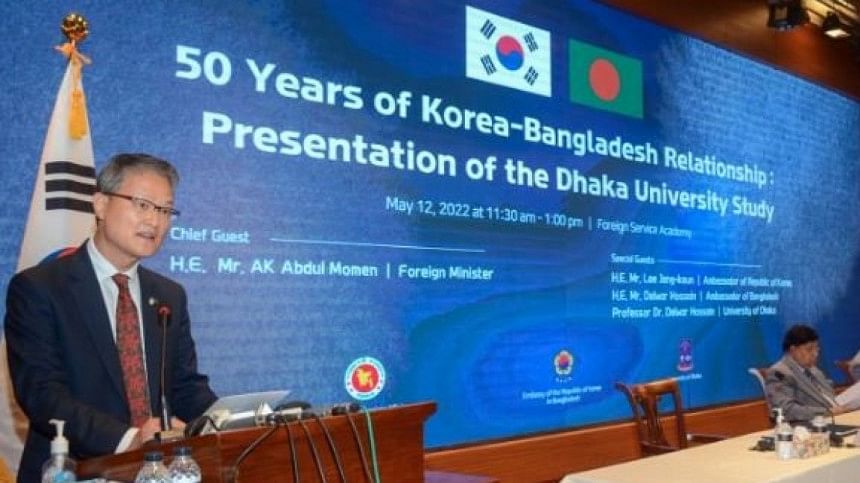 The current global geopolitical situation is creating more opportunities than challenges for South Korea and Bangladesh for closer collaboration as the two nations seek to have their relations deep and comprehensive, said South Korean Ambassador Lee Jang-Keun today (May 12, 2022).
While the current geopolitical situation around the world is resulting in disruptions in the global supply chains, which demands cooperation more than before to get over the unprecedented challenges, he said while addressing a seminar on 50 years of Bangladesh-South Korea relations at the Foreign Service Academy today.
The programme was jointly organised by the Ministry of Foreign Affairs, the South Korean Embassy in Dhaka and the East Asia Study Centre of Dhaka University.
"The companies have realised the risks from geopolitical confrontations and the necessity of diversifying their investment and partners. In this situation, Bangladesh is increasingly becoming an attractive partner for Korean companies," said the ambassador.
"I also sense that Korea is becoming a more and more attractive partner to Bangladesh for reducing or avoiding the geopolitical risk," Lee also said.
Foreign Minister AK Abdul Momen addressed the seminar as chief guest, while the Korean envoy and Bangladesh Ambassador to Korea Delwar Hossain were special guests.
Dhaka University International Relations Prof Dr Delwar Hossain chaired the event.
Bangladesh and Korea produced many success stories of collaboration in many fields during the past five decades. The prime example is Korea's RMG collaboration, said Ambassador Lee.
"The trade volume between our two countries reached a historic high last year crossing $2 billion and increased by more than 40 percent, both in import and export," he added.
Foreign Minister Momen said in the last five decades, the bilateral collaboration has expanded to a wide range of areas and Dhaka seeks to elevate the relations to new heights.
The minister also sought Korean support for timely implementation of projects in Bangladesh and improving the "Ease of Doing Business" status here as project implementation takes much longer than usual here.