Jisoo is in full bloom with solo debut album "ME"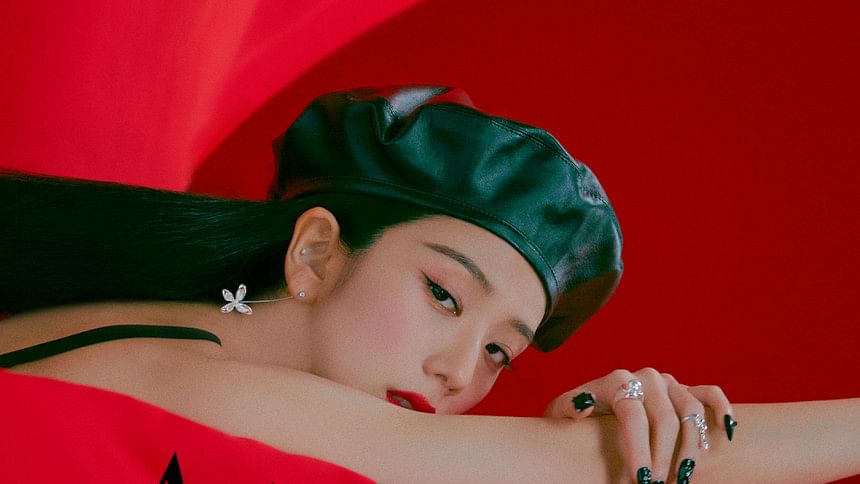 Of the plethora of myths that circulate the K-pop industry, one that actually came true is the solo debut of BLACKPINK's Kim Jisoo. After the longest wait for a solo from the actress of Snowdrop, fans finally had the fortune of living long enough to witness Jisoo's ME.
Jisoo's single album ME, being released on March 31st, served only 2 songs, but it served nonetheless. With the tracks "Flower" and "All Eyes On Me", the lead vocalist and visual of BLACKPINK dressed herself in a unique fashion for the release, featuring a very befitting sound and concept.
The title track "Flower" is a playful take on a minimalistic production, possibly drawing inspirations from Balkan-pop. The song features a heavy bass from the get-go, adding more instruments along the way while strictly not exceeding the borders of minimalism. However, I have learnt to not affiliate minimalism with emptiness. While the chorus seemingly establishes a unique anti-drop, it feels empty after repeating thrice with few to no differences from each other.
The song has gained appreciation online for its lyricism. While the English translation of the lyrics draws out a story of an aching heartbreak, the Korean lyrics itself was praised by Korean netizens for its poetic aspect.
"Flower" featured YG's most expensive music video to date, though this piece of information isn't as apparent in the final product as it should be. Regardless, the direction of it is very reminiscent of Jennie's "Solo". The aesthetic of the music video along with the creative choreography perfectly aligns with Jisoo's style. Furthermore, it successfully encapsulates Jisoo's graceful charm, emphasised by her blooming acting skills.
But enough about "Flower". The b-side "All Eyes On Me" is another graceful track with Korean city-pop elements instilled into it. Jisoo sings about drawing the spotlight to herself, building a bridge with her listener. While "Flower" has a relaxing vibe to it, "All Eyes On Me" focuses on a more hyper element. I personally enjoyed it more than the title track, though "Flower" seems to sustain a longevity that "All Eyes On Me" does not. But the ability these two songs have to complement each other makes the experience much better.
Jisoo's solo debut had been a subject of joke and memes in the K-pop community for years now, thanks to YG's delayed releases. That's why the entire release felt like a surreal experience. Though there definitely is room for improvement for Jisoo and BLACKPINK, this solo debut definitely is a benchmark in Jisoo's career.
Following her bandmates' solo sequence, Jisoo's release, albeit consisting of merely two new songs, manages to showcase her genius as a soloist. Jisoo making a comeback is now surely a pipe dream and content for memes, unless YG thinks otherwise. Yet how she will continue to develop herself as an artist from here on is surely something we all can anticipate.
Shaikh Sabik Kamal needs to stop changing his blurbs every now and then. Do tell him which of his blurbs you like the most at [email protected]