Naval base mosque attack: 5 JMB men get death sentence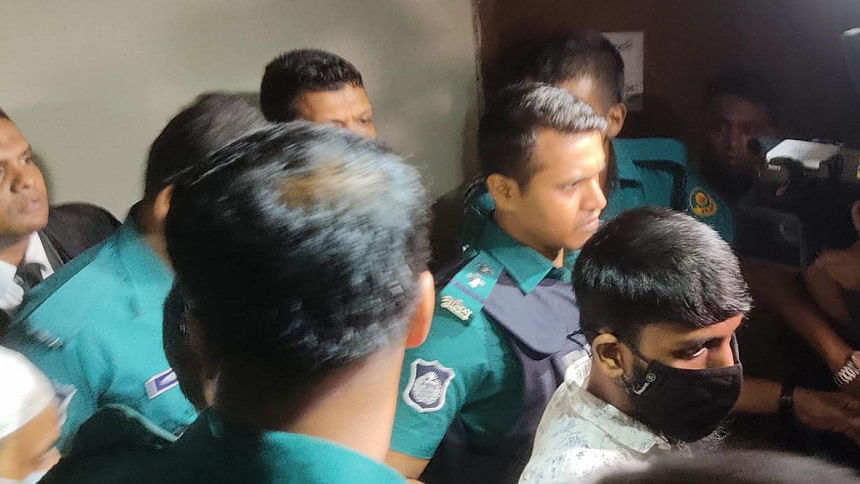 A Chattogram tribunal today sentenced five members of the banned militant group Jama'atul Mujahideen Bangladesh (JMB) to death for the bomb attack on a naval base in Chattogram.
Chattogram Anti-Terrorism Tribunal Judge Abdul Halim pronounced the verdict and also fined them Tk 50,000 each, reports our Chattogram staff correspondent.
The death row convicts are former Navy member M Sakhawat Hossain; Isha Kha Base's ball pickers Abdul Mannan and Ramzan Ali; Abdul Gaffar, brother of Mannan; and Bablu Rahman alias Rony, a mess worker.
Among the convicts, Sakhawat remains absconding while the four others were present in the courtroom when the verdict was pronounced.
While talking to The Daily Star, Public Prosecutor Manoranjan Das said the court observed that attack on those who ensure sovereignty of the country and guard maritime boundary is tantamount to attack on the country's independence and sovereignty.
Defence lawyer Advocate Jalal Uddin told reporters that the case was filed a year after the incident. The statements of none of the accused was recorded under Section 164. At the same time, no witness' testimony was taken under Section 164, and there was no seizure list also. "We will appeal against the verdict in the High Court," the lawyer said.
The JMB attackers detonated bombs at the mosques during Juma prayers on December 18, 2015. The incident left 24 defence personnel and civilians injured. Ten of them were hospitalised.
After a long probe, investigation officer Osman Goni (inspector investigation) of EPZ Police Station submitted two charge sheets on October 25, 2017.