Rab arrests 6 'JMB' men
Seizes firearms, explosives, Jihadi books in raids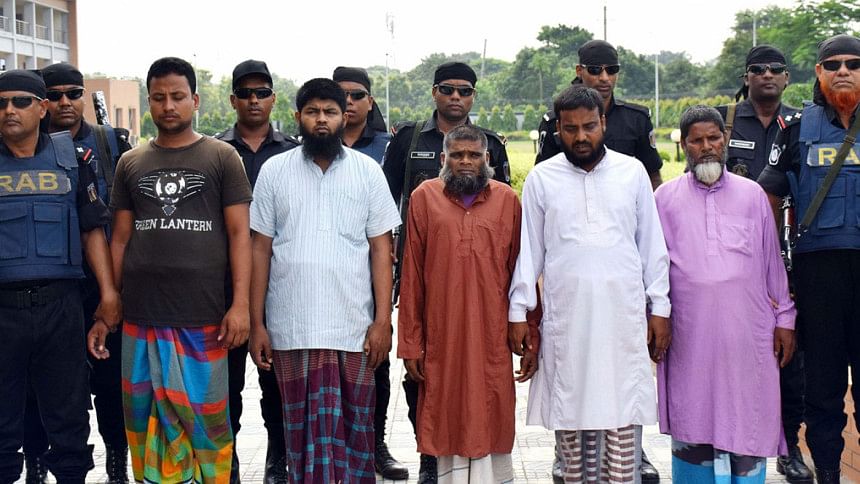 The Rapid Action Battalion has arrested six suspected militants of outlawed Jama'atul Mujahideen Bangladesh (JMB) in separate drives in Rajshahi and Barisal in 24 hours since Thursday night.
It also claimed to have seized firearms, explosives and Jihadi books during the drives.
In Rajshahi, the Rab arrested five, including two alleged leaders of JMB, in Godagari upazila's Char Boalmari area yesterday.
Among the arrestees are Aminul Islam, 32, and his close associate Mosharraf Hossain Mursalin, 22. Aminul was JMB's regional chief coordinator of Godagari and Chapainawabganj district, says a Rab press release.
The other arrestees are Ismail Hossain, 32, Rafiqul Islam, 40, and Abdul Matin, 40, of Chapainawabganj. The Rab seized a pistol, a magazine loaded with four bullets, 200 grams of gunpowder, and four Jihadi books from their possession.
The elite force had been looking for Aminul and his associates since May when four arrested JMB men disclosed their names, the Rab release adds.
Following investigation, the Rab learnt that the JMB members holed up at Boalmari and Kodalkati, neighbouring chars of the Padma river. During overnight raids yesterday, a special operation team of Rab-5 picked up the five.
The Rab said Aminul confessed during interrogation that he had joined the outfit with the help of his uncle and fugitive JMB leader Abu Sayeed. He was organising militants from Dayingpara area in Godagari.
Aminul moved to the Padma chars when Rab members busted one of the militants' dens in Godagari in May. He had been giving directives to militants and collecting and distributing extremist books and leaflets, said the force.
In Barisal, the Rab arrested another suspected JMB member in Dargabari Road area on Thursday night. The arrestee is Abdulla Al Miraj alias Khalid Saifulla alias Saiful, aged about 25.
Acting on a tip off, the elite force conducted a raid in Dargabari Road area and arrested Miraj, said Mukur Chakma, assistant superintendent of police, also the in-charge of Rab-8 media wing.
The Rab also claimed to have recovered a pistol, an empty magazine, 15 electric circuits, two hacksaw blades, a CD, a table clock, a cellphone, two passports, 16 Jihadi books and huge bomb-making materials.
Miraj completed Dakhil in 2006 from Rafachandi Madrasa in Barguna. He later met one Monir while working at Barguna Telecom shop and was attracted to militancy after listening to some sermons of Ansarullah Bangla Team chief Jashimuddin Rahmani, according to Rab.
Miraj and Monir were earlier arrested in 2012 while holding a meeting with Jashimuddin Rahmani. Miraj later walked out of jail on bail.