Five JMB men held in Bogra
Police claim to have arrested five members including two military wing leaders of outlawed militant outfit Jama'atul Mujahideen Bangladesh in Bogra's Sherpur upazila early yesterday.
The arrestees are identified as Shahidullah alias Masum alias Gopal, 46, Bulbul alias Sohag, 32, Masud Rana, 31, converted Muslim Atikur Rahman alias Saikat and Mizanur Rahman Mizan alias Tailor alias Dorzi Mizan.
Based on information from the Lawful Interception Unit (LIC) of Police Headquarters, detectives arrested the five in Mirzapur Ranirhat Bazar area around 1:30am, said Superintendent of Police of Bogra Md Ali Ashraf Bhuiyan.
The members of Detective Branch of police also recovered one 7.65 pistol, one 9mm pistol, two magazines, 10 rounds of bullets, three sharp Burmese knives and one handcuff.
The police claim Shahidullah is the military and Isaba (operation wing) chief of Rangpur and Rajshahi divisions and Bulbul is the Isaba chief of Rajshahi division, reports our Bogra Correspondent.
Bulbul's name surfaced after four members of mainstream JMB had given confessional statements before a Rajshahi court between March 24 and April 30.
At that time, police claimed Bulbul led a group of 10 people, who were directly involved in robbery to collect funds especially for fighting legal battles and supporting the families of JMB men behind bars.
Even an intelligence report also mentioned Bulbul's name in May that said mainstream JMB men were monitoring a top leader of a faction of Gonojagoron Mancha and sending reports to Bulbul with an aim to kill the leader.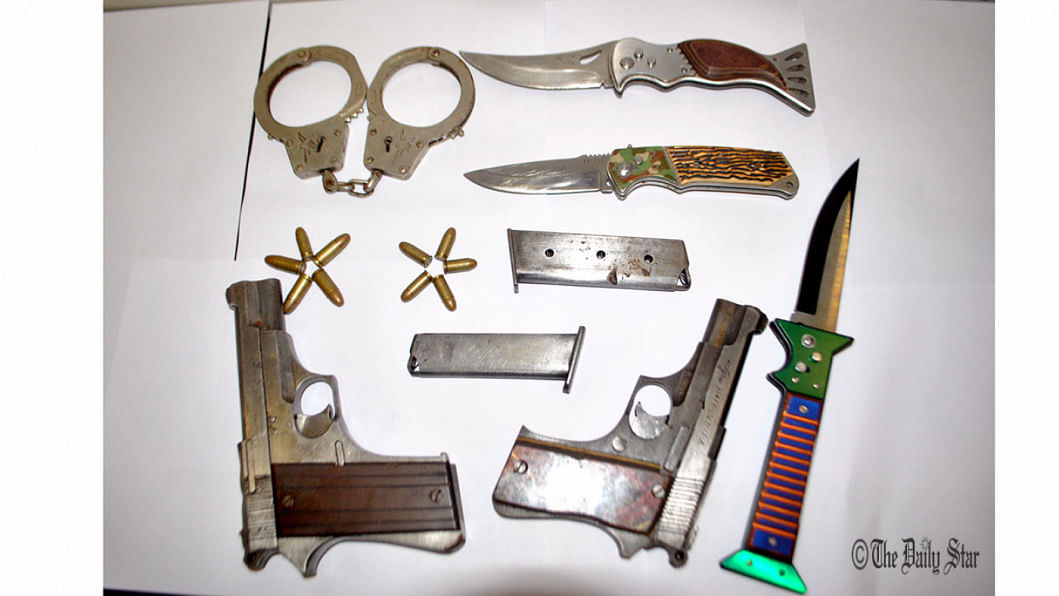 A high official of Bogra police, who has been dealing with militancy, told The Daily Star that Bulbul during primary interrogation admitted his involvement in a robbery attempt in which two bKash staff members were shot in Rajshahi city's Choddopai area on August 10, 2016.
Rabiul Islam, one of the injured, died four days later, the official said requesting anonymity.
A case was filed yesterday against the five arrestees with Sherpur police, who produced them before a Bogra court and sought 10 days remand for each of them. After hearing, Senior Judicial Magistrate Abu Raihan granted three days' remand.
Of the other arrestees, Atikur Rahman graduated from Rajshahi University in journalism and mass communication in 2010, while Masud Rana completed master's in Islamic studies from Rajshahi College in 2013.
The police claim the firearms recovered from the arrestees were delivered by senior leader of mainstream JMB Khorshed Alam alias Master Zia alias Uday (head of the media wing of Bangladesh) in Gazipur.
The law enforcers had intelligence that the alleged members of JMB were coming from Gazipur after holding a secret meeting with Khorshed and his associates Hasan alias Esha and Sadekul Islam alias Omayer about their next plans and activities on Tuesday.
District police chief Ali Ashraf further said primary interrogation revealed the JMB men had collected the firearms to use those in their future operations.
Earlier on October 5 last year, a robbery case was filed against Bulbul, Atikur, Masud and Mizanur with Matihar police in Rajshahi. The Detective Branch of Rajshahi Metropolitan Police has been investigating the case.
The case statement says the accused robbed Rahman Jute Mill in Matihar upazila of Tk 17.5 lakh to bear their organisational expenses, the Bogra SP added.