4 of 'Sarwar-Tamim' group 'surrender'
Rab cordons off JMB den in Ashulia for 14 hours; three bombs defused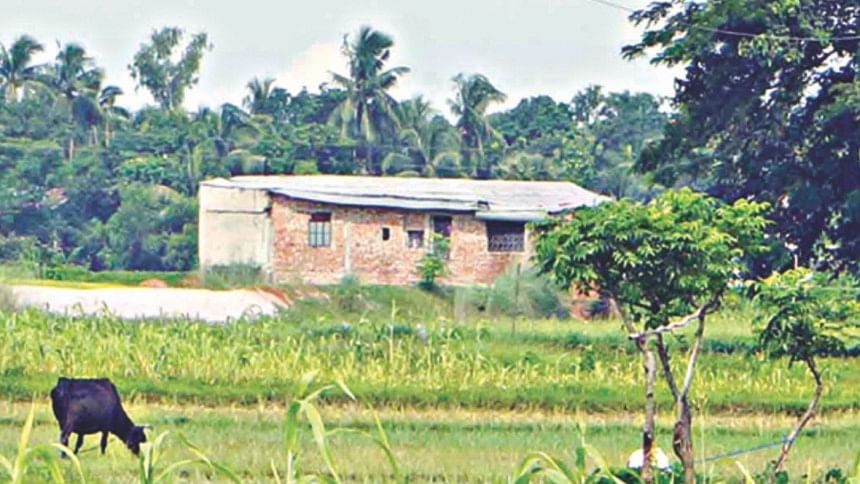 Four operatives of outlawed Jama'atul Mujahideen Bangladesh surrendered yesterday, around 12 hours after Rab personnel cordoned off a tin-shed house in Ashulia where the militants were holed up, the crime-busters claim.
"They belong to Sarwar-Tamim group of JMB," Mufti Mahmud Khan, Rab's Legal and Media Wing director, said at a media briefing on the spot. 
The group has been named after Sarwar Jahan, who jumped to death while trying to flee during a Rab raid in Ashulia on October 8 last year, and Tamim Ahmed Chowdhury, allegedly the chief coordinator of Gulshan café attack, who was killed in a police operation in Narayanganj on August 27 last year.
The four arrested yesterday -- Mozammel Huq, Rashedul Nabi, Ifranul Islam and Alamgir Hossain -- are loyal to Tamim Dhari, a militant who had close contacts with Tamim Ahmed.
Dhari, 32, a former engineer of Bangladesh Shipping Corporation, was arrested from a bus on Jhitka-Gabtoli route in Savar on April 28 this year.
Nothing else could be known about the four arrestees. Mufti said Rab will have to interrogate them to know more about their involvement in militancy.  
During the operation that saw a Rab helicopter hover in the sky, the elite force allegedly barred police members from entering the cordoned off area.
Rab men, however, said policemen could go in when the operation would end. But police refrained from visiting the spot, a top police official of Dhaka told this newspaper.
Saidur Rahman, additional police superintendent of Dhaka, said it was not like that Rab did not allow police in. "They [Rab officials] said they were conducting an operation, and all including police would be allowed in at some point."
Replying to a query, Mufti said, "It was Rab which was conducting the operation. If needed, Rab would have called police personnel. Similarly, when police conduct an operation, Rab men stay nearby and participate [in the drive] if their assistance is sought …. This is the procedure." 
The operation beginning at 1:00am Saturday ended around 3:00pm yesterday with the bomb disposal unit defusing three bombs found there. The area  around the den was then made open to all.
Two pistols, a laptop, some books and papers were recovered from the house, according to Rab.
Mufti said they had got information from Tamim Dhari that several terror groups were hiding outside the capital.
Rab members started keeping a watch on the Ashulia house after the owner contacted the force and expressed his suspicion about his tenants who hired the Ashulia house on the outskirts of the city for Tk 2,500 per month but were dilly-dallying in providing their details. 
Mufti also said the militants responded by firing shots when Rab personnel closed in on around 3:00am on Saturday. They also exploded several improvised explosive devices (IEDs).
Over hand mikes, Rab repeatedly urged the suspects to surrender and gave them a deadline of 12noon. Several rounds of fresh gunshots were heard around 11:30am.
Minutes before the deadline, Mozammel came out with his hands up. Through him, Rab negotiated with the other three, Mufti Mahmud said.
Asaduzzaman, a shopkeeper who was watching the operation sitting some 400 metres away, said the first militant surrendered just before noon. The three others took around one hour to surrender.
A Rab man on duty at the south side of the house said no militant came out through the gate until they surrendered. "They might have fired shots and hurled bombs though windows," he said.
The house is around three kilometres south of Dhaka-Aricha highway. It is located in Chowrabari village by a link road and surrounded by water bodies and crop fields with a handful of houses nearby.
During the raid, smokes were seen coming out of the house. A Rab official, who visited the rooms after the operation, told The Daily Star that there were ashes inside and several mobile phones and SIM cards were destroyed there. There was no furniture at the house.
A local school student told our Savar correspondent, "We always saw the gate of the house closed and locked from outside."
Mohammad Manna, who lives with his family near the militant den, said, "Several Rab men came to our house and asked us to leave, saying they would carry out an operation.
"We left the house at dead of night and took shelter at the nearby house of our relatives. We got panicked knowing that we were living near a militant den."