'Sabotaging election was their target'
Counter terrorism unit arrests 3 'JMB operatives'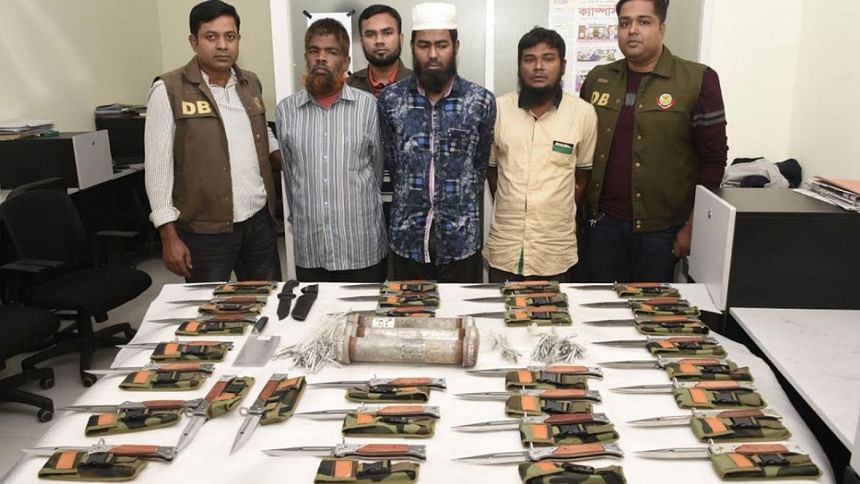 The Counter Terrorism and Transnational Crime (CTTC) unit yesterday arrested three people who they claim are mainstream JMB members, including a regional commander, who were "motivating and providing training to Rohingya refugees".
The arrestees are Abdul Hakim, regional commander of JMB in Cox's Bazar, Noman, Askari (operational wing of JMB) commander of Chattogram region and Shafi, an Askari member.
Hakim, who was a driver of a CNG-run auto-rickshaw, joined the JMB through the outfit's military wing chiefs in 2013. Hakim later brought Noman and Shafi into militancy in 2015, they said.
The JMB (Jama'atul Mujahideen Bangladesh) has reportedly "convinced" at least 40 Rohingya refugees to join them since 2016, said CTTC officials.
Speaking to The Daily Star, Ahmedul Islam, additional deputy commissioner of CTTC unit, said they received the information after arresting the three from the capital's Kamalapur Railway Station around 8:00pm.
"Their plan was to conduct targeted killings and sabotage the upcoming national election," said Ahmedul, adding that they had also planned to sabotage New Year's Eve celebrations in Cox's Bazar.
According to CTTC officials, the arrestees were inspired by hearing sermons of Ahle Hadith in an Islamic Centre at Cox's Bazar.
The CTTC unit recovered 30 commando knives, one double-edged knife, one machete, 30 IED containers and over a kilogram of explosives from the arrestees' possessions.
This was the first time such a large number of commando knives were seized at once, said Rahmatullah Chowdhury, additional deputy commissioner of CTTC unit.
"These knives are called "cold arms" as they are only used for "close combat" in the battle field," he said, adding, "These knives are especially used for targeted and single killings by militants."
The militant outfit used these knives to kill Police Constable Mukul Hossain, 23, of Industrial Police-1 in Ashulia on November 4, 2015 and Assistant Sub-Inspector of Police Ibrahim Mollah in the capital's Gabtoli on October 22 of the same year.
After primary investigation, the CTTC officials claimed to have learned that these arms were collected from Myanmar and JMB members used Rohingya refugees to smuggle them inside the country.
A top CTTC unit official investigating the case, preferring anonymity, said the JMB had been working in the Rohingya camps and their military wing chief had been providing training to the refugees since 2016.
have received details of their military wing chief, who is known as Ahnas alias Mahfuz in his organisation. We are now trying to arrest him," he said.
"We have also traced the location of their training camp and will be conducting a drive there soon," the official added.
The investigators also tracked down two financiers for the training -- one living in Malaysia and the other in Saudi Arabia.
"The one from Saudi Arabia is a relative of Shaykh Abdur Rahman, the founder of JMB, and has so far funded them with more than Tk one crore," said ADC Ahmedul. 
Shaykh Abdur Rahman established the JMB in April 1998 and was executed in 2007.
The members of the banned militant outfit were known to spread militant ideologies in the name of providing aid and financial support in Rohingya camps, he said, adding, "We are now conducting drives to arrest the other members of the outfit and trace all their sources of money."
Earlier on November 9, the CTTC unit arrested eight Ansar Al Islam members on the charge of spreading militant propaganda among Rohingya refugees in Cox's Bazar in the guise of NGO workers.