Why we need proper fire safety plan for each building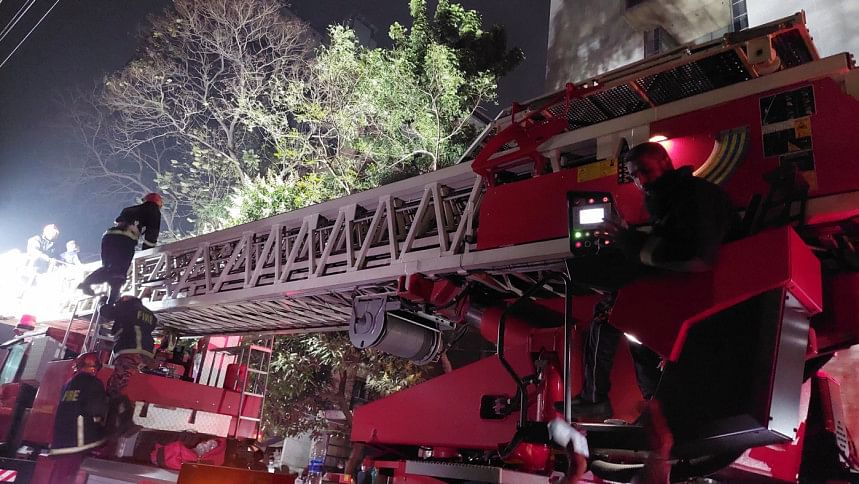 Grenfel Tower in London was entrapped in the myth that a single staircase under mechanically-induced positive air pressure was safe for a 24-storey block of apartments. That single-track scientific theory ignored other scientific factors and inevitable human errors, resulting in 72 deaths when a burst fridge on the third floor caused a fire that devastatingly spread throughout the building, inside and out.
The Grenfel tragedy of June 2017 occurred in the UK, which has some of the strongest fire codes, in theory and in practice, cemented further by a public that is aware and proactively cooperative.
Ever since, my thoughts have been concerned with apartment buildings in Bangladesh that are increasingly going higher, not that fire does not kill at low heights. We are further handicapped by our lack of awareness and cooperation; taking selfies and live streaming fire incidents by the nuisance-causing, crowding public, are serious threats to life.
The apartment building in Gulshan that caught fire on February 19 is typical of a new genre of residential buildings emanating from the 2008 Dhaka Metropolis Building Construction Rules, that allow single-stair 12-storey residential buildings with four apartments per floor.
Fire at the Gulshan building on Road 104 began in a small way from the 6th floor, initially bellowing smoke. It was so small that it was ignorable, but perilous because time is of the essence in any fire.
Where were the extinguishers? If available, did anyone know how to operate them? Uncontrolled for an hour or so, the fire characteristically flared up further and typically engulfed the upper floors, presumably via the external windows as well as the open staircase. Grenfel experienced the same route of spread.
Apartments are not prone to catching fire, given that the active cause of combustion is low. Two factors will increase the risk of fire, interior decoration with highly combustible materials which nowadays is the norm, and ageing as well as faulty and underrated electrical wiring and appliances.
Smoke prevented the residents from going down to the plaza level. When this happens, it means the stairs were inadequate in size and number, and not encased in fire rated material with rated doors.
There has to be detection and alarm systems in place to give earliest warning, providing people adequate time to escape.
Each floor should have been compartmented by design, meaning smoke and fire should have been restricted to the 6th floor, allowing residents to escape comfortably via the encased staircase/s.
Extinguishers and sprinklers are also required in such buildings, as are requisite water reservoir, hydrant and fire pump. The Fire Service had to borrow firefighting water from the lake and adjacent buildings, which is a major shortcoming in design as well as the abject failure of authorities that granted the building permit; Rajuk and Fire Service.
The person who died from jumping off the building and others with him found it unbearable to stay in the building due to smoke and heat, and then panic set in, robbing them of basic human instincts and practical thinking.
The deaths were preventable had the architect and the owner ensured a plan that would enable the few dozen people to exit safely.
There are hundreds of similar and worse buildings. The electrical components are getting old. Stairs are open that will prevent people from getting down. There could be more fires in the near future. Let us revisit our buildings now along with our respective architects. Let us plug the leaks to first, stop a fire from starting, second, provide detection and alarm, third, design a means of escape, and fourth, find out how best to utilise our firefighting equipment and the fire service.
Owners spend a huge amount of money on a building. It will only take another a few takas per square metre to ensure safety through a fire plan.
[Nizamuddin Ahmed is an architect and writer]