Traders in for bleaker days
Already struggling to recoup losses in fire 2 years back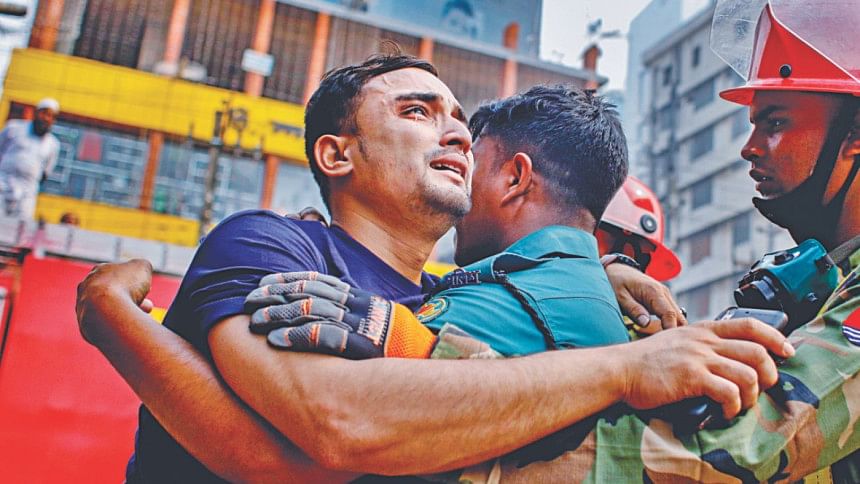 Another devastating fire at the Dhaka North City Corporation (DNCC) kitchen market early yesterday thrashed the efforts of 248 shop owners who were already struggling to revive their businesses from a similar disaster just two years ago.
The importers, traders, wholesalers and retailers make between Tk five crore and Tk 10 crore per day since the market place comprises high-end shops and restaurants. They sell various products like cosmetics, rice, edible oil, fish, meat, utensils, baby foods, imported cereals, vegetables and household appliances to upscale customers in Dhaka. 
Most of them had taken loans from wherever it was possible to recover from the fire in 2017. But before those loans were paid back, fire struck again to burn their efforts to ashes.
After the previous fire incident on January 3, 2017, many of the wholesalers and retailers in the market were selling goods under temporary sheds.
The businessmen at the market have estimated the loss this time to be worth nearly Tk 100 crore.
"I was struggling to revive my business from the loss of the previous fire when I lost nearly Tk one crore. After that, I borrowed money from different associations with high interest on installments," said Mohammad Shahidul Islam, owner of Ratul Baniyati Store, a wholesale and retail spice trader at the market.
"This time, the fire gutted goods worth Tk 85 lakh and every day I used to sell goods worth Tk five lakh as a wholesaler," said Shahidul, who had been running three shops in the market place for around 21 years. Of the three shops one was used as warehouse, he said.
"I still owe Tk 2 crore to different associations, my suppliers and relatives. I have to pay back this amount," he added.
Almost all 248 shop owners faced the same fate as Shahidul after the fire destroyed all the goods in the warehouses and shops inside the market.
Shariful Islam, a fruit trader, was seen crying as he sat on the ashes left by the fire in front of his shop in the market.
"I used to sell fruits worth Tk one lakh per day from my two shops here. The fire took everything away from me," said Shariful, who was struggling to repay Tk 30 lakh that he borrowed from different sources after the previous fire.
"This time, I lost at least Tk seven lakh," said Shariful.
Many of the businessmen were seen trying to recover whatever remained from the fire. "Everything of mine is damaged," said a weeping Julhas Mia, who had two shops in the market.
"I used to sell imported noodles, baby foods like powdered milk, sauces and other foods. Every day, I used to sell goods worth Tk 40,000 from my two shops. Goods worth Tk 40 lakh have been damaged completely in the fire," said S M Rashed Zaman, owner of Yio-KEE Enterprise, who has been doing business at the market for the past 17 years.
Shamrat Hossain, another shop owner who earned around Tk one lakh per day, said, "I don't know what I will do now. I lost everything from my two shops. I will have to borrow money from my relatives and friends again since banks are less interested to lend money to shop owners."