Ravaged by FIRE AGAIN
Blaze at Gulshan DNCC kitchen market burns down over 200 shops, 2yrs after the market went up in flames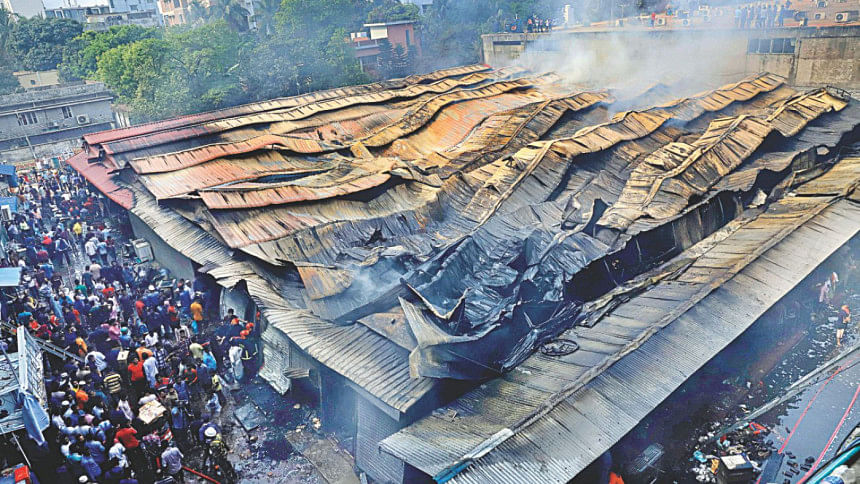 Amid outcries over the death of 26 people in Thursday's Banani inferno, a massive fire swept through the Gulshan-1 DNCC kitchen market burning down over 200 shops yesterday.
The fire starting around 5:45am spread fast and it took twenty firefighting units around five hours to douse it, said Ataur Rahman, a duty officer at the Fire Service and Civil Defence Headquarters.
No casualty was reported as none stayed in the one-storey market at night.
Traders said they found almost everything gutted as the flames had engulfed their shops before they could reach the spot. The losses could be worth several crores of taka.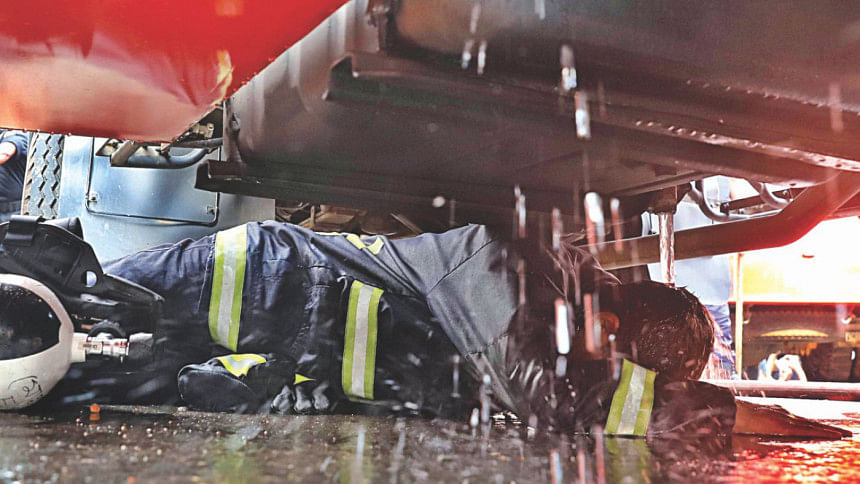 A five-member committee has been formed to investigate the fire.
Officials suspect an electrical short-circuit might have caused the fire, which also spread to the nearby Gulshan Shopping Centre. But the traders believe it was a sabotage to evict them and build a multi-storey building.
Yesterday's was the second major fire in the market.
On January 3, 2017, around 300 shops of then two-storey market were burned down. No one was killed or hurt while a portion of the market collapsed on impact.
Months later, the affected traders built a temporary shed on their own to rise from the ashes, mostly borrowing money from family members, relatives and banks.
After the blaze yesterday, the victims demanded rehabilitation and financial assistance from the government.  
Maj AKM Shakil Nawaz, director (operation and maintenance) of Fire Service, told reporters that they struggled to tame yesterday's blaze as there were no arrangements there for extinguishing fire. 
The fire officials said they issued notices to the authorities three to four times to take fire safety measures after the 2017 incident but those were not complied with.
Some traders, however, said they had fire extinguishers in their shops but those were not used as the fire broke out in the morning when none was there.
Md Ridoy, an employee of an adjacent restaurant, said the fire originated in the middle of the market and they noticed it only when it spread and created smoke.
Visiting the spot, this correspondent saw traders searching through the ashes and gathering charred iron materials. Many were trying to hold back tears while some were consoling each other. 
Foodstuff, utensils, baby food, imported household appliances were either burnt to ashes or charred beyond recognition. Fish kept in fridges or boxes was found roasted in heavy heat.
Traders at nearby markets   rushed to their shops learning about the fire and took their goods to safety.
'I LOST MY LIVELIHOOD'
Ashraf Uddin Liton was seen giving a blank look at the ashes inside his cosmetics shop in the market. 
"I lost 11 of my family members in Nimtoli fire, now I lost my livelihood," he told The Daily Star.
Just yards away, Abdul Hakim was expressing gratitude to the Almighty that his three sons, who used to run seven shops in the market, are safe.
Md Hasan, owner of Fariha Enterprise, said traders were raising funds to change all the electric wires after a minor fire broke out from a short circuit at a shop about a week back. "But everything was ended before that," he said. 
Gulshan-1 DNCC Kitchen and Super Market Traders Association President Din Mohammad said all of their 211 stores were burned in the fire.
When traders were busy with  their gutted shops in the market, another fire broke out at Delta Life Tower, a high rise at Gulshan-2, in the afternoon but it was doused immediately.
Besides, a fire started in a building at Dhanmondi-11 yesterday evening but it was extinguished before firefighters reached the spot. No damage was reported.     
Earlier on Thursday, a deadly blaze at the 22-storey FR Tower in Banani claimed lives of 26 people and left around 100 injured. 
Visiting the Gulshan market, Dhaka North City Corporation (DNCC) Mayor Atiqul Islam said, "The traders want the city corporation to build another temporary shed within 10 days but we are thinking about a high-rise building as part of our plan with all the safety measures.
"We are in talks with the traders. We will make serious efforts to resolve all the legal issues and build a permanent DNCC market."
He further said, "The city corporation will launch a scrutiny to ensure that all markets, shops and shopping centres have fire suppression systems installed.
"We will take legal action against shop owners and their associations if evidence of negligence is found."